7 Perfect Summer Play Areas for Kids in Downtown Chicago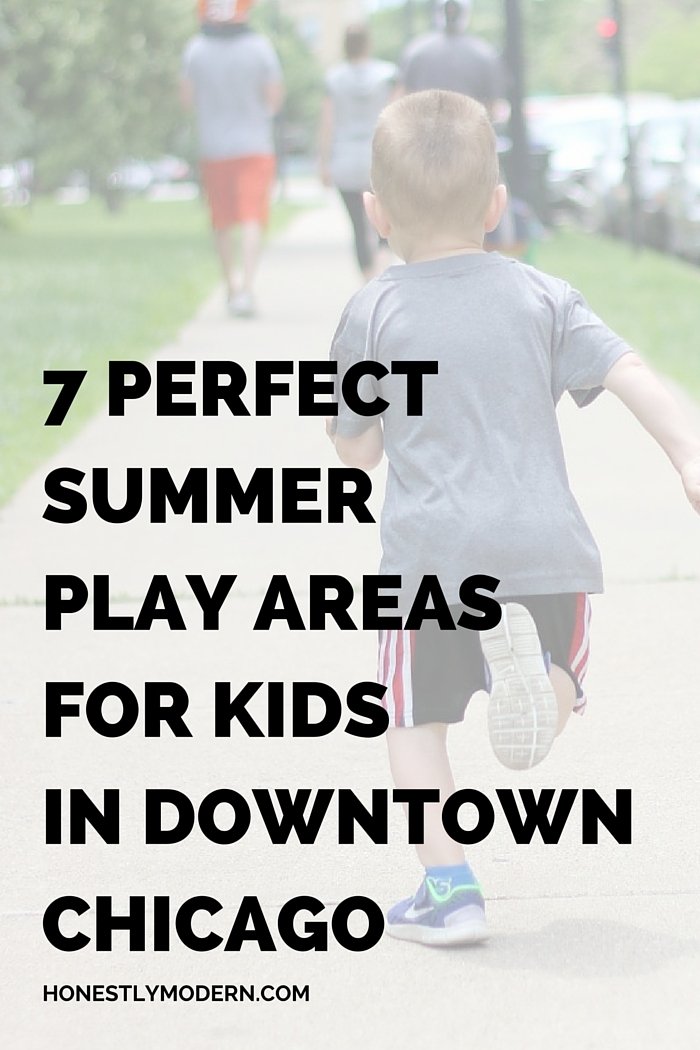 A couple weeks ago, we took our boys to one of the big city parks not far from or apartment. As they ran around, M and I paid a little more attention to the Sears Tower as a backdrop to slides and swings, the diversity of the kids running around, and the sheer number of people seamlessly sharing a relatively small space.
While the density of children pales in comparison to some of the European playgrounds we visited during past vacations, there are always lots of children (for US standards) that take turns on the slides, the swings and every piece of playground equipment in between.
Seven years of living in downtown Chicago with young children taught us a ton about just how much the city has to offer for kids. We didn't have our own yard to play in, but we certainly had lots of unique spaces where the boys could play and run around.
Not far from our building, we had a few favorite spots we stopped by that the boys loved. We have this awesome Baby Jogger City Select stroller that took us all around town. After scoping out just about every stroller on the market during our seven years of walking past them all, I'm convinced the City Select is the best. (And tons of others have it too, so I know I have lots of company in that camp.) It comes as a single stroller but we added the second seat and it's been perfect even through the snow and rain.
As we got to know the best corners of downtown Chicago for the kids, we discovered a host of really great spots the we loved. Best of all, all these activities are free.
Favorite free outdoor summer play areas and activities for kids in downtown Chicago.
This was our favorite park in our neighborhood. It's fairly new and has plenty of equipment for the loads of families that stop by each day. It can get a bit warm during the few really hot days in Chicago. But it sits next to the Chicago River and the setting sun casts a gorgeous glow over it each evening.
There isn't much shade, so bring your sunscreen if visiting midday during the summer.
It's great for kids of all ages. It has separate areas for little ones and older kids and plenty of places for parents to sit and relax while keeping an eye on their energizer bunnies.
So pretty! Shaded by mature trees and just a block off of Michigan Avenue and a block south of the Hancock Tower, this couldn't be more convenient for tourists. But it sits just far enough off the main drag that I don't think most tourists stumble on it. So… if you're visiting and want to let the kids blow off some steam, check it out.
It's a fairly large park with two distinct areas for different ages. While most parks, like Ward Park, have equipment for younger and older children in one area, the two parks here are enclosed in their own gated areas. I think it makes it perfect for very young kids and older children. The small park is perfect for toddlers and babies. The larger park is great for elementary school kids (and has some pretty serious slides and ladders). At 4, T is a bit stuck between the two. But he's also an animal, so he typically chooses the big kid side.
This park is a bit small but really great for younger children. It's also right across the street from Lake Michigan, so it has a great view of the water and it's adjacent to a track and tennis courts. This could be a great place to go as a family and take turns exercising while the other parent watches the little ones on the playground. It's also not as busy as several other parks in the area because it's a bit smaller.
This place is no joke, a site to be seen but also a circus. Adjacent to Millenium Park, it's a melting pot for tourists and locals, young families and older children, and people from all sorts of neighborhoods in Chicago. While that makes it really interesting, it's also not designed for young children (at least in my opinion). It's a little stressful, and though I'm far from a civil engineer, it doesn't feel particularly safe for little kids. I suspect lots of kids get hurt there from falls, hot slides and aggressive children. Definitely check it out, but if your kids are under six or seven, know it's probably not the best place to let the kiddos roam free. If you're kids are older, however, they are going to absolutely love this place!
If you want to check out Maggie Daley Park just to see it (it's worth a view, at the very least) but play elsewhere, hop north across Randolph Ave to the Lake Shore East neighborhood. The small neighborhood has this amazing (and surprisingly quiet) central open space with plenty of grass, a playground geared toward younger kids, some walking paths and a few little fountains that toddlers might enjoy. It's truly a peaceful oasis hiding right in the middle of the urban chaos.
Ohio Street Beach
If you're visiting in summer, you can't go wrong with Ohio Street Beach. It's so great, I wrote a whole post about Ohio Street Beach you can check out as well.
After you explore all the playgrounds and are feeling a bit more adventurous, the Lincoln Park Zoo is free. Grab a bus or walk the three miles north from downtown and it's a great little gem of nature and animals smack dab in the heart of the city. It's part of Lincoln Park, a great park along Lake Michigan.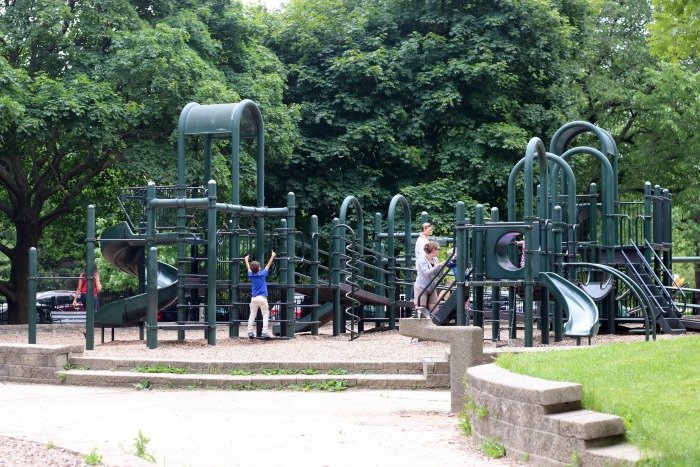 Although it seems a bit like a concrete jungle at times, Chicago offers a surprising number of green spaces. Some wealthy and influential residents of eras gone by, like Aaron Montgomery Ward, put forth considerable effort and funding to ensure the lake shore remained a public park for all to enjoy. It's become one of the gems that makes Chicago such a unique and livable urban experience.
If you're in the city, be sure to check out at least one of these spots with your family and let me know if it lives up to the hype.