The Best Beach In Downtown Chicago for Families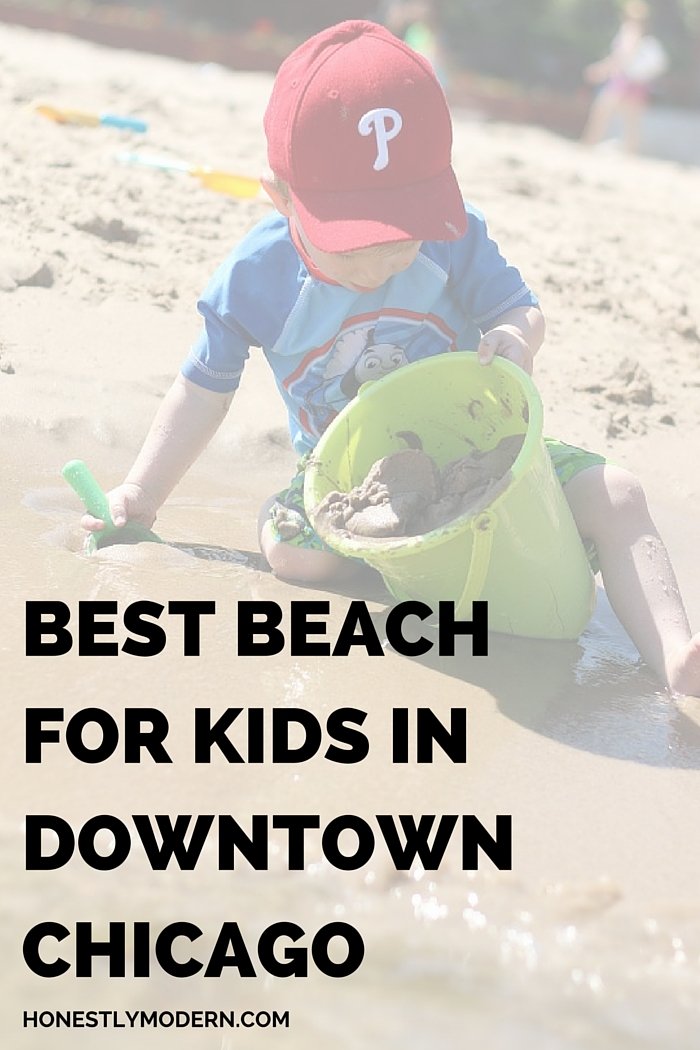 Every beach has a vibe. Most of the time, it's probably not specifically a good or bad vibe, but it's right for a certain crowd of people. Chicago's beaches definitely have developed targeted audiences.
When we first moved to Chicago, we generally ignored Ohio Street Beach, even though it was a bit closer to our apartment. In our late twenties, we spent most of our summer weekends at Oak Street Beach (a little farther north) with the rest of the late twenties crew. Oak Street Beach had plenty of volleyball courts, a reasonably respectable crowd, and enough open space that I never felt like someone else was cramping my beachy style. (Let's be real though, I don't have "beachy style".)
Not living in Chicago right after graduating from college, we were always too old for the post-grad filled, spring-break style North Avenue Beach scene. Just a bit farther north than Oak Street and Ohio Street beaches, this large stretch of "sand meets water" was also a large breeding ground for "adult beverages meets scantily-clad sunbathers meets recently-out-of-college-but-now-I-have-money beach-goers." Not our scene.
A growing family meant changing tides in our beach routine.
After having kids, we joined the ranks of new parents and young children at Ohio Street Beach. Just spitting distance from Navy Pier and a quick walk from our apartment, the smaller beach leaves little room for partying, sports and other beach activities that don't necessarily cater to small kiddos in tow. It's tucked away from the waves of the lake behind Mt. Olive Park. It also has some shaded retaining walls that provide a great spot for drying off and cleaning up before leaving the beach.
For better and for worse, Ohio Street Beach is a 'family only' zone (except for maybe an unassuming tourist or two dipping their toes in the very cold water).
Chicagoans live for the summer, and it's well worth the wait.
We don't have many weekends left to enjoy Chicago's edge of Lake Michigan before we move, so we've taken full advantage when the sun shines on our little pocket of family-friendly sand.
If you've planned a visit to the Second City this summer with your family, be sure to schedule some time to enjoy this little gem. Ohio Street Beach isn't huge and it's not the picturesque beach of our tropical dreams. But it's a fantastic spot to soak up some sun with the kids just blocks from city skyscrapers, amazing restaurants and hotels, and all that the heart of Chicago has to offer.
Want more ideas about visiting Chicago? Be sure to check out all my posts about tips and ideas for making the most of your time in the Second City!