Quality Education | Picture Book List For United Nations Sustainable Development Goal #4
Picture books are a great entry point to many difficult conversations with our kids. Read on for more about this creative project to help kids connect with and understand the global social and environmental justice goals as defined by the United Nations Sustainable Development Goals in an age-appropriate way.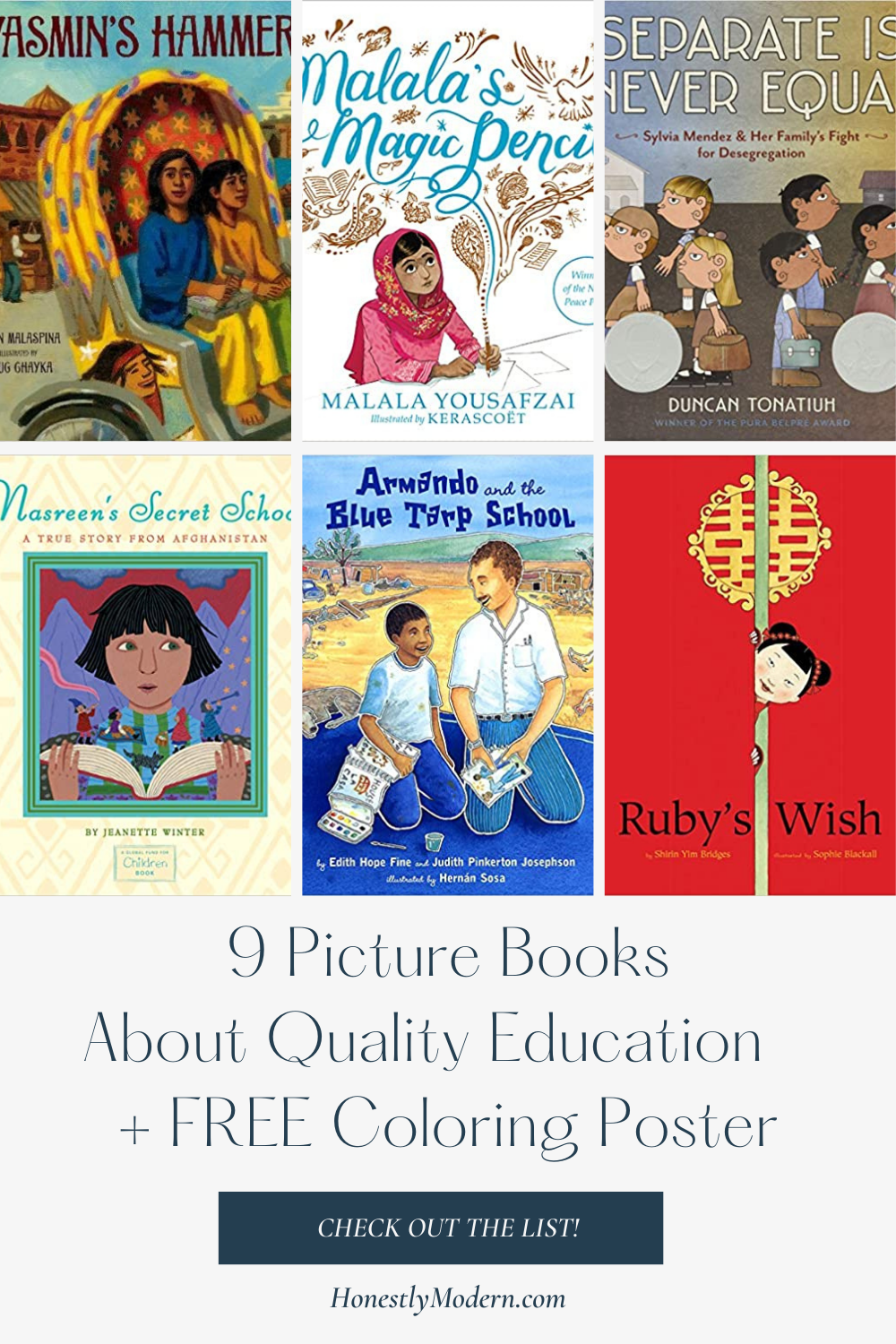 This picture book list is part of a series of picture book lists that align with the United Nations Sustainable Development Goals. We've created a picture book list for each of the 17 United Nations Sustainable Development Goals as well as a FREE coloring poster to track progress and explore the United Nations Sustainable Development Goals with kids.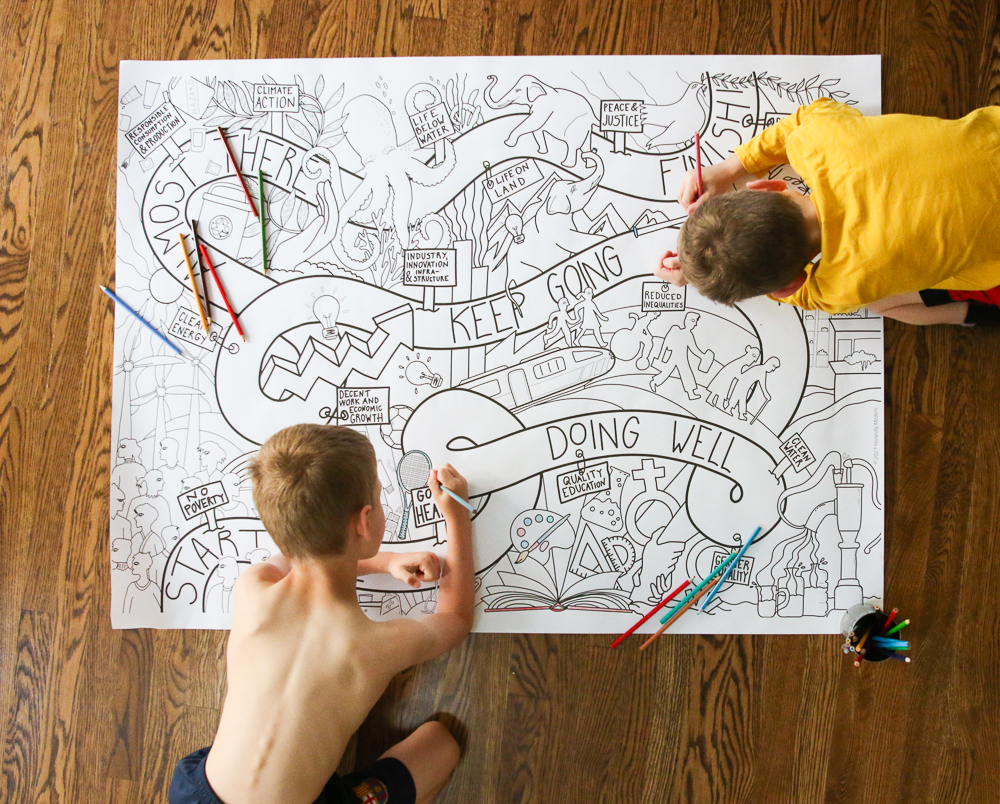 Learn More & Download The Free Coloring Poster
To learn more about the FREE coloring poster and see all 17 picture book lists, head to the United Nations Sustainable Development Goals Coloring Poster and Picture Book List homepage. Alternatively, simply sign up for our email list below and receive a link to download the FREE coloring poster.
What Are The United Nations Sustainable Development Goals?
In 2015, the United Nations adopted 17 Sustainable Development Goals (SDGs), a collective framework for peace and prosperity for people and the planet, now and into the future. The Sustainable Development Goals have broad intentions to end poverty and other deprivations while recognizing the need to simultaneously improve health and education, reduce inequality, spur economic growth, and tackle climate change.
Quality Education | United Nations Sustainable Development Goal #4
Education is a foundational component of prosperity, and the United Nations has included quality education as an integral component of the sustainable development agenda since its inception. The goal implores each of us to advocate for and support inclusive and equitable quality education and promote lifelong learning opportunities for all.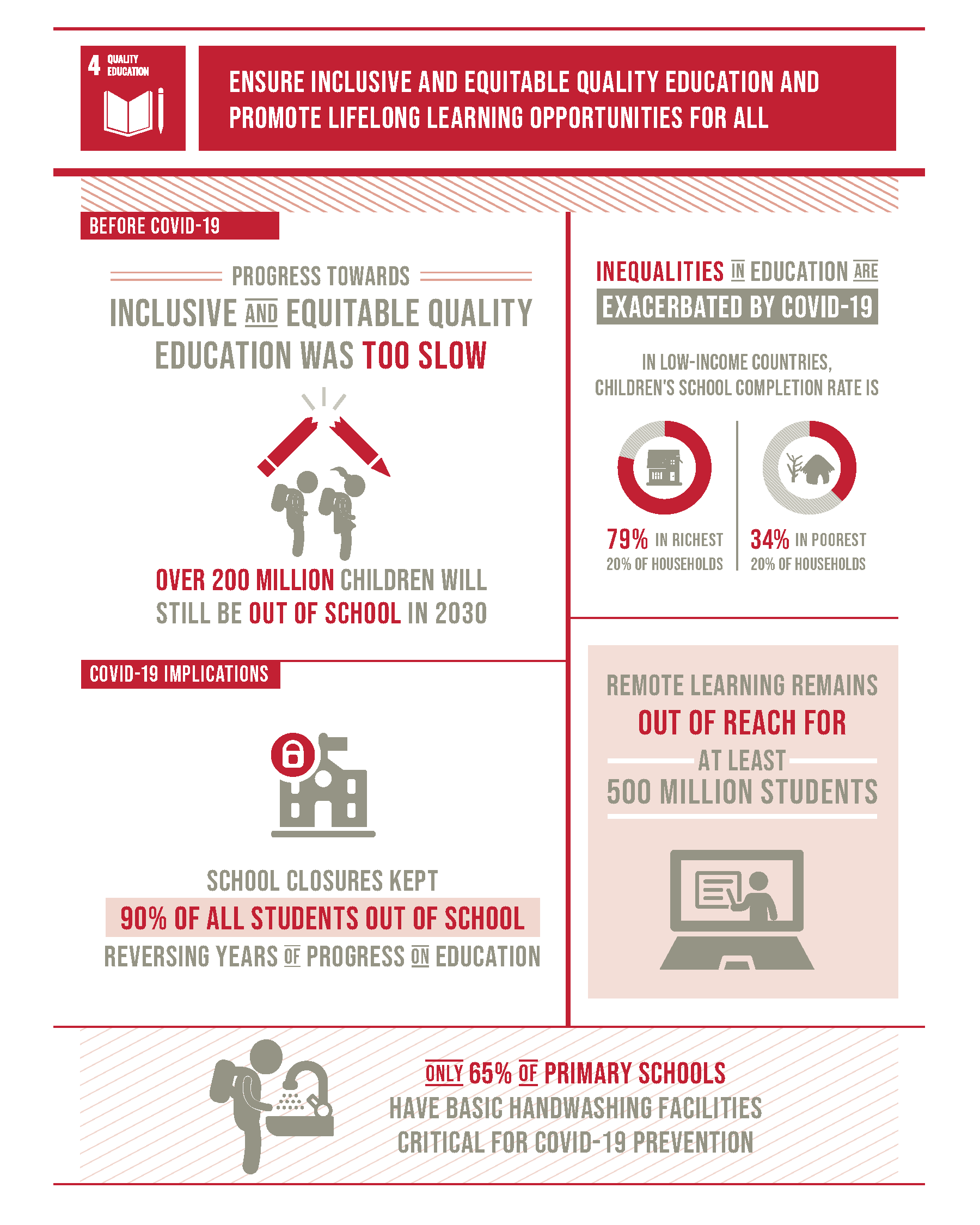 A Note on Buying and Borrowing Books
We include affiliate links to books we recommend. If you purchase through one of these links, Honestly Modern earns a very small commission that has no impact on your purchase price.
If you can find the books from your local library, from a friend, at an independent bookstore, or through a used book shop, those sources are ideal. Using the library is zero waste, saves money, and saves space in your home because you can read all the books without storing all the books on your bookshelves. If you're not sure of the best way to use your local library, check out these tips to make the most of your local library. With a little exposure, your kids will learn to LOVE the library!
If you prefer to listen to audiobooks, we recommend using Libro.fm, our favorite audiobook app. We've tried several audiobook apps and love that Libro.fm supports independent bookstores and offers a great user experience.
Picture Books About Education
The following list of picture books about education includes books that touch on why education is important and how it can help children and families open doors to new opportunities. Further, many of these stories highlight how education is not accessible to so many children around the world for a variety of reasons. Especially for those of us living in places where education is standard practice for all our children, these stories can offer humbling and meaningful reminders that we should not take education for granted.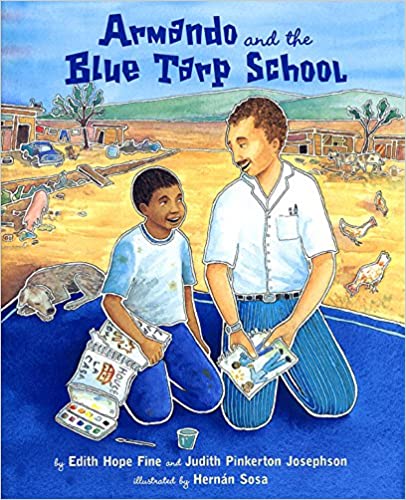 Armando and the Blue Tarp School by Edith Hope Fine
A young boy longs to go to school, but he must help his father sift through trash for items to sell to support the family. School is not something all students have the opportunity to attend, and we shouldn't take it for granted. This book grants kids a new perspective on the privilege of school.
Malala's Magic Pencil by Malala Yousafzai
This might have been one of my favorite books we read while building our list of books for each of the United National Sustainable Development goals. It's an autobiographical book written by internationally renowned social justice advocate Malala Yousafzai.
She shares her story about the realities she faced fighting for education for girls and other basic rights for people in her home country. The book found a great balance between describing the perils and circumstances she encountered and an appropriate tone for a picture book for children. The story references the pain caused by the Taliban and also alluded to their attempts to kill her without feeling scary for children. This is a book I would definitely consider for our home library.
Beatrice's Goat by Page McBrier
A little girl living in Uganda longs to go to school. Her family does not have enough money to send her to school, and she needs to stay home to help her mother. One day, the family receives a goat as a gift. The goat provides the family with nutrition from its milk and extra milk to sell to make a bit of money for the family. After many months, the girl has saved enough money from the goat's milk that they sell to pay for school. She is very excited to have an opportunity to attend school and appreciates the big difference the single goat made to her family.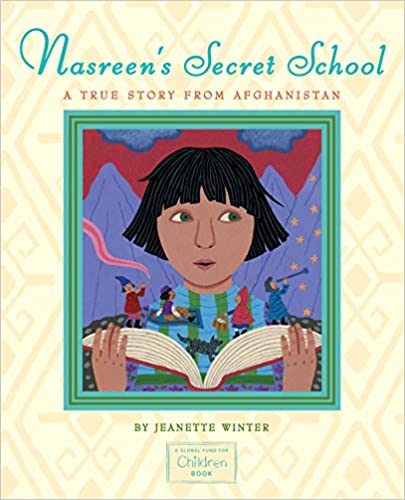 Nasreen's Secret School by Jeanette Walsh
A young girl in Afghanistan sees her father and her brother taken by the Taliban. Her mom leaves to find her brother and never returns. In utter sadness, she stops talking and sits home.
Her caretaker believes that she will benefit from attending school, something girls are not allowed to do under the regime of the Taliban. For months, the caretaker brings her to the secret school for girls and she remains silent. Eventually, one little girl is able to befriend her, and this sad little girl starts talking.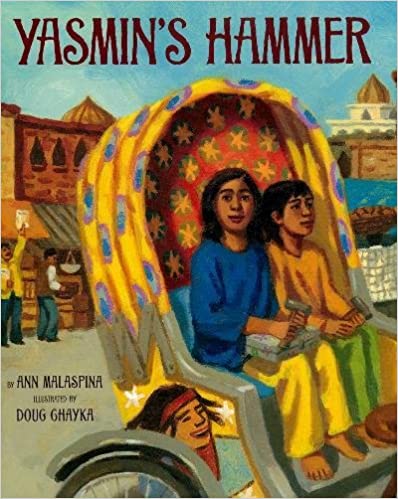 Yasmin's Hammer by Ann Malaspina
Two young girls lose their farm to a cyclone in Bangladesh and move to the city with their family in search of jobs. Unfortunately, they do not have enough money to send the sisters to school. Instead, the girls must work each day to earn money for the family. Throughout the story, the main character longs to learn to read and eventually the family saves enough money to allow the girls to get an education.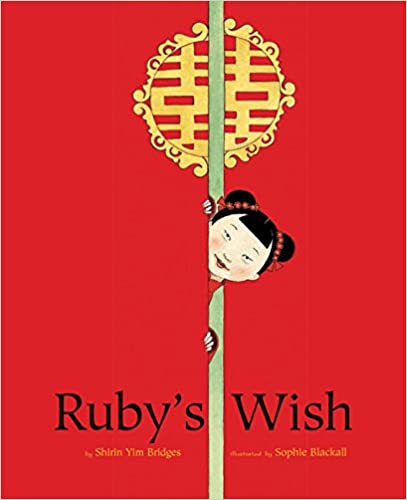 Ruby's Wish by Shirin Yim Bridges
Based on a true story, Ruby is a young girl in a family with many children. She lives in China at a time when few girls receive an education and women are expected to tend to the home.
Despite tradition, Ruby tells her grandfather that she wishes to have an education, and she is one of very few girls allowed to pursue university. This makes her very happy. This story can help children recognize that not all kids have equal opportunity for education even if it's deserved.
Running Shoes by Frederick Lipp
A young girl dreams of going to school but she lives eight kilometers from school and has no shoes to wear to protect her feet to get there. One day, she receives a pair of shoes from a special visitor. The shoes enable her to go to school, an experience that ultimately changes her life. This book gives little ones insight into the small but meaningful barriers to education that others experience and they may take for granted.
Separate Is Never Equal: Sylvia Mendez & Her Family's Fight For Desegregation by Duncan Tonatiuh
All children deserve access to a good education, and separate schools based on race, gender, or any other demographic factor are not equal. This book tells the true story of a young girl, Sylvia Mendez, whose family fought for integrated schools in California to ensure that all students (including those of Mexican descent like Sylvia) had access to a good and fair education.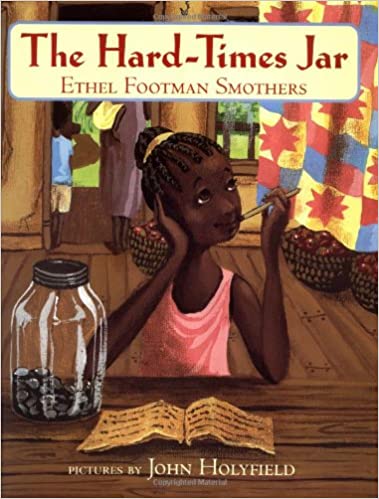 The Hard Times Jar by Ethel Footman Smothers
A young girl in a migrant family longs to read books of her own, but her family cannot afford anything beyond the basics. As the family travels, the story a bit of extra money in a jar for hard times. Sometimes she attends school, and other times while traveling, she works to help the family earn money. This book highlights how some families make do with very little while also highlighting the varying degrees to which children have access to good education.
Are there any books about the importance of education and access to education that we missed? If so, leave them in the comments so we can check them out for the library and enjoy them too!
And if you have not done so already, be sure to check out the other booklists aligned with the United Nations Sustainable Development Goals and print out the FREE Coloring Poster!