Reframing Reading: From Inconvenience to Investment
Want to make more time to read to your children? Try changing the frame through which you view the task. It might just make all the difference.
Perspective Matters
I find it interesting how changing the lens through which we view a problem can drastically modify the way it makes us feel. When we frame a situation in a different manner, we often derive significantly different conclusions or feelings from the experience.
Reconsidering the frame of our viewpoint essentially encourages "stepping into another person's shoes" and thinking about situations from a new perspective, their perspective.
We talk about this often at work. But I mention it today because it's made a profound change in the time I spend with my boys reading books before they go to bed.
No More Skipping Pages
For some time, as I hurried through books with my boys, I skipped pages or changed words to rush through to the end. I viewed putting my boys to bed, including reading books to them, as an arduous process to be endured each night on the path to freedom (ie. sleeping children) for the night. Reading to my boys was just another item on the inconvenient checklist of necessary tasks to complete before arriving at my final destination of peace and quiet.
Stop. Stop Jen. How sad is that?! As cliche as it sounds, I needed to stop and smell the roses.
One day, during a crazy busy period at work when I could easily have sat in front of my computer 20 hours a day and still not gotten everything done, I came to a realization. I noticed just how ridiculous this mindset was.
Reading to my boys carried so much value! I love cuddling with them on their bed or in the corner on the floor in their room where we read together. Reading to them has enormous and well-documented life long benefits. It calms them down a bit after long and hectic days. Why was I rushing this? Why was I not giving this very important time with them the adequate care and attention it deserved?
I vowed to change my frame of mind.
A Conscious Decision To See Things Differently
I added "read to my boys for 30 minutes a day" and "teach my boys to love the library" to my List of 100 Dreams. I added them because I wanted to, not because I felt like I should.
I decided reading with my boys each night wasn't a task on the nightly agenda but an investment in their education, a chance for us to bond, and a strategy to make our long and stressful bedtime routine (our boys hate going to bed) a little easier.
I reconsidered my perception of this activity we share and, honestly, the experience has changed. I actually look forward to it. I don't view it as an obstacle on my path to more important goals. Thinking about it doesn't stress me out the way it used to. Most telling, I don't think about my to-do list or my impending work while I read. I focus on the book and my boys. And when they ask for an extra book, I almost always say yes (until they start asking for 100 extra books… not happening).
Finding The Right Books
Finding the right books helps make this time so much more enjoyable as well. Instead of spontaneous trips to our small library, I request specific books to be put on hold.
We also buy some books we really love. Recently, we picked up a special book for each of our boys from Put Me In the Story that is personalized, allowing them to become a character in the book. How cool, right? It's certainly a great way to engage the boys in the story, and they're books to which our boys keep returning.
In addition to one book for each of our boys, I did a little early Christmas shopping (which is not really my forte) and picked up this book, Santa is Coming To My House, for my nephew. I recently bought the Mickey Mouse Club House: Whose Birthday Is It? book for his sister (my niece) for her birthday, and it was a big hit.
Unlike some other personalized books I've seen, I really like that these incorporate the child in many areas of the story. In each of the books we received, the child was mentioned in ways that sounded natural and native to the story (not forced or awkward) on several pages throughout the book.
Put Me In The Story has a lot of familiar characters from which to choose. T likes his role in a Pete the Cat book (such a popular character at school), and J enjoys seeing pictures of himself at a Sesame Street Halloween Party with a host of Sesame Street characters. He's totally into Elmo right now.
They also have a book coming out that could be a really great hit for anyone who loves Disney Princesses. Featuring the stories of many Disney princesses, the book encourages discussion with the child about everything from reading and singing to bravery and confidence, all tied to respective Disney Princess adventures. Called Dream Big, Disney Princess, it's currently 20% off with code DREAM20.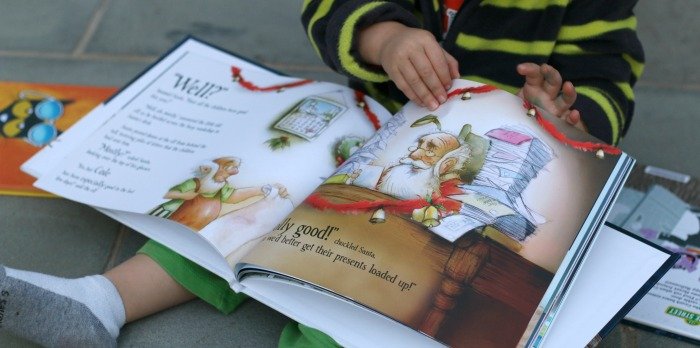 Inconvenience To Investment
Changing my frame of mind (and finding a few good books) helped me turn a stressful inconvenience into an investment in my boys and my relationship with them. I garner so much more happiness and less stress from this time each night without actually changing anything I did, only how I perceived it.
I get it. It sounds kooky and fluffy and nutty. But it works. It really changed how that time adds to my day now and no longer subtracts from it. (I feel guilty just writing how reading to my boys could subtract from day, but I presume I'm not alone in feeling this at times.)
So…try it! Maybe your inconvenience that could benefit from reframing isn't reading to your kids. Maybe it's exercising (an investment in your health and happiness) or grocery shopping (an investment in family dinners and healthy eating) or getting dressed each morning (a few minutes devoted to yourself and feeling great about how you look and present yourself to others) that plagues your spirit. But whatever it is, consider if genuinely reframing a task into a more productive or fulfilling version of itself adds happiness to your life without actually changing a thing.
If you're not sure what to read or where to start, I love the recommendations from Janssen at Everyday Reading. She recently shared a very thorough post about Bringing Up Bookworms that I suspect you'll find is super helpful. I already pinned it on Pinterest!
Heads Up: This post was written in collaboration with Put Me in the Story books. I received books in exchange for sharing my experience with their products. All opinions are my own. This post also contains affiliate links, which do not impact your purchase price.