DIY Quick Fix: Structured Jacket Fit ~ Tutorial
A couple weeks ago I showed you
my refashioned jacket
that fits so much better after just a quick fix with a needle, thread, and some hooks and eyes. The project took maybe thirty minutes to an hour, not too bad at all.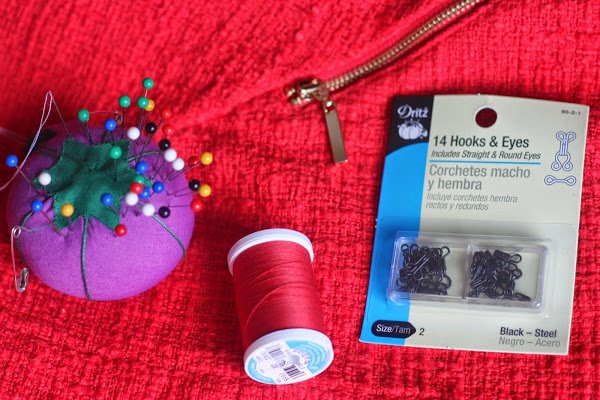 Step 1: Try on the jacket to determine where you would like to add the hook and eye closures. Mark the areas where you would like the jacket to close with a pin (and be careful not to poke yourself). After you take off the jacket, lay it on a flat surface and, with a ruler, readjust the pins so they are evenly spaced.
Step 2: Using the needle and thread (preferably in a color that matches your jacket, though it will be hidden so it's not imperative to the final result), follow the instructions on the back of the package to attach the hooks just inside the edge of the jacket where you marked with pins.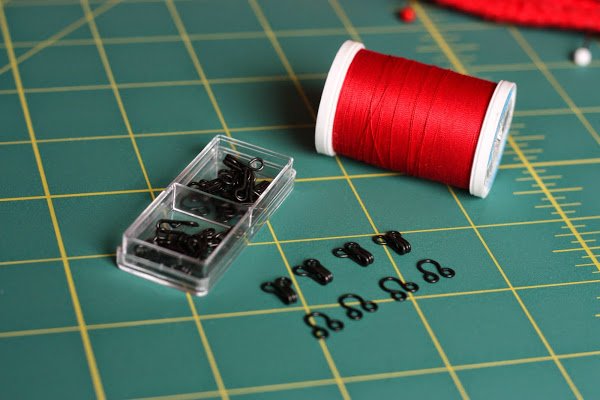 Step 2 (cont.): Essentially, you'll be threading loops around the metal of the hook and eye pieces. Be sure to catch just enough fabric from the jacket when sewing on the hook and eye pieces to hold them in place. You don't want the needle to go all the way through the jacket or the stitches will show through on the front of the jacket. Below, you can see each stitch is a loop and the threaded needle is pulled through the loop that has been wrapped around the hook or eye. (My rambling makes this sound far more complicated than it really is.)
Step 3: Lay the jacket on your flat surface and line up the bottom edges of the jacket. Mark with pins where each corresponding eye will go so it lines up evenly with the hook on the opposite side of the jacket opening.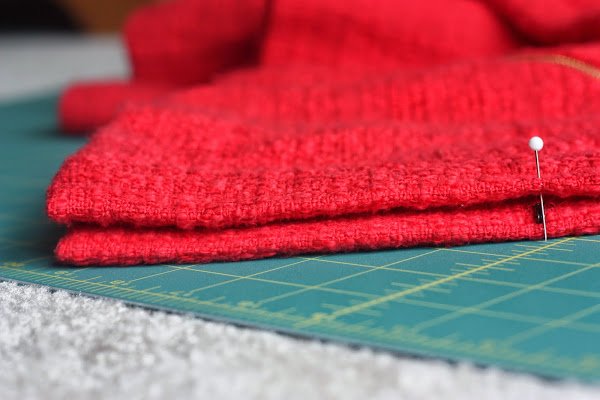 Step 4: Enjoy the jacket that has evenly spaced and perfectly aligned (probably not if it's my project) hook and eye closures. To be honest, my hooks and eyes are pretty close but not perfect. And the thread loops are definitely not perfect, but since no one can see them when I wear the jacket, it wasn't particularly important to me to get this just right. It works perfectly for me; that's all that matters!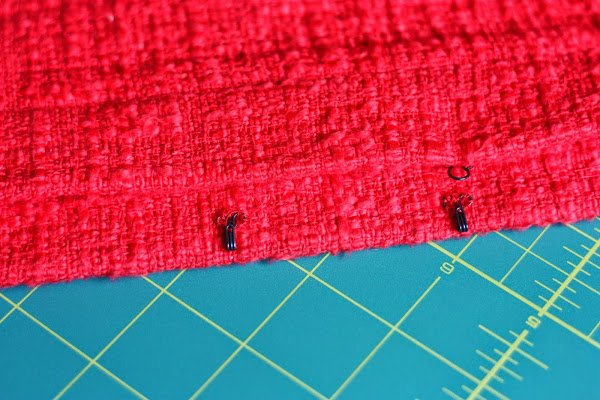 Let me know if you try it and how it goes!