Creating My First List of 100 Dreams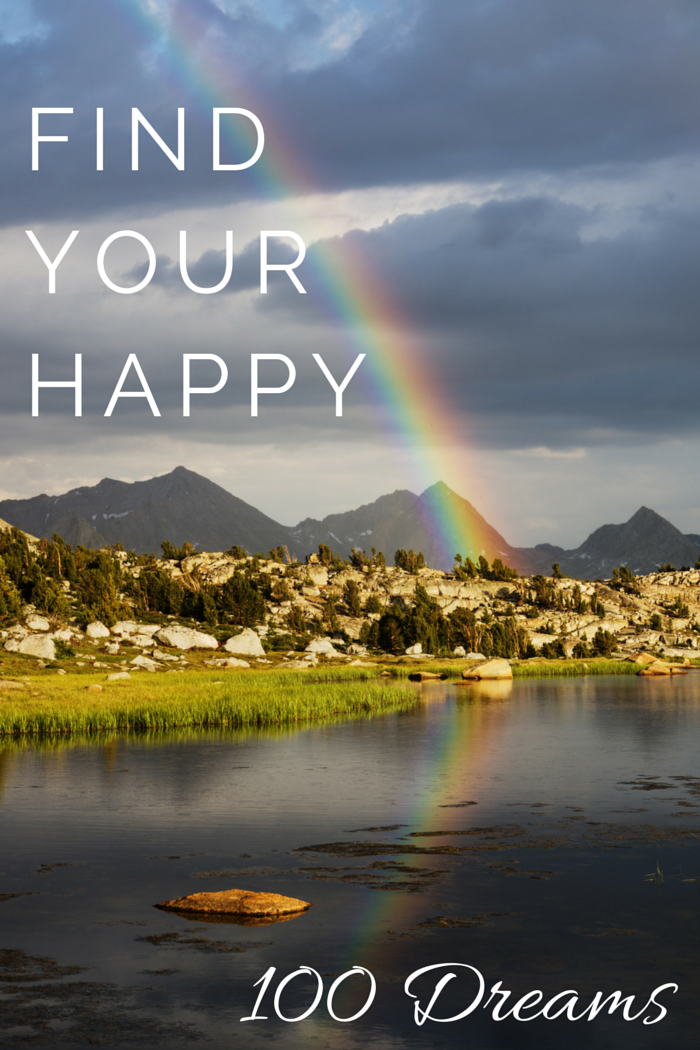 Do you ever have those days where you feel like you're on the path to nowhere new? It's like walking on a treadmill of life. You take step after step but can't get past the daily grind of feeding kids, cleaning, doing laundry, and checking off the items on your boss' to-do list.
While I don't want to wish away the blissful moments of The Everyday, having bigger plans and looking ahead to know and understand your dreams, the Why in life, helps give direction and purpose to the decisions we make each day about how we spend our finite time.
Step back and think about your hopes and dreams, the big things and the little things that bring you joy, the things that you want to accomplish. Forget about today's to-do list, let's dig into your Dream List!
List of 100 Dreams To Step Away From The Daily Grind
A few months back, between two little guys demanding much of our time and work feeling like a drag, M and I started to get a little sick of it all. We never did anything fun or exciting. We filled day after day with mundane tasks and meeting our basic responsibilities and needs. Life felt stale.
M suggested we were in a "tough phase" when the boys were little and eventually it would pass. We could hang in there and, after a while when the boys were a bit older, life would carry away the weight of the mundane. We'd be lifted out of the grind by just the passage of time.
I didn't see it that way. I didn't see Life having that much control over our happiness and daily activities.
I didn't want to wait it out. Even if I patiently waited for this phase to pass, it certainly would be replaced with another type of daily grind. Daycare meltdowns might be replaced by baseball practices, but it still left no time for me and for us and for the things that felt really fulfilling. There had to be a better way.
I began being more conscious about how I spent my time. I've always been one to nix "obligations" where possible and replace those "slots on my calendar" with activities and commitments I consider important to my long-term health and happiness. But I wanted to take even more control over this.
Creating My List of 100 Dreams
I started listening to a few podcasts and reading some blogs and books about intentional living, goal setting, personal development, and productivity in hopes of finding some ideas I could implement in our lives.
Among so many other things, I found the List of 100 Dreams. Many of you are probably familiar with the premise.
The rules are simple. Create a List of 100 Dreams you want to accomplish. It has to be 100, no less. More is fine, but I caution against too many so as not to become paralyzed by excessive and competing options.
It's ok if you have or are in the process of accomplishing some of them already. You'll likely find developing the complete list to be nearly as difficult as executing it. But that's the point.
Your list will begin with the big, long-term lofty goals. As you progress through the list, you will start to include a host of smaller, everyday goals and dreams that you can achieve today or tomorrow or next week. Maybe some of them are goals you accomplish every day (like telling your kids or spouse that you love them).
Having to list 100 items, instead of just five or ten or twenty, forces us to keep digging into the nitty-gritty and look beyond the lofty goals that don't always feel so achievable. Two-thirds of the way into your list, you likely will include simpler or more manageable goals that can be accomplished this weekend or next month. My list includes a variety of things from big to small, one-time events to recurring lifestyle choices. It's your design, so follow your heart.
With the accomplishment of the small goals, we find inner peace and happiness. We also generate motivation to continue making progress on the bigger goals. Ultimately, we schedule our days and our weeks and our months in pursuit of those dreams.
My List of 100 Dreams Became Their 100 Dreams Lists
I made my list over the course of 2 months. I sat down to start it and added 40-50 items over an hour or so on the first day. I kept the list on my phone in Evernote and added items as I thought of them. I almost always have my phone with me for better and for worse. For the better, in this case, any time I thought of another goal, I easily added it to my list on my way to 100 Dreams.
I mentioned it to M and he liked the idea. A couple of years ago, we created a list of goals of our own, but we never dug past 15 or 20. This time, we created our lists together. Periodically, I'd ask him what else he wanted to add. We made it a bit of a competition to see who could get to 100 first. I won. 🙂
A few weeks after we started building our lists, I visited my parents. I shared the idea with them, and they loved it too. One afternoon while with them, we all sat down and worked on our lists for over an hour. I really enjoyed it. It's quite interesting the valuable insight we had into each other's goals and dreams, sharing these with each other. Surprising as it may seem, I learned so much about the goals of M as well as my parents in sharing the process. I highly recommend it!
Scheduling Time To Follow Our List of 100 Dreams
Once in motion, The List helps guide how I decide to spend my time. Each activity added to the calendar must pass the List of 100 Dreams test. Is the activity or commitment supporting or progressing toward one of those goals? If not, should it really be on my calendar? Probably not.
For clarity, that's not to say I love every activity I ever do. But everything should ultimately be in pursuit of one of my goals. For example, I may not feel like cooking dinner one night. But if feeding my children healthy and wholesome family dinners is on my list, then dragging myself to the kitchen to cook a meal pursues one of my goals. Likely, I'll be happy I did it in the end too.
Making Our List of 100 Dreams Together
Having my list felt great. It gave me direction. But having M's list felt even better. He's not quite as intentional about goal-setting as me.
While he struggled to find meaning and happiness in our life, he couldn't offer a clear indication of what he really wanted. He felt hung up on the fact that he just had to wait it out. We didn't have the option to change much about our circumstances, especially overnight, without making significant changes to our careers or living situation, which we didn't want to do at the time. Thus, I didn't know how I could help him create more time for what mattered most to him.
Having his list and mine in hand, I set out to intentionally create more time for the things both of us wanted to accomplish. So far, it's helped us plan our days more effectively (like waking up early for a Productive Hour most days), schedule more exciting activities on the weekends, and prepare healthier meals for our family.
My List of 100 Dreams (an excerpt)
While I'm not ready to share all 100 of my dreams, I thought I'd offer up those I'm comfortable sharing. It might spark some ideas of your own!
Read 30 minutes to my boys each day (At about 15 – 20 minutes per day currently)
Teach my boys to love the library (T loves to visit; J isn't quite old enough to appreciate yet) – Update 2020: I have definitely accomplished this. Here's a whole series about how we use and love our local library.
Encourage my boys to be curious and inquisitive
Teach my boys to cook (they LOVE to bake and we're working on cooking)
Be productive and effective at work
Become an expert in my field at my company
Attend all four tennis grand slams (Wimbledon, US Open, French Open, Australian Open)
Take beautiful pictures (working on this one all the time)
Make 2 photo books per year for my boys (I use Shutterfly) (done for 2015)
Attend a yoga / surf camp in another country
Do yoga three times a week for two months with M
Cook healthy meals for my family
Read 2 books per month
Live somewhere with warm weather
Get back into tennis
Travel with M and the boys
Family breakfast once per week (getting to this pretty regularly)
Quarterly photography walk by myself
Write 3 blog posts per week, SEO optimized (done)
Update 5 prior posts per week for SEO and general updating, fixing links, etc… (completed, to the extent I intend to)
Do a triathlon or half marathon with my mom and one with M (signed up for one in June 2016)
Travel to Paris with M (May 2010)
Travel to Prague with M (May 2010)
Annual trip with me and M
Trip to French countryside with M
Eat more vegetables – Update 2020: Misfits Market and a subscription to a local CSA have helped us do this.
Volunteer with boys once per month
Host monthly girls night in
Vacation with my sisters
Travel to Paris with senior year college roommates
Have a nice home office
Have a productive hour before boys wake up each morning (our best efforts)
Do something fun/something to look forward to every weekend (doing this now)
Complete the 100 Rejection Letters project for my blog
Attend a blog conference (July 2015)
Have blog business cards (got 'em)
Have a monthly date with M (working on it; Twelve Dates of Christmas)
Do a quarterly weekend trip with M
Always hire out house cleaning (hired)
Refashion my blue and brown dress (Sept 2014)
Take T and J apple picking
Eat Paleo for one month
Take one of my sisters out for a day, do whatever she wants – paid for by me
Have a Christmas tree (December 2014, 2015)
Read (or listen to) 12 books in a year (January 2015)
Eat vegetables and drink 8 glasses of water every day for a month
Wear all thrifted clothes for a month
Go for a run once a week with M for one month
Take T to a play (saw Flying Bach together)
Start a compost bin (Update 2020: I've totally crushed this and even started a composting company!)
Pay for someone else's food behind me at a fast-food restaurant (January 2015)
Complete the 365 project (365 project.org) – a photo a day for a year
Attend a Joffrey Ballet performance
No chocolate for a month
Make soft pretzels from scratch
Make real s'mores around a campfire with T and J (Update 2020: done this, now that we have a fire pit in our yard)
Make sangria
Attend a Ted Talk in person
Attend Chicago Ideas Week (Fall 2015)
Complete a 5k as a family
Participate in Dinner En Blanc
Take T and J to a butterfly release at the Nature Museum in Lincoln Park – did this with the boys
Play beach volleyball with M
Take Mommy and Me yoga class with T
Listen to 3 podcasts per week (do regularly)
Try Dream Dinners (Summer 2015)
2 weeks in Spain with M
Take boys to Little League World Series
Have a Vegetable garden (Update 2020: Definitely got this one underway!)
Go on a trip with my mom
Go on a trip with my dad
Have all art/photo decor in our house taken by me
Go to Indian Wells tennis tournament with my parents (Went with my entire family for my Dad's birthday a few years ago)
Go to a cooking class annually (2014, 2015)
Try 2 new recipes per month
Go to Grand Canyon
Go to Zion National Park (Summer 2019)
Go to Yellowstone
Go to Glacier National Park
Complete the Whole 30
Go on a 2 week trip by myself
What's on your List of 100 Dreams? I'd love to hear in the comments!
If you're curious, you can also check out my updated List of 100 Dreams for 2016. We moved to a new town, bought a house, and really changed the trajectory of our life. It felt like the right time to reassess my list of 100 dreams.