Allbirds ~ Comfort & Sustainability Meet on Your Feet
Looking for a great pair of sustainable shoes that are comfortable and better for our communities? Check out these new wool tennis shoes (or sneakers?) from Allbirds.
So I have this stupid "thing" where I don't wear new clothes until I've done at least one photoshoot for the blog. I don't want the new thing to get stained, too wrinkly, faded when washed, or ruined before getting some half-decent photos. It's so dumb, but I still do it.
That's what happened with these shoes. It took me nearly three weeks to get a photo in them… which meant I didn't wear them while they sat in the box in my closet for three weeks?! C'mon. Really?!
But, despite thinking it's silly, I'm probably still going to do the same thing, I'm sure.
Although just hitting the blog now, you've seen these shoes already if you follow me on Instagram. (If you don't follow, I'd totally love it if you did.)
Made with all-natural materials and shipped in a pretty cool box that uses 40% less packaging than traditional shoe boxes, these shoes have a far smaller footprint (no pun intended) on the environment than their typical and often synthetic counterparts. Allbirds is also on its way to becoming a B Corp, a company with social consciousness built into its mission.
"Do-gooder" qualities aside, the shoes are super comfortable. I bought them in search of a neutral pair of shoes I could wear with just about anything (especially when my go-to Bucketfeet shoes were a bit much for a particular outfit). I've been wearing them almost every day, sometimes with socks and sometimes without, and they've lived up to their comfort claims so far.
I spend a lot of time in casual tennis shoes, and these have definitely filled a gap in my wardrobe.
One Quick Request – Tennis Shoes or Sneakers?
Before departing, I have one last request for you. Hailing from the Midwest, I call these "tennis shoes." M, and everyone from the East Coast, calls them "sneakers." Recently, my boys have started to call them "sneakers" and it's totally killing me.
M and I have a long-standing friendly debate about what they "should" be called, based mostly on whether more people in the country call them tennis shoes or sneakers. So, if you'd do me a tiny little favor, I'd love for you to pop over to this post on Instagram to let me where you're from and whether you call these bad boys tennis shoes or sneakers. Thanks in advance!! I'm super pumped about my very "scientific" poll.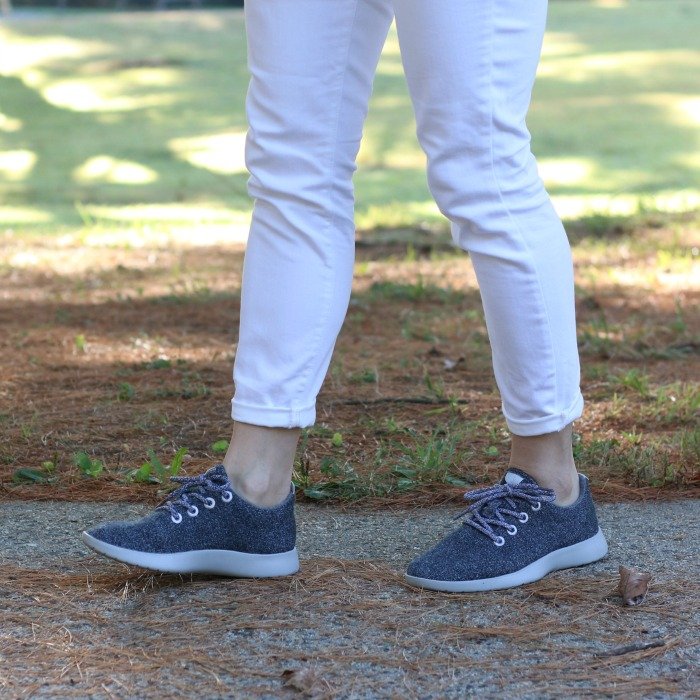 Sweatshirt – Everlance, c/o Slowre | Jeans – Vince, via Salvation Army| Shoes – Allbirds