5 Sustainably-Minded Reasons To Love LEGO
Do you and your family love LEGO? For us, the bricks and plates provide plenty of reason alone to be LEGO fanatics. Did you also know, however, that the company has some ambitious sustainability goals, certain of which they have already achieved? Check out these 5 reasons to love LEGO beyond the creativity inspired by the classic bricks.
This post contains affiliate links.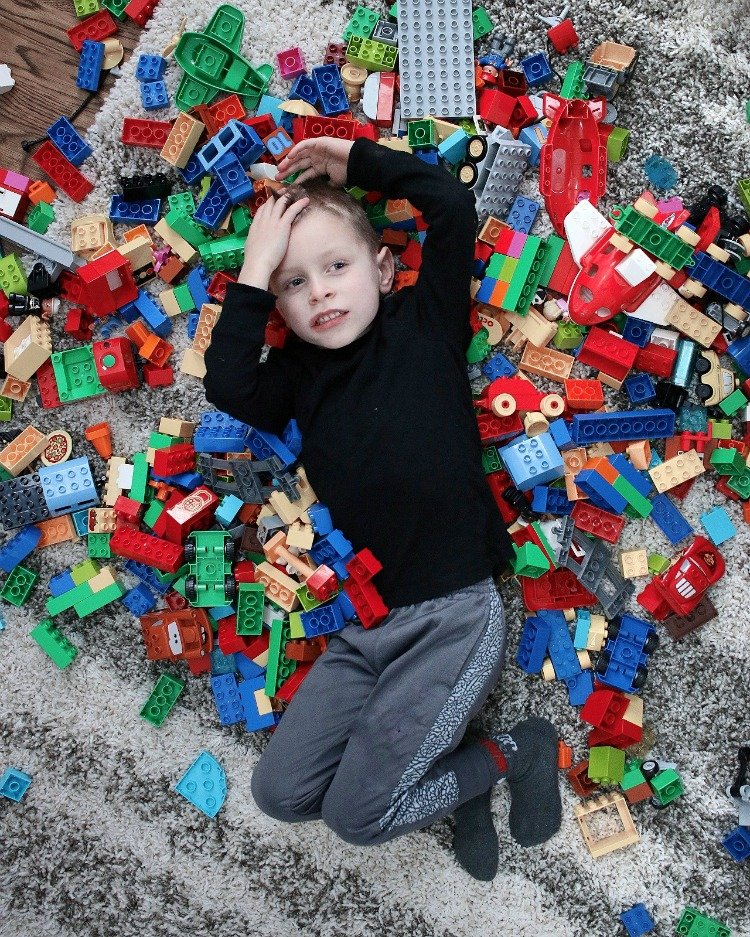 We love LEGO in our family. Our boys don't have tons of toys, except… we own thousands of LEGOs. Thousands sounds crazier than it really is because many LEGO sets come with hundreds of pieces (or 4,000 pieces if you own the Star Wars Death Star set). We don't own the Death Star, but I bet we own 10 or 12 thousand LEGOs. They hide in every corner of our house.
Oddly enough, they are one of the few toys that I don't mind finding scattered everywhere. The boys play with them constantly and use them to bring to life all sorts of figments of their imagination. LEGOs are just plain old awesome toys!
Thinking Big About The Future
Taking the lead from their home country, Denmark (one of the more sustainably-minded countries in the world), LEGO invests heavily in initiatives to make the company more eco-friendly and mindful of their impact on the future of our world. It only makes sense, I suppose, as their tiny current fans are also the bearers of our future.
Each year, LEGO issues a Responsibility Report to discuss their goals and related progress. In the report, the company highlights their investment in children's early learning programs, renewable energy, and sustainability, as well as their partnerships with relevant international organizations to advance these causes.
Lots To Love About LEGO
There are many reasons to love LEGO based just on our experience of playing with the toys at home. The toys are high-quality, and the instructions are so easy to follow. While I'm not typically a fan of criticizing competitors, have you ever tried following instructions for generic building bricks? They're impossible?! It's really made me appreciate the time and resources dedicated to making LEGO instructions fool-proof.
LEGO feeds creative exploration and provides a great calming activity to offset the many highly-stimulating activities our children experience each day. Basically… Everything is AWESOME!!!
Beyond the first-rate product and user experience, LEGO has invested billions of dollars in their production, packaging and product to make the toys more environmentally friendly from beginning to end.
5 Reasons to Love LEGO for the Long-Term
Achieved Its 100% Renewable Energy Goal
While not every LEGO factory, LEGOLAND location, and LEGO store functions on renewable energy, the LEGO Group has invested 6 billion DKK (about $1 billion) in wind farms. These facilities produce enough renewable energy to fully offset the LEGO Group's energy use from other fossil fuel sources. Fully transitioning all of their operations to renewable energy sources is far more complicated than building a few wind farms due to existing infrastructure, long-standing policy, and the inability to efficiently move and store such large amounts of renewable energy. Thus, it's fair to conclude that offsetting their energy use is a great first step toward a greener future.
Replacing Traditional Plastic and Packaging with Sustainable Materials
Starting in 2018, certain LEGO pieces, such as trees and bushes, will be manufactured with plant-based plastic made from sugarcane. Renewable plant-based plastics replace petroleum-based plastics without compromising quality. The company has a partnership with the World Wildlife Fund, which helps ensure that the sugarcane from Brazil that will replace the plastic does not lead to significant deforestation issues.
The company intends to make all of its products and packaging from sustainable materials by 2030.
Pieces Have Serious Longevity
Production is of such high quality and the company takes great care in ensuring the longevity of the product that, according to LEGO, all pieces made since 1958 fit together. In other words, they want to ensure that new bricks work well with older bricks and we can pass along our beloved bricks to future generations. My boys are definitely still using LEGO bricks that M and I used as kids.
LEGO Foundation Has Sustainable Funding
According to the 2017 LEGO Responsibility Report, The LEGO Foundation owns 25% of the LEGO Group. In other words, the legal structure of the company and its philanthropic foundation ensures continuous and sustainable financial means available to fuel the projects of the Foundation. Many non-profit organizations struggle with the ebbs and flows of funding contingent on discretionary donations. That the LEGO Foundation can anticipate predictable funding frees up resources to be allocated to long-term project investment and execution.
Encouraging Children to Creatively Care About the Environment
LEGO engages with children in discussions about environmental issues through local building events around the world. In 2017, they celebrated their renewable energy achievements by building an enormous wind turbine out of LEGOs and encouraging children to build their own brick wind turbines. In London, LEGO sponsored a program through which children could design, build and code a LEGO prototype device to help remove trash from their local river. In Denmark, LEGO partnered with the WWF to host a building event where children had the opportunity to build habitats for endangered species. These are just a few of the events they've hosted.
The company also started a Planet Crew program to get kids thinking about how they can cultivate solutions to climate change through the power of play. The more creative geniuses dedicated to finding solutions to environmental problems, the better!
I've said it before, and I'll say it again. We're big fans of LEGO. I played with LEGOs as a child, love watching my family play with them today, and appreciate that the company's commitment to serving their customers and communities goes beyond the product that lands on the shelf.
We have lots of LEGOs in our house, and I'm sure we'll continue to collect them over time. I know they'll always be little bricks and plates floating around my house, and I've no intention of trying to corral all the little pieces. I just need to make sure I don't step on those pesky pieces, because we all know that hurts like a b*&$#.