Peak Inside The Closets of Ethical Style Bloggers and Creatives
Want an inside look into the closets of ethical style bloggers and creatives? I've teamed up with several women from Ethical Writers and Creatives to give you a peak into our closets and our style habits to shed some light on what ethical and eco-friendly fashion practices look like for each of us.
A couple weeks ago, I was having a discussion with someone from my community, and he mentioned the name of a higher-end strip mall (just a few miles from my house) as a geographical reference point. We've lived in our current home for over two years now, but it took me a minute to place the name, even though I drive past this strip mall at least twice every day!
That the reference didn't immediately resonate with me is partly a function of human habits; over time, we lose sight of details right in front of us that seem to blend into the monotony of routine. It's also, however, a testament to my shopping habits. This strip mall is filled with stores like Victoria's Secret, J Crew, and Lululemon, stores I just don't visit anymore.
Years ago, I used to shop at these store regularly. During the summer of 2015, I took on a 90/10 Socially Conscious Style Challenge, which kicked off a new chapter in my style story.
Over the last few years, I've learned more about the perils of the fashion industry on our planet, like the excessive use of resources and burden on our landfills as well as the ugly human rights mess on which many of our major fashion brands rely.
Did you know a new pair of jeans requires 5 1/2 years of your drinking water? And that same pair of jeans probably polluted the water of the community in which they were made? Most people don't want to know.
I know we can do better.
Additionally, intentional focus on buying only clothes I really love leaves me uninterested in shopping as a pastime. Six or eight years ago, I stocked my closet with hundreds of pieces I barely wore, and I relished finding another piece on the sale rack that added a new pattern or silhouette to my closet.
It's funny though how style works. While obvious on paper, not every color, pattern and silhouette works on every body. Variety might be the spice of life, but it wasn't the spice of my closet when half the things I owned didn't flatter my skin tone or body type.
Today, I have a much better idea of the types of clothes that work well for me. I know what styles make me feel confident, work with my lifestyle, and flatter my body. I still enjoy incorporating a few different things for interest. More often, I "stick with what works" because if it ain't broken, why fix it?!
Related Post: One Easy Trick For A More Sustainable Closet
I've scaled back my closet dramatically in the last several years. I don't have a capsule wardrobe, but I own few things that don't see regular wear. I have lots of leggings and sweaters. I own a handful of jeans and dresses. I have a couple dozen or so pairs of shoes (which is still a lot, but includes dressy heels, tennis shoes, boots and other styles).
Most of my clothes I purchased secondhand. I like thredUP (and have shared some tips about finding great deals on their site) and increasingly appreciate the curated collection at the consignment shop near my house. I used to enjoy thrifting at charity shops and discovering the diamond in the rough. With more constraints on my time, however, I no longer make time for "the hunt" as much as I used to. Times change, and that's ok. I believe there's a secondhand or affordable ethical option for just about all of us.
Additionally, my closet turns over much more slowly than it used to. I buy fewer new items, wear pieces more often, fix small holes and am more diligent about trying to remove stains in an effort to make things last.
For example, I've had my winter jacket for over ten years. This year, the zipper broke. I've been wearing it anyway, but plan to take it to a seamstress who can hopefully replace the zipper and give me another few years of life in my coat.
Related Post: 6 Reasons Not To Shop Sustainably… Solved
Beyond just the logic and process behind what I buy, how about a peak into my real closet? I didn't clean it for you and it 's naturally a bit dark, but here is my real closet in all it's glory.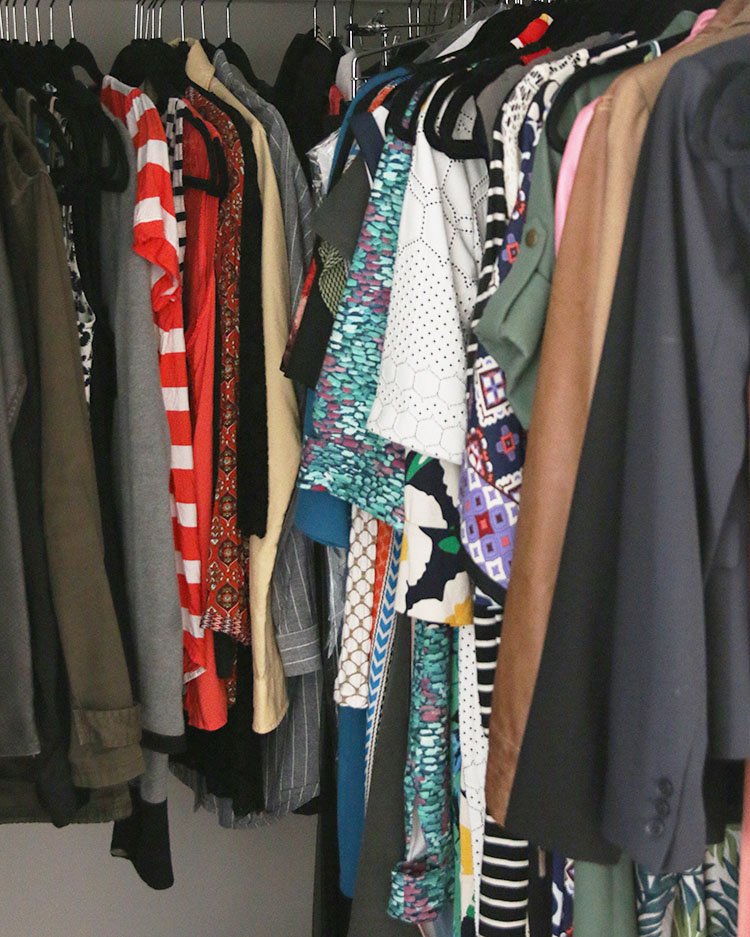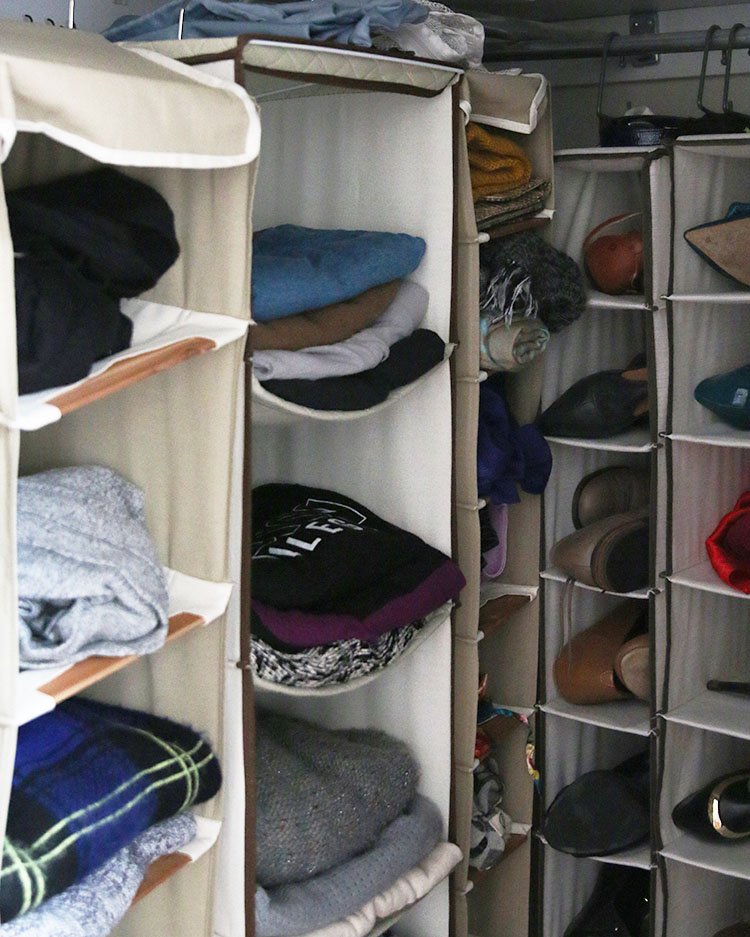 I fold most of my sweaters to help them last longer. I keep my nicer shoes in compartments to prevent them from getting dusty.
I also have a basket on the floor of my closet to collect items that require special cleaning like hand washing or dry cleaning. I don't own too many of these items. It's too much work (and dry cleaning kind of sucks for the Earth and the humans who do it because of the chemicals used in the process).
After reading The Life Changing Magic of Tidying Up and Spark Joy by Marie Kondo many years ago, I still fold my shirts and organize them vertically so I can see them.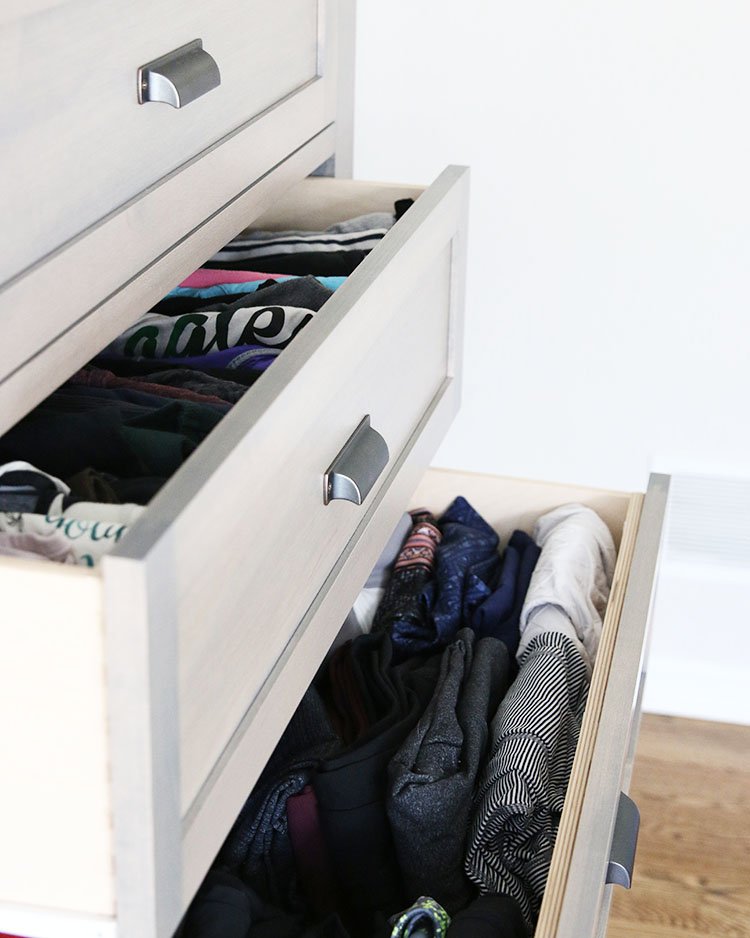 There's no exact formula or magic recipe to master the perfect ethical closet. We all take a slightly different approach and have various favorite brands.
We all, however, spend more time contemplating the things we want to buy, wearing the things we own over and over, and thoughtfully disposing of items once we no longer need them. We slow down the churn of fashion through our closets.
Some ethical style bloggers have capsule wardrobes and other don't. We all, however, make a concerted effort to ensure that what we buy brings us joy so it holds a lasting and meaningful place in our wardrobe. I guess you could say we've "Konmaried" our shopping habits in addition to our closets!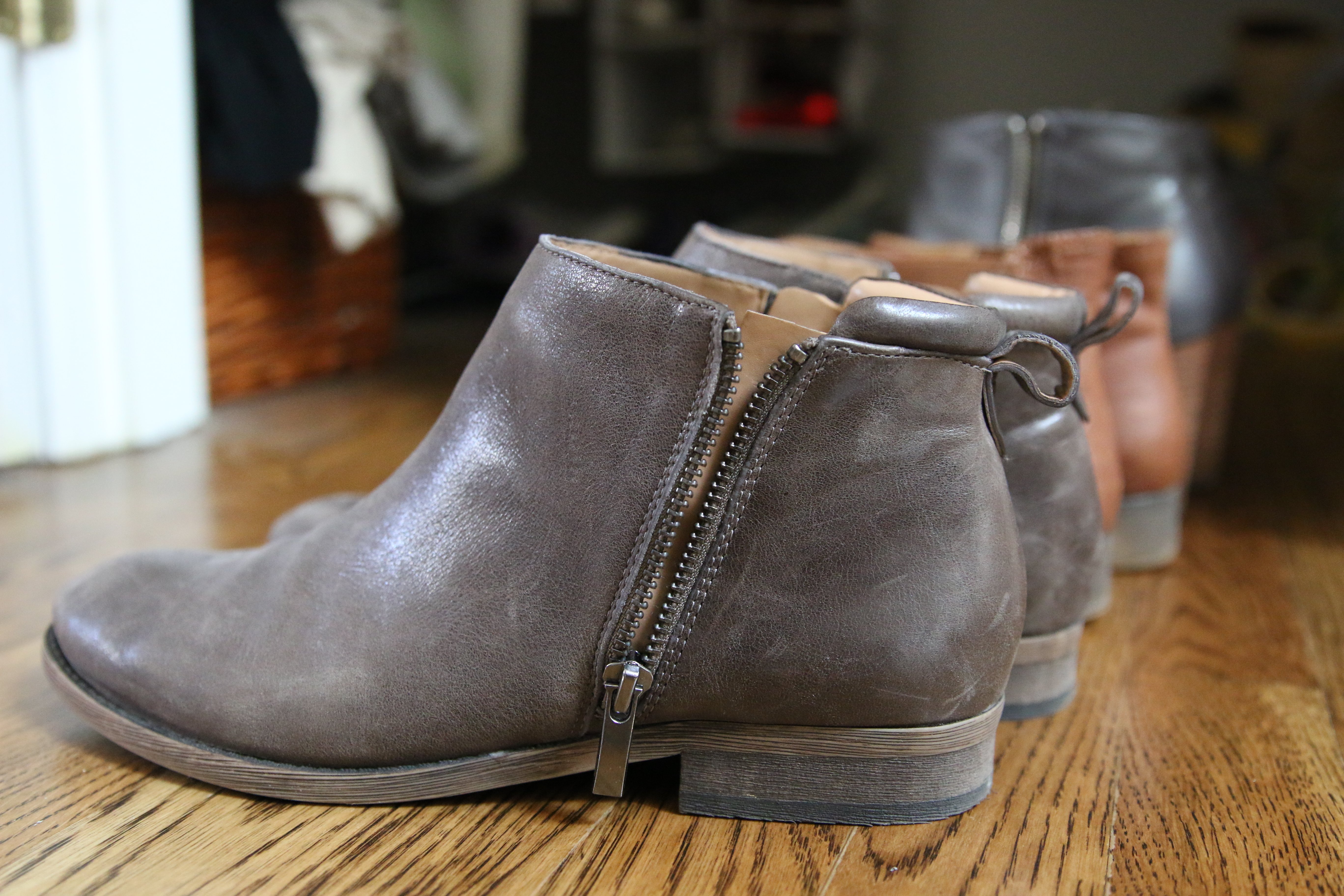 More Sneak Peaks Into The Closets of Ethical Style Writers and Creatives
Leah of StyleWise | I KonMaried My Conscious Closet | A Closet Tour
Cait of World Threads Traveler | What Does a Sustainable Closet Look Like? Inside the Closets of Eco Bloggers