On Finding Your Sustainable Style In Multiple Colors
A few years ago, I thought it unnecessary (and maybe even wasteful) to purchase the same clothing item in multiple colors. If I had one of something, wasn't that enough? This American Giant t-shirt changed my tune on this aspect of defining my personal sustainable style. Read on for why I love my American Giant t-shirts and believe investing in multiple versions of the same item you love can be an easy step toward a more sustainable wardrobe.
FYI: This post was originally published in August of 2016 though I've made quite a few updates The photos are original to the post (so my hair is quite a bit longer now), but I still own and wear all of the pieces I'm wearing in this outfit. That's a testament to sustainable style! I'm even wearing the navy version of this shirt as I write this post. Classic style is my style.
Nearly five years ago, not long into my sustainable style adventure, I broke one of my own sustainable style rules. I bought four versions of the same American Giant Premium Cotton V-neck T-shirt (that I think they now call Premium Slub) in four different colors.
Before I became more thoughtful about my clothes, I often found something I liked and bought an extra one if I liked it. Why not have multiples, right?
As I developed a more thoughtful approach to my closet that comprised significantly fewer items, having multiple versions of the same thing in varying colors made my closet feel full but boring. I couldn't create versatility in my style. As I explored new elements of style, I committed never to own two of anything. It felt like a waste.
Then…
American Giant changed my tune. And I bought four of these American-made t-shirts in different colors.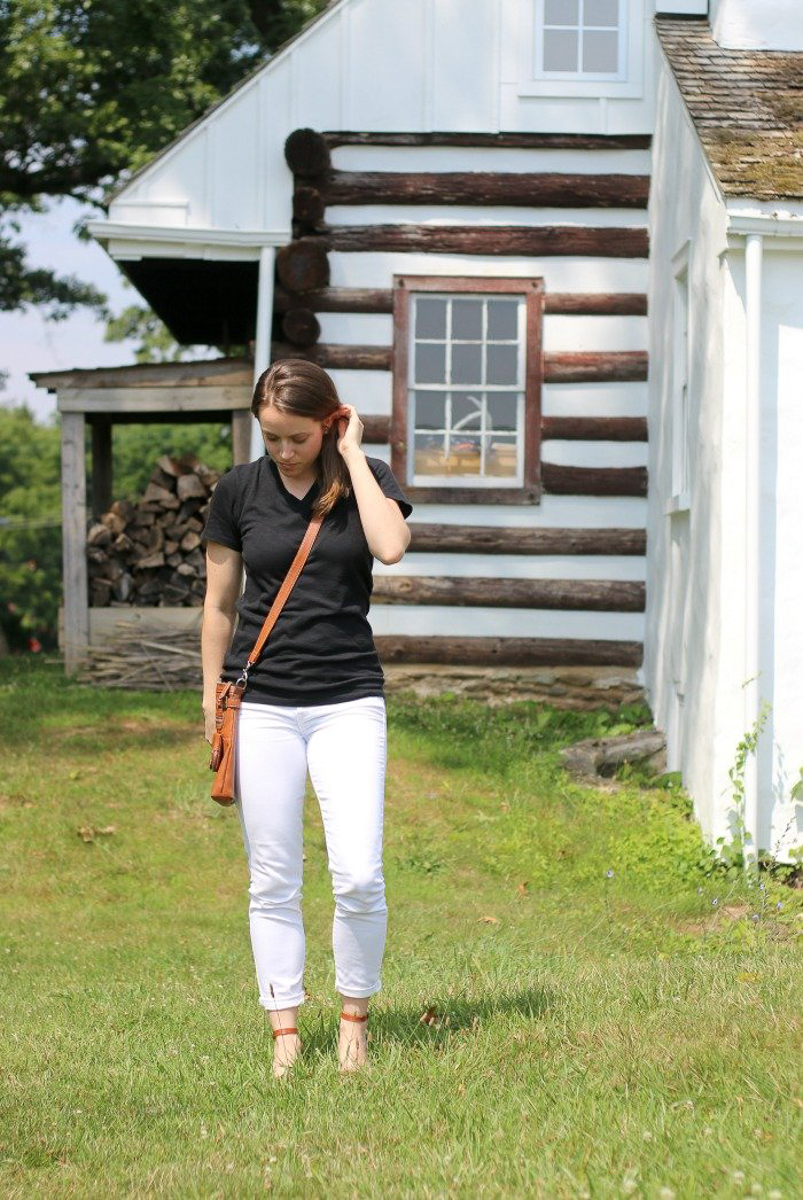 I initially considered a good t-shirt as a boring staple. But I've come to learn that having really great staples in a wardrobe adds lots of remixing opportunities. The staples match many things, can be layered, and are often season-less. Quality basics form a solid foundation on which to build with more interesting and unique style companions.
Coming to fully understand this principle, as overdue as it may seem, confirmed I could use a couple more high-quality basic t-shirts in my style repertoire. I moved from Chicago to Philadelphia just a couple of months before I made this investment in a collection of new t-shirts. Philadelphia summers are much hotter than Chicago's brief excuse of summer, so I needed more pieces for hot weather.
As I contemplated which brand(s) to buy, I really loved my American Giant t-shirt and didn't entirely appreciate everything about any other t-shirt I'd ever owned. So… if it ain't broke, don't fix it.
Now I own the American Giant Premium Cotton V-neck in black, navy, olive and blush.
They're crazy comfortable, a bit longer to be more flattering (at least for me), and made of heavier cotton that feels sturdier yet is still totally breathable and fresh. They generally hold their shape and size through the wash. The neck hemline has loosened a bit with washes for me, but I think it helps give the shirt a perfectly "lived in" look.
On a side note, I also own two American Giant Classic Full Zip Hoodies (here's proof of one) as well as a pair of cropped joggers I don't think they make anymore. All of these items are from many years ago and remain in great condition.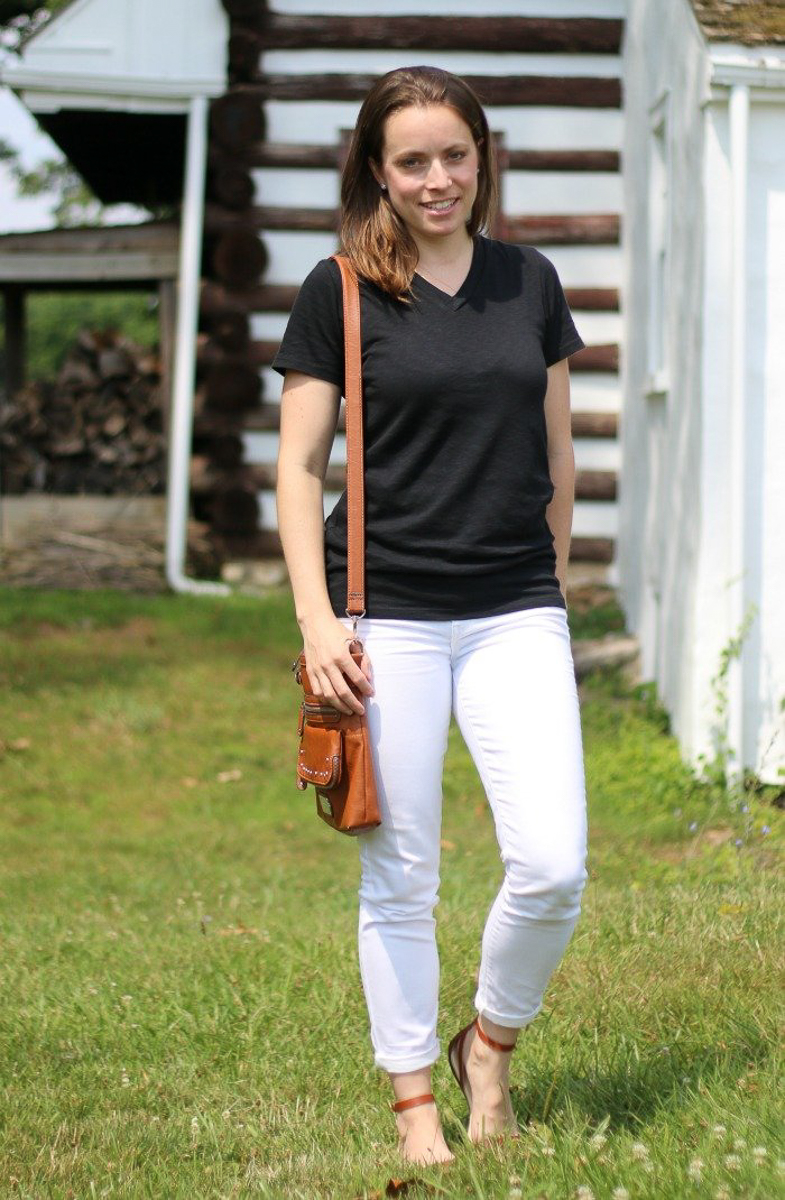 Through all this, I learned that diversity of style is important. But when it comes to basics (the foundational staples in your closet), performance is key. When you find something that works for you, embrace it. You don't need the shirt in every single color. But if you want a few solid-colored t-shirts on which to build a classic capsule wardrobe or a wardrobe foundation, sticking to a brand that works for you isn't such a bad thing.
Today, I've more than embraced the idea of buying multiple colors of the same item when you find what you love. I have several pairs of my High-Rise Pocket Leggings from Girlfriend Collective as well as a couple of pairs of their High-Rise Pocket Shorts. I've raved about Girlfriend Collective in the past, and wear something from their collection almost every day.
After doing research and finding a brand I love that aligns with my values and makes products that suit my body type and lifestyle, there's no need to reinvent the wheel with each addition to my closet. Aside from secondhand items in my closet, I have a few favorite brands from which I purchase most of the new items that enter my closet. It's funny how our own perspectives change with experience and time (or lack of time, as the case may be when not having the capacity to perform due diligence on countless new brands).
Do you have any favorite sustainable brands that fill multiple staple needs in your closet? I'd love to hear about them in the comments, and be sure to tell me why you love them in you're willing to share.
Shirt – American Giant | Jeans – Vince (thrifted via Salvation Army) | Shoes – Nisolo | Bag – Nine West