How to Find a Non-Toxic Garden Hose: Easy Tips and Recommendations
Ready to find the best products for your home garden but want to avoid the toxic elements of some common products? Read on for more details about how to find a non-toxic garden hose so your gorgeous vegetable gardens can feed your family without concerns about chemicals.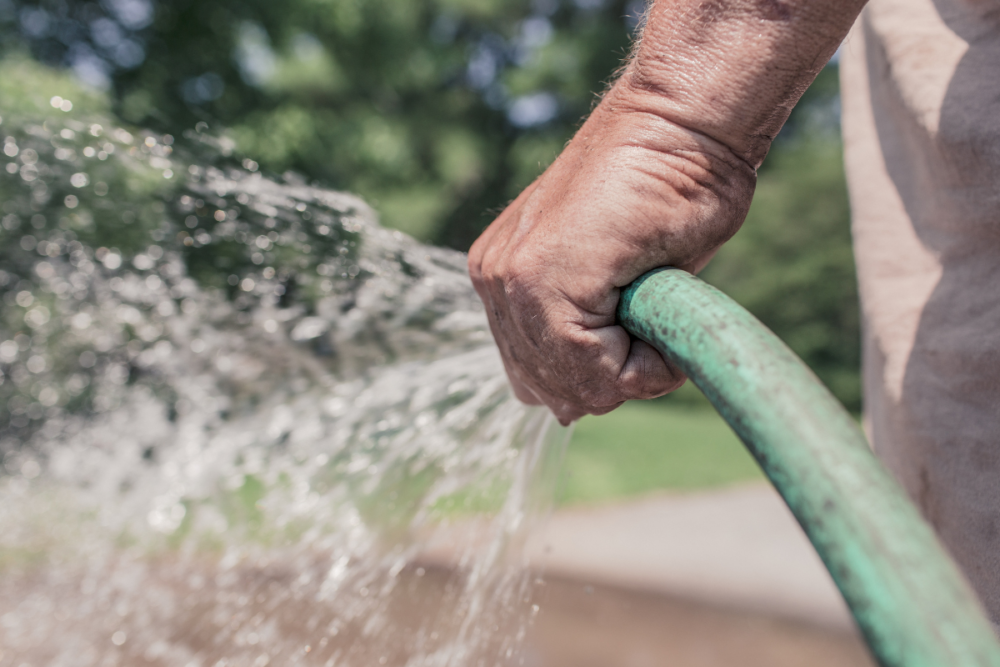 If you're an avid gardener, you know the importance of having a reliable garden hose, especially if your garden isn't right next to your water source. We've had a vegetable and flower garden for a few years now. Fortunately, we don't have to water it too often once it's established, but it definitely needs a good soak almost daily when we first plant the new seedlings.
A poor hose or a faulty nozzle is an obvious annoyance when it comes to keeping the plants watered and thriving. But there's more to a good garden hose than what we see on the surface. Not all garden hoses are created equal.
Many garden hoses contain harmful toxins, such as lead, that can contaminate your water supply and harm your plants. That's why it's essential to find a non-toxic garden hose that is safe for both you and your garden.
To learn more about how to find a non-toxic garden hose, I reached out to a friend who did a whole bunch of research on non-toxic garden hoses to find the right one for her family. She has a professional background working as a researcher for environmental organizations, so this is kind of her specialty. I decided to hand this topic off to her, so here she is. Take it away Sarah and tell us about how to find a non-toxic garden hose.
New hose for a new garden
Last summer, we decided to expand our summer vegetable garden, but we ran into a little problem. The expanded garden location was approximately 200 feet away from our house, and we didn't have a hose to reach so far from our house. To pursue our garden expansion, we needed a new and much longer hose. So began the elusive search for the perfect home garden hose.
My husband found a great deal on a hose at a local bulk supply store. I thought it was great too… until I opened the box and it smelled like tires. With such a stench, I immediately wondered if this hose was safe for us to use. My curiosity took hold, and I set out to find a safe, non-toxic garden hose for our new vegetable patch.
After a good bit of research, I discovered that many garden hoses contain toxic materials, and it's important to choose carefully to ensure you choose a safe garden hose for your family. Let's dive in to find out more about safe, non-toxic garden hoses.
Related Reading: How To Create A Certified Wildlife Habitat Yard or Garden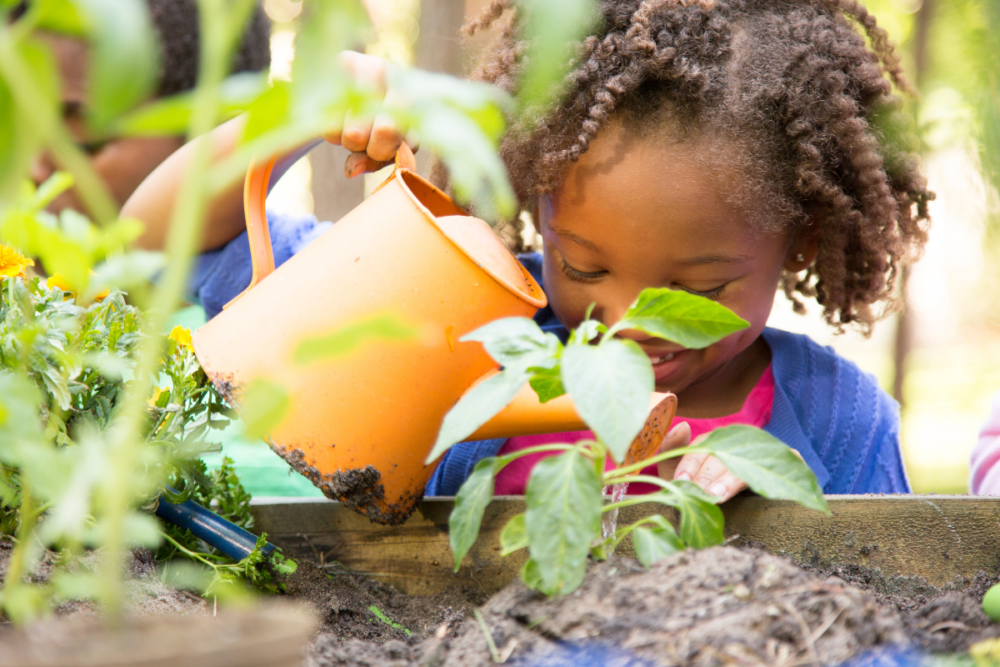 Why are some garden hoses toxic?
Some garden hoses can be toxic depending on the type of material from which they are made and the metal couplings used for connections. Many garden hoses contain harmful chemicals that can leach into your soil and water supply, potentially contaminating your crops and harming your health.
One of the most common chemicals found in garden hoses is lead. Lead is a toxic heavy metal that can cause serious health problems, especially in children and pregnant women. When you water your garden with a lead-containing hose, the lead can leach into the soil and be taken up by your plants. This can lead to lead contamination in your crops, which can be harmful if consumed.
In addition, to lead, many garden hoses are commonly made from polyurethane, PVC, and rubber. Each of these materials can contain lead and other toxic chemicals, though some tend to be more problematic than others.
Metal Couplings in Garden Hoses
Metal couplings in garden hoses are made from brass, chrome or nickel-plated brass, and aluminum. A 2016 study on the safety of garden hoses found brass couplings to be a source of lead contamination. Many companies have since improved the types of couplings they use. Often, manufacturers either choose lead-free brass and add a plating material to the brass (such as nickel or chrome) or make couplings from aluminum.
Safety of Hose Materials in Garden Hoses
Hoses are commonly made from polyurethane, PVC, and rubber. When selecting a hose, be sure to check the material from which the hose is made to find the option for your needs.
Polyurethane is considered to be the safest hose material for kids and gardens. It doesn't contain lead, other heavy metals, or phthalates. However, it is usually the most expensive hose material.
Rubber hoses can be made of natural rubber and synthetic rubber. Most hoses shown to be made of "rubber" are made from synthetic rubber. They tend to be more expensive than a PVC hose but less expensive than polyurethane.
Rubber hoses that were tested in the 2016 study didn't have many phthalate contaminants but did have high levels of lead. Rubber hoses are known for more heavy-duty use, however, and tend to be more durable. Thus, they may not be the most likely choice for a home garden hose.
PVC (Polyvinyl Chloride) or vinyl hoses are some of the most common types of outdoor personal-use hoses. While they are usually the least expensive, they can also be very toxic. According to the 2016 study mentioned above, 75% of PVC hoses contained phthalates while 22% contained elevated levels of lead and heavy metals.
Why is a PVC hose so toxic?
Manufacturers generally add plasticizers to PVC hoses to make them more flexible. A plasticizer is a general term for a substance added to a synthetic resin to make it more flexible and less brittle.
Phthalates are one type of plasticizer used in vinyl hoses. Phthalates don't chemically combine with the PVC so they can freely pass into the water flowing through the garden hose. Phthalates are considered to be harmful to humans as they have been tied to increased risk of cancer, fetal development issues, and harm to reproductive systems.
More recently, as some companies phase out phthalates, they are using alternative plasticizers instead of phthalates, such as DOTP, which are considered to be safer. However, studies appear to have conflicting results with some indicating there is an effect on hormone receptors. In short, we need more research to reach a definitive conclusion on the safety of the newer plasticizers.
Manufacturers of PVC garden hoses also add stabilizers, another type of chemical, to PVC to prevent degradation, especially from heat. Lead is one type of stabilizer that is used in PVC, and lead has many proven toxic qualities for humans.
In recent years, some PVC hoses appear to be made from recycled electronic waste. While it's useful to have markets for recycled materials, the 2016 study found that many of the PVC hoses contained contaminants like antimony, lead, bromine, cadmium, and tin, and these toxic elements were traced back to additives from electronic waste.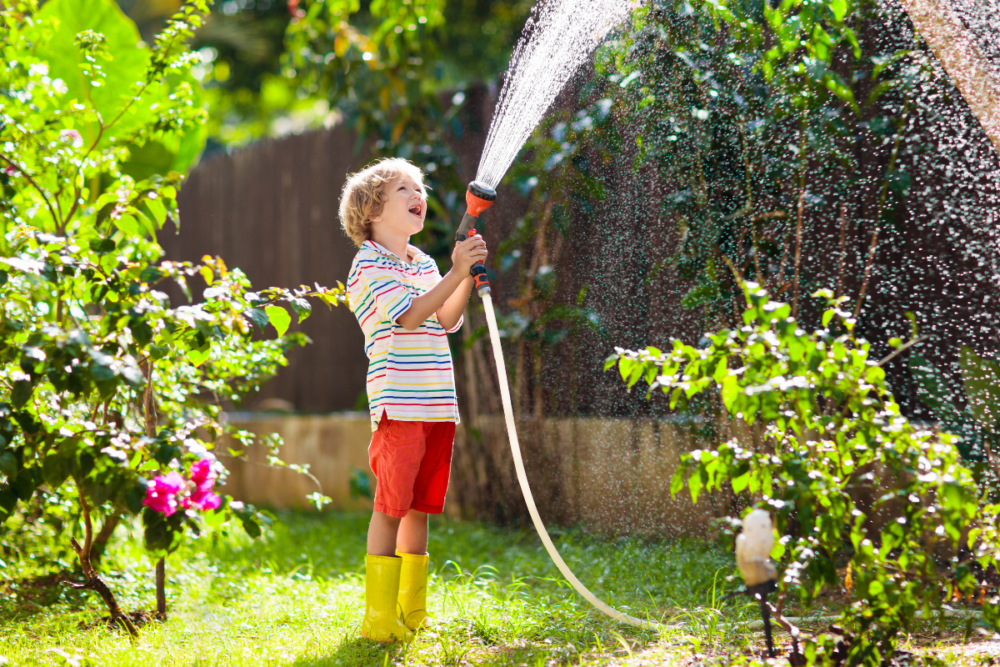 How To Find a Non-Toxic Garden Hose
When looking for a safe garden hose, start by reading the label on the packaging. Look for the following labels to ensure you select a non-toxic garden hose for your home garden.
Lead-free Label
Before buying any hose you plan to use in your garden, look for a lead-free label. According to the EPAs website and Safe Drinking Water Act, in September 2020 the final "lead-free" rule was published. This gives a consistent meaning to what the term "lead-free" means – containing not more than a weighted average of 0.25% lead when used with respect to the wetted surfaces of pipes (including hoses).
You may find other certifications associated with the lead-free label, such as NSF/ANSI 61 or 372, which is a third-party voluntary certification. Some companies have gone as far as saying 100% lead-free (WaterRight Polyurethane hose). These brands have lead-free platings on the hose couplings or switch coupling materials completely.
BPA-free/Phthalate free Label
Some hoses now include either or both of these labels and these chemicals are good to avoid. If this is a PVC (or vinyl hose), this means they most likely use one of the alternative plasticizers that are considered safer at this time.
Drinking Water Safe
The Drinking Water Safe label is also a good one to look for. Many of the hoses that have this label have significantly fewer amounts of phthalates and lead in their hoses. From the 2016 garden hose study, "Overall, hoses labeled "drinking water safe" had significantly fewer chemicals of concern and in much lower amounts, particularly lead, antimony, and bromine. However, phthalates were in some of the drinking water-safe hoses." Drinking water safe doesn't have a legally defined meaning and even though a hose with this label might meet the lead safety requirement, the same hose might have phthalates present.
You Might Find Conflicting Labeling
Unfortunately, as I looked for the right hose for our family, I encountered some examples of conflicting labeling.
For example, I bought the Swan Green & Grown Garden Hose. The label says lead-free, that it is safe for drinking water, and that the hose meets California toy standards for phthalates. All of these are good things.
However, the 2016 study I mentioned above indicated there were still phthalates present in the Green & Grown hose, even though it doesn't have the Proposition 65 label. I emailed the company, and the company responded that the hose was made with virgin PVC (so it's not made with contaminated recycled e-waste), and they use a plasticizer that is considered phthalate safe. However, now that I know that it still contains phthalates, I would consider a different hose.
I also found a garden hose at Costco.com labeled "Drinking Water Safe" because the hose meets the limits of the Federal Safe Drinking Water Act for lead. However, the packaging also shows the Prop 65 warning that it contains phthalates, which are considered hazardous chemicals to health.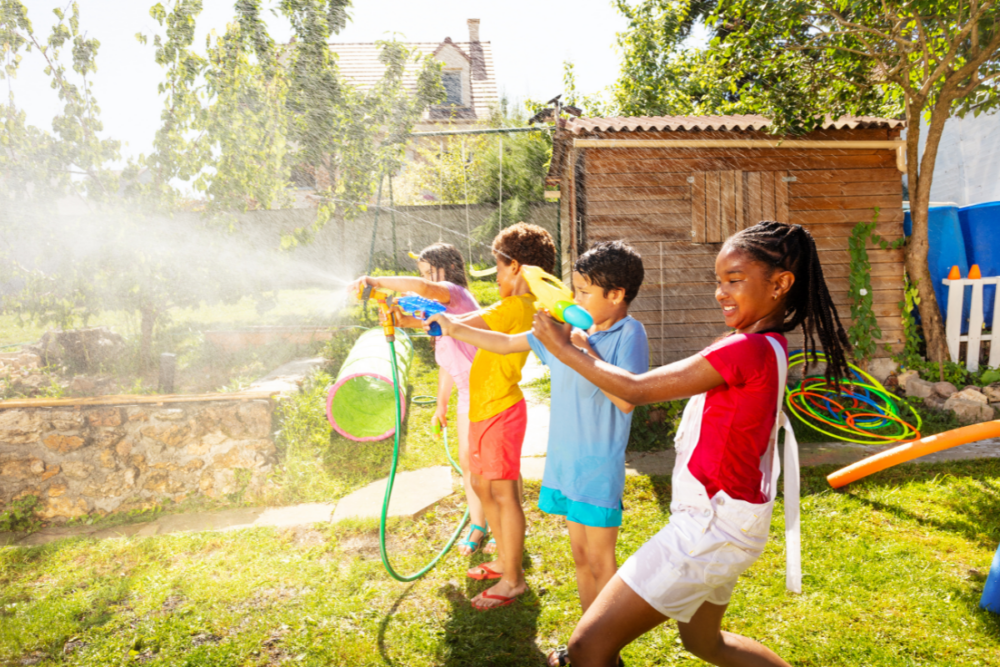 Recommended Non-Toxic Garden Hose Certifications
Despite conflicting information at times, there are some certifications to look for:
NSF/ANSI 61 Certified Drinking Water Safe Components – Health Effects (includes lead and phthalates)
NSF/ANSI 372 Certified Drinking Water Safe Components – Lead Content
Meets the Lead-Free amounts for the Safe Drinking Water Act
These certifications will confirm that the garden hoses are better options than some of the more toxic garden hose options you can find on the market.
Look for Proposition 65 warning
Avoid products with this label. Proposition 65 requires businesses to provide warnings to Californians about significant exposures to chemicals that cause cancer, birth defects, or other reproductive harm. On many hoses that I saw, this label was present because the hose contained phthalates or lead.
Are certain hoses more eco-friendly than others?
The most eco-friendly option for non-toxic garden hoses is to buy a high-quality hose that will last a very long time and take care of the hose that you purchase. We shared a few tips below to take good care of a non-toxic garden hose and help make the investment last longer.
Additionally, avoid hoses made from recycled materials for safe gardening. Although this may seem to be contradictory to being eco-friendly, recycled PVC (suspected to be from recycled electronic waste) has been shown to have higher levels of lead and other heavy metals. In this case, it is more eco-friendly and also healthier to have hoses without harmful chemicals that could leach into our bodies.
What to do with old hoses?
Before disposing of a garden hose, try to repair the hose. Hoses can't be recycled. In recycling facilities, hoses are known as tanglers and can cause major problems in recycling facilities. If you remove the metal coupling from the hose, the metal coupling could be recyclable.
Repurposing is another great option to breathe new life into an old hose. Old hoses can be upcycled into floor mats, handle grips, and knife holders.
Recommended hoses
Based on all of the testing, if your primary concern is for a safe, non-toxic garden hose, I would recommend a polyurethane hose.
The Water Right Hose, Earth Easy, and Eley hoses all seem to be great choices, and all come with great reviews on different purchasing sites. They each are labeled as lead-free, phthalate-free, and 100% FDA-grade polyurethane.
How to Properly Store and Maintain Your Non-Toxic Garden Hose
If you can invest in a non-toxic garden hose, it makes sense to take good care of it to ensure it lasts as long as possible. Here are some tips on how to properly store and maintain your non-toxic garden hose:
1. Drain the hose after each use: Once you're done using your non-toxic garden hose, make sure to drain all the water out of it. This will help prevent any mold or mildew from growing inside the hose.
2. Store your hose properly: When you're not using your non-toxic garden hose, store it in a cool, dry place, out of direct sunlight. This will help prevent any damage to the hose from UV rays.
3. Use a hose reel: Using a hose reel is a great way to keep your non-toxic garden hose organized and tangle-free. Those kinks are the worst, right? And they shorten the life of the hose – what a waste! It also makes it easier to store your hose neatly when you're not using it. I have this hose reel from Suncast and it's been great for our hose for the last couple of years.
4. Avoid sharp corners: When you're storing your non-toxic garden hose, make sure to avoid dragging it along any sharp corners or edges that could damage the hose. If you need to make a turn, use a gentle curve instead of a sharp angle, and be sure not to pull it too tight to prevent damage.
5. Check for leaks and tears: Regularly check your non-toxic garden hose for any leaks, tears, or damage. If you notice any leaks or holes, repair them as soon as possible to prevent any further damage to the hose.
6. Store it indoors in the winter: Don't leave the hose outdoors during long periods of cold weather. Bring it indoors and store it in a garage or home, for example, to protect it from the elements and help it last longer. If you can't bring it inside, at least be sure to empty it before winter and store it in a hose reel box or similar apparatus to protect it from snow, ice, and other cold weather elements.
By following these simple tips, you can help ensure that your non-toxic garden hose lasts as long as possible and remains in good condition. Properly maintaining and storing your hose will not only save you money in the long run, but it will also help protect your health and the health of your plants.
That's a Wrap (Get it)
Thanks to Sarah for all her work bringing this information together. I never knew to even think about these types of considerations when deciding what type of garden to hose to buy. Considering that we grow primarily vegetables and fruits to eat, it's especially important that we aren't watering them with chemically-laden water coming from a toxic garden hose.
After learning about the things to look for, we purchased an eggplant colored 100 foot Earth Easy hose about a year ago. Not wanting it to sit out unprotected in the hot summer sun, we also bought a Suncast hose reel box in which to store it. This has worked out really well for us!
I'd love to know if you have other tips for how to find a non-toxic garden hose for your home garden. Do you have any favorite brands? Did we miss anything?
If you liked this post, you might also like:
4 Easy Ways To Build Your Regenerative Garden
Where To Buy Organic Seeds Online
8 Eco-friendly Ways to Dispose of Yard Waste
About The Author