6 Good Habits We Practice Every Day
This shop has been compensated by Collective Bias, Inc. and its advertiser. All opinions are mine alone. #NatureMadeHeartHealth #CollectiveBias
More. More. More. Bigger. Better. More beautiful. When is "good" good enough? When are we actually really great and just not giving ourselves credit? Sometimes we definitely deserve parenting gold stars, but we are too hard on ourselves to give due credit. We focus our efforts on improving ourselves, noticing our faults and trying to make them better. Today, don't forget to give yourself credit for the good habits you incorporate into each day, even if it's as simple as taking your vitamins.
Today, I am turning on its head the mantra that we can always do better and that we're never good enough. I'm taking credit for six daily good habits that we practice in our family. We aren't perfect by any means, but I suspect all families have some good habits for which they forget to give themselves credit.
Take Vitamins
Every morning, we take vitamins. The boys take a multivitamin and a vitamin D supplement. M is much better about remembering this than me, so he definitely gets the parenting gold star for this one. He's diligent about ensuring that the boys get their vitamins during breakfast every morning.
Because we live in a cold weather climate (at least half of the year), we are all vitamin D deficient, particularly during the winter. The boys have a vitamin D and calcium supplement.
I've been taking Nature Made® Omega-3 600mg EPA+DHA with Vitamin D3 50mcg (2000IU). EPA and DHA in Omega-3s are the active ingredients in fish oil that provide heart healthy benefits.† Nature Made® fish oil supply only comes from wild caught ocean fish, not farm raised fish. They also have no artificial flavors or added colors. I knew I needed to take a vitamin D supplement, so I decided it would be an extra benefit to take it with EPA and DHA Omega-3s. Nature Made® is the #1 Pharmacist recommended vitamin and supplement brand*.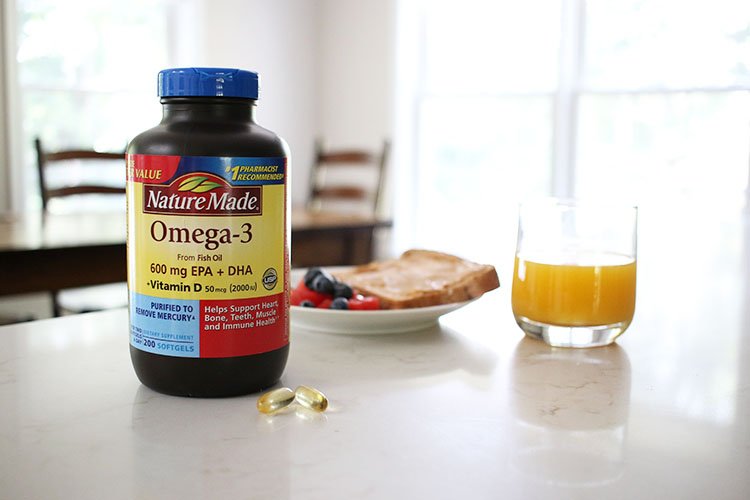 Click on the photo above to shop for Nature Made® vitamins.
Last week, I stopped by Walmart to pick up more vitamins and noticed the label change from fish oil to EPA and DHA Omega-3s. In order to help consumers find the right product, Nature Made® has changed the labels to call out the specific amount of EPA and DHA in the vitamins instead of labeling it generically as fish oil. If you're interested in learning more, you can text OMEGA3 to 555888 and watch a quick video from Nature Made® to learn more about your Heart Health and Omega-3s at Walmart.


Read To The Boys Every Night
Each night, before my boys go to bed, we read two or three books together. It's one of the highlights of my day. We take regular trips to the library and sometimes bring out books earlier in the day when time permits. There are more pockets of time to fit in a quick few minutes of reading with our kids than we sometimes realize.
I know it's really important to my boys too. Sitting down together with a book can calm just about any tantrum or behavioral concern. When we add up just 10 – 15 minutes of reading per day, it amounts to over fifty hours of reading each year. That's so valuable to me and my boys, even though the small steps may not seem like all that big of a deal.
Listen To Podcasts
I might be a podcast junkie, but I think this is an asset to my intellect and my social awareness. Podcasts introduce me to all sorts of new ideas. Many of the podcasts discuss topics that challenge my current ideas and positions. They offer perspectives from people of different race, ethnicity and background than myself. It's not always easy to open our minds to opinions that differ from our own, but I think it's really important to listen to others who challenges our long-held points of view.
By no means am I perfect in this regard, and I still have plenty to learn. In my opinion, life is a never-ending journey of learning and exploring, but making a concerted effort to understand where others come from and why they have certain beliefs, helps us be more inclusive members of our communities.
Make Wholesome Lunches For The Boys
Got a picky eater? I feel ya! Nonetheless, we prepare food over the weekend to have a few staples around which to plan wholesome lunches. Our boys aren't perfect eaters, but we take lunch as an opportunity to reinforce the importance of eating real, whole foods and incorporating variety into their diets (as much as we can…).
Our boys eat lunch at school, where they see all the things other kids are eating as well. Other families send their children to school with a variety of food, some healthier and some not as healthy. Of course they aren't begging to bring more fruits and vegetables for lunch like the kids with the super healthy lunches. They do, however, often ask why some kids get cookies or food we consider "junky". We fall back on our family mantra that "different families have different rules" and remind them that sometimes we just follow our own family principles. They aren't better or worse than another family's but just different.
Make My Bed
There's something about my bed being made that gives me so much peace of mind when I'm in our bedroom. It doesn't take more than a few minutes, but it helps make the room feel so much cleaner and in better order, at least to me. I'm pretty diligent about it, so nearly every day, I make sure our bed is made in the morning to help get our day started.
Ask Boys About Their Favorite Part of the Day
After reading and rubbing their backs, when the lights are out and we're sitting under the glow of their night light, I ask each of the boys about their favorite part of the day. Sometimes they give answers that surprise me, but it's always enlightening and gives me a glimpse into their world. They also just really enjoy when I ask them this question. A few times, when I have forgotten, one of the boys will remind me and ask me to ask them about their day. I love the innocence of a child asking for something like this, an innocence we can lose as adults.
Like many of the other things on this list, it doesn't take a lot of time but it's really important to all of us and makes a difference in our day. It's a great example of how a little daily habit lights up both my boys and me.
Sometimes the little things make all the difference. Making the bed, taking our vitamins, and asking our family members about their day are things that many of us probably do. However, we forget to give ourselves a pat on the back for doing these things because they blend into the busy. They become habits that don't make it to our to-do list although they are just as important.
What small habits do you do every day for which you deserve a parenting gold star? Share in the comments!
† These statements have not been evaluated by the Food and Drug Administration. These products are not intended to diagnose, treat, cure or prevent any disease.
* Based on a survey of pharmacists who recommend branded vitamins and supplements.