Summer Sun and Family Fun at Cherry Crest Adventure Farm
If you're looking for a fun summer hurrah or a fall adventure with the family in the Philadelphia or Lancaster area, be sure to check out Cherry Crest Adventure Farm. You won't be disappointed!
Thanks to Cherry Crest Adventure Farm for hosting us. All opinions are mine and mine alone.
It's hard to believe our boys go back to school in less than two weeks. I'm not sure where summer went, and I know across the country some kids are already back in school.
About a month ago, we visited California to see my sisters and road trip down the coast. That was definitely our big vacation for the summer, and we had a lot of fun. Aside from that, we've had a pretty simple summer doing plenty of fun things like swimming at families' pools, visiting the library, playing outside, and plenty more typical relaxed summer activities. One steamy day, we even made s'mores over a bonfire just because.
With just a few short days left in summer, I wanted to be sure that we included some more memorable activities to finish out summer. We decided to check out c, which was an easy drive from our house. I wasn't entirely sure what to expect, but it definitely exceeded my expectations. I'm not sure why I need the reminder, but it helped me appreciate the local attractions that might not be on the big-name lists of top things to do as a family in a major city like Philadelphia.
We pulled into the parking lot, headed into the farm, grabbed a map and started our day exploring The Amazing Maize Maze. The day we visited was really hot! Inside the corn maze it's even hotter, and there's no breeze. While dripping sweat (literally…gross), we opted for the easy path and found our way to victory after about 30 minutes. The farm does a great job of creating a theme for the maze each year that incorporates games and activities to complete as you walk through the maze. It was all incredibly fun and creative.
In the middle of the corn field, my boys found the piano. They just started taking piano lessons, so this was a big hit (and so cool, right?!).
Out of the maze, we continued to wander pas three hour old baby goats, day old chicks, and handful of other animals. My boys were too nervous to hold the chicks, but many other little kids had an opportunity to hold the small chicks in their hands.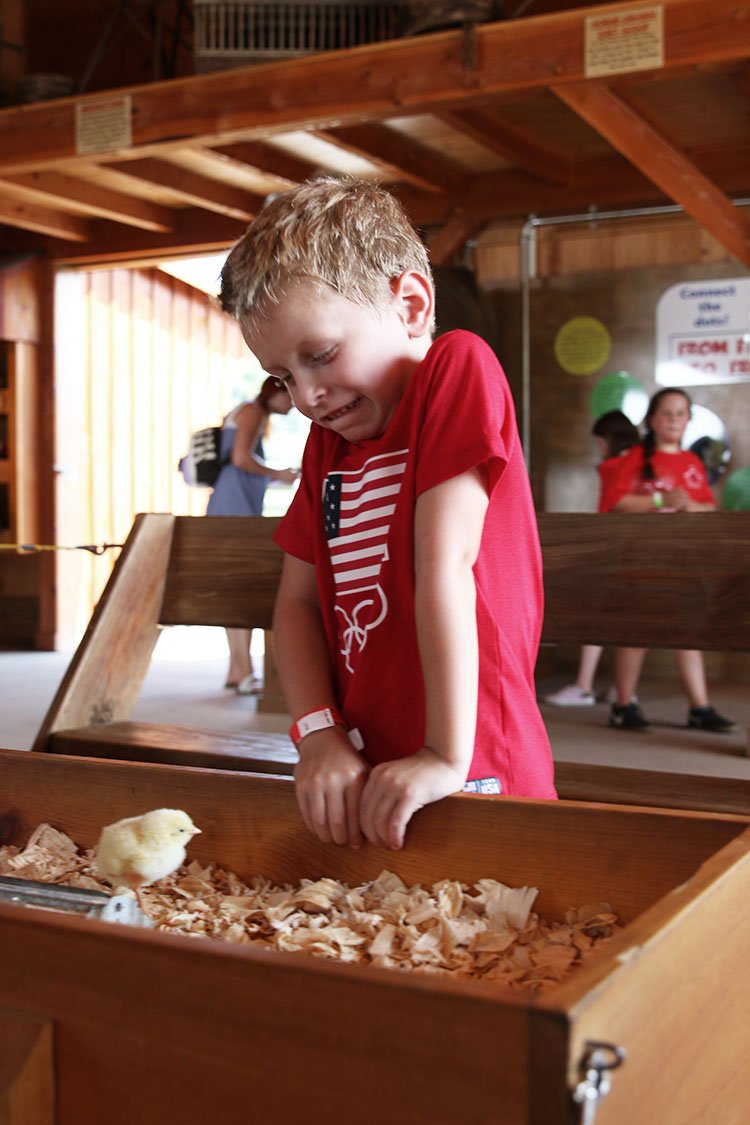 As I expected, my boys' favorite parts of the Adventure Farm were the physical activities like slides, slingshots, throwing games, giant air pillow trampolines, swings and life-size Lincoln Logs.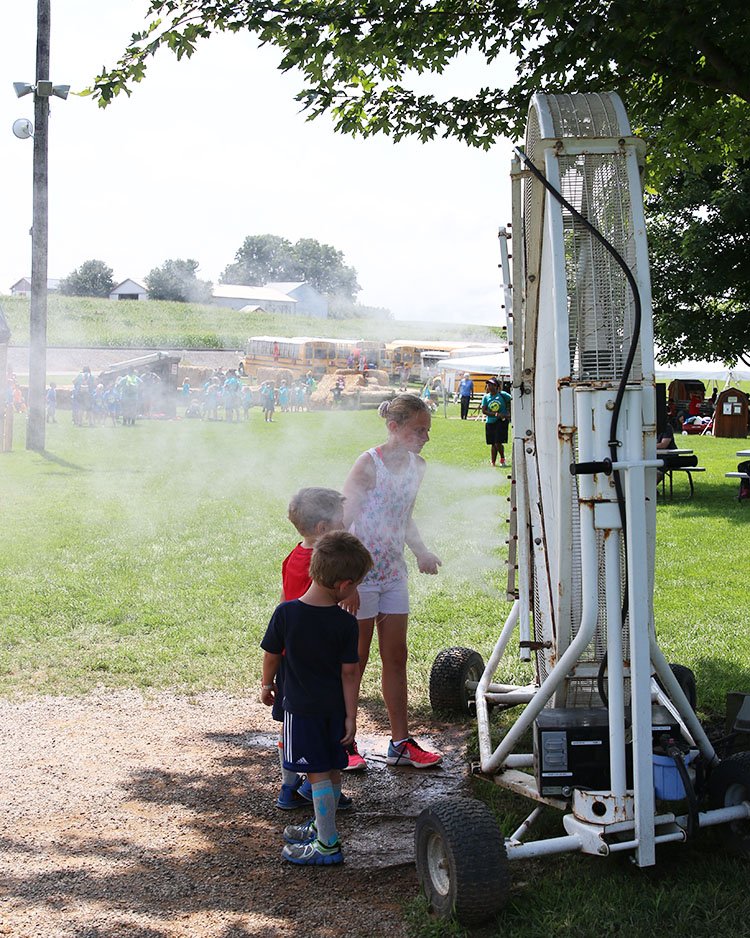 Including a break for a quick lunch, we spent over four hours exploring the farm, and we definitely could have stayed longer. The boys had so much fun, and surprisingly, it didn't feel particularly stressful as a parent. I visited on a Wednesday, which I'm sure helped reduce the crowds. Regardless though, it still felt really manageable, and I loved the wholesomeness of all of the activities. Aside from my camera, we spent the entire day hanging out together disconnected from technology and entirely immersed in genuine summer fun with a healthy dose of sweat.
The farm also has many activities for the fall, and I'd really like to go back to try the corn maze again when it's not so hot. T really wanted to try the intermediate level of the corn maze, which they told us takes about an hour. I politely passed on that and suggested we try that without a sweltering 98° summer sun beating down on us last week.
We ended our day with a visit to the School House Sweet Shop. They have lots of different sweets and candies, though their fudge was definitely our favorite. T couldn't believe that he got to try a couple of flavors before finally deciding on whoopie pie fudge. I opted for mint chocolate, a pretty standard choice for me.
Sweaty and satisfied with our day together, we headed to the car just before the sky opened up for a thunderstorm. We could see the dark clouds looming as we drove away. Our day at the Cherry Crest Adventure Farm couldn't have been more perfect.
As I drove home, my tired boys fell asleep, and I enjoyed the peace and quiet of a car ride home to reflect on the fun day we had. If you're in the Philadelphia area, I can't recommend Cherry Crest Adventure Farm enough. It has so many great activities for young kids through about elementary school.
For many years we lived in places that we knew were temporary homes, and I didn't always invest a lot of time or energy really getting to know the local attractions or appreciating what the city and area had to offer. Beyond the popular items on every hit list, visiting Cherry Crest Adventure Farm really reminded me to step back and think more about the local attractions, because they can be some of the best things to do with our families no matter where we live.