Spicing up the Party With Mexican Hot Chocolate Cake
If you're looking a fun and simple cake that sounds far fancier than it really is, consider this three-layer Mexican Hot Chocolate Cake. It has just the right amount of kick from cayenne and Ceylon cinnamon to go with the perfection of chocolate.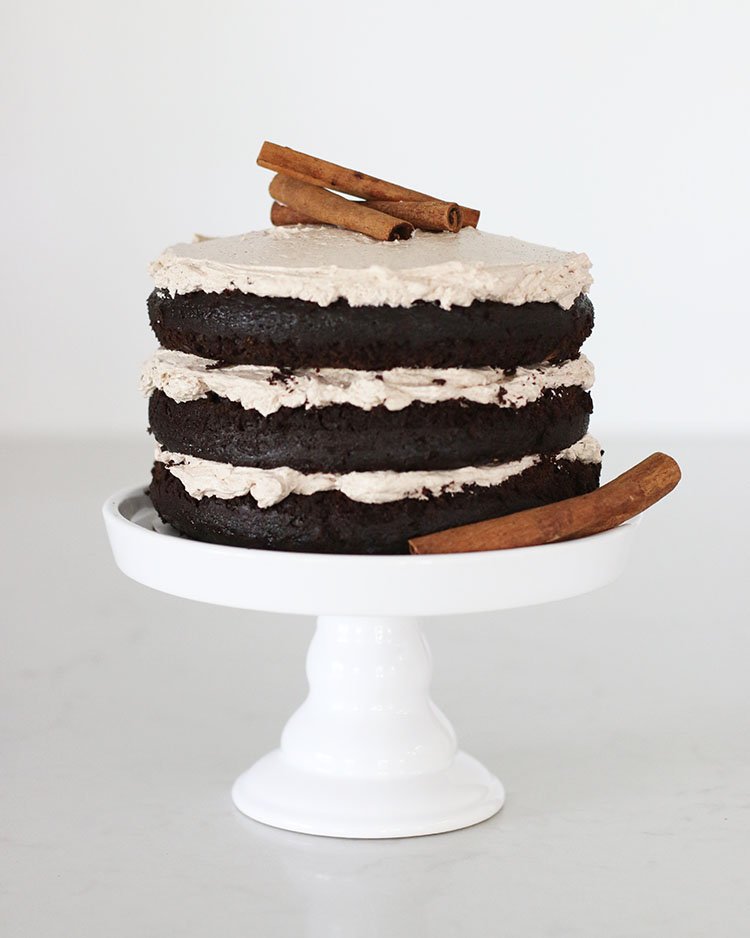 I enjoy baking and love trying new recipes. But if I bake (especially something that's not a traditional favorite), I often end up eating far more of it than I need. So ensues my internal battle with baking and, simultaneously, my appreciation for baking dessert for parties. When I can bake something fun and new for a crowd, no one is overwhelmed with the volume of sweets and I still get my creative fill. Win-win!
When M asked if I wanted to host his annual company party again this year, I agreed with the provision that I got to make all the calls about dessert. I could bake what I wanted, even if we catered the rest of the meal (which we did).
I made one of my favorite cookies, Nutella stuffed chocolate chip cookies, and … experimented with this Mexican Hot Chocolate Cake.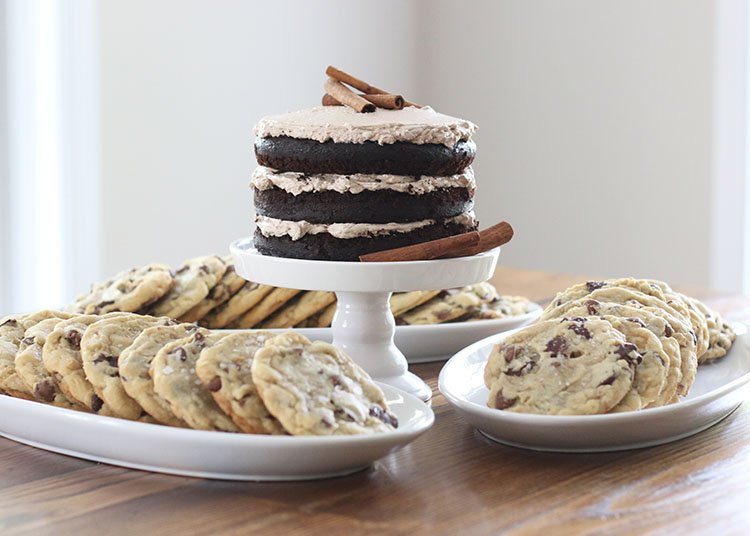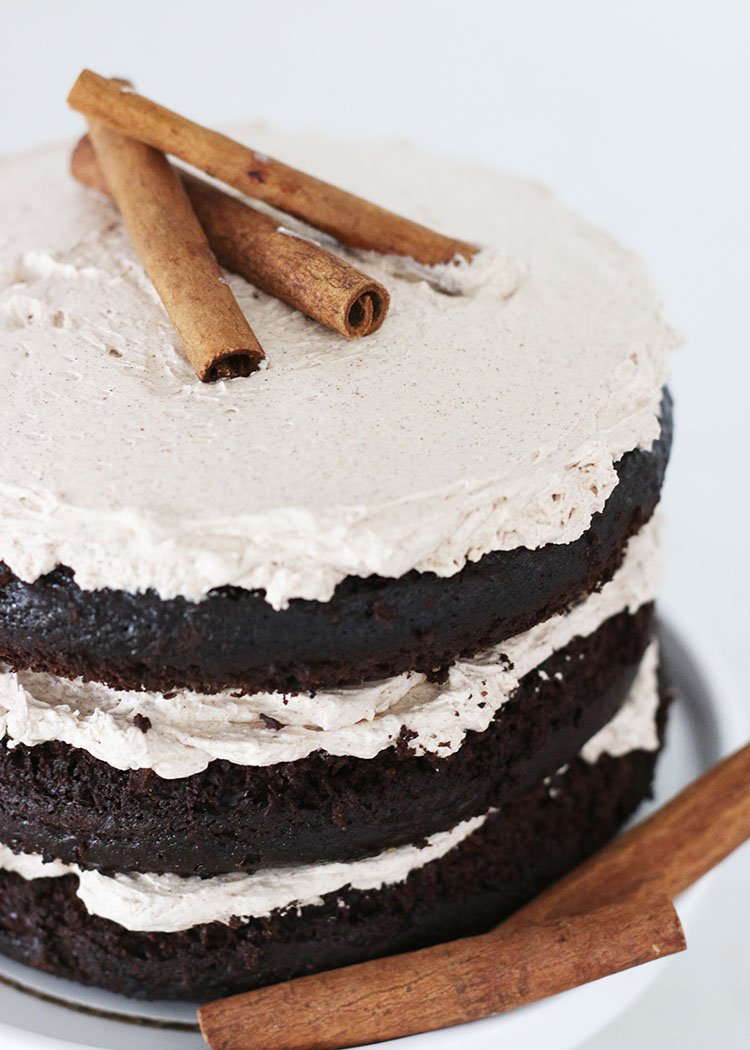 I didn't use Mexican chocolate to make the cake, but the cake was inspired by the spicy flavors of Mexican chocolate (specifically cinnamon and cayenne).
I mentioned about a week ago, over on Instagram, that I finally decided to make a half batch of a recipe and ended up with just the right about of batter. So many times, I follow a recipe only to have tons of batter or loads of extra cake or cupcakes that end up in the trash. If you're a regular around here, you know I'm not a fan of food waste.
I knew not everyone would want cake, so I made a smaller cake. Although it had three layers, it was only about 6 inches in diameter. I needed only a half batch of the recipe I used as inspiration (though I made quite a few changes which are reflected in the recipe below).
I never thought baking "fancy" cakes was in my arsenal, but a few tools have really helped me along the way. They aren't zero waste or particularly eco-friendly. In fact, some of them are plain old plastic. But they'll last a while and they help me fulfill a creative pursuit that brings me joy, so I don't mind storing them in my kitchen cabinets.
Along with searching YouTube and watching some Crafty videos to learn techniques about preparing and frosting a cake, I bought this rotating cake stand and icing spatula as well as a frosting gun. To make my cake, I used three of the five cake pans from this Easy Layers cake pan set.
If you haven't tried making this type of dessert but it intrigues you, I definitely recommend giving it a try. I've only tried it a couple of times, and it always looks fancier than it feels to make. You can totally do it!
Do you have any favorite tools for baking that are staples in your kitchen?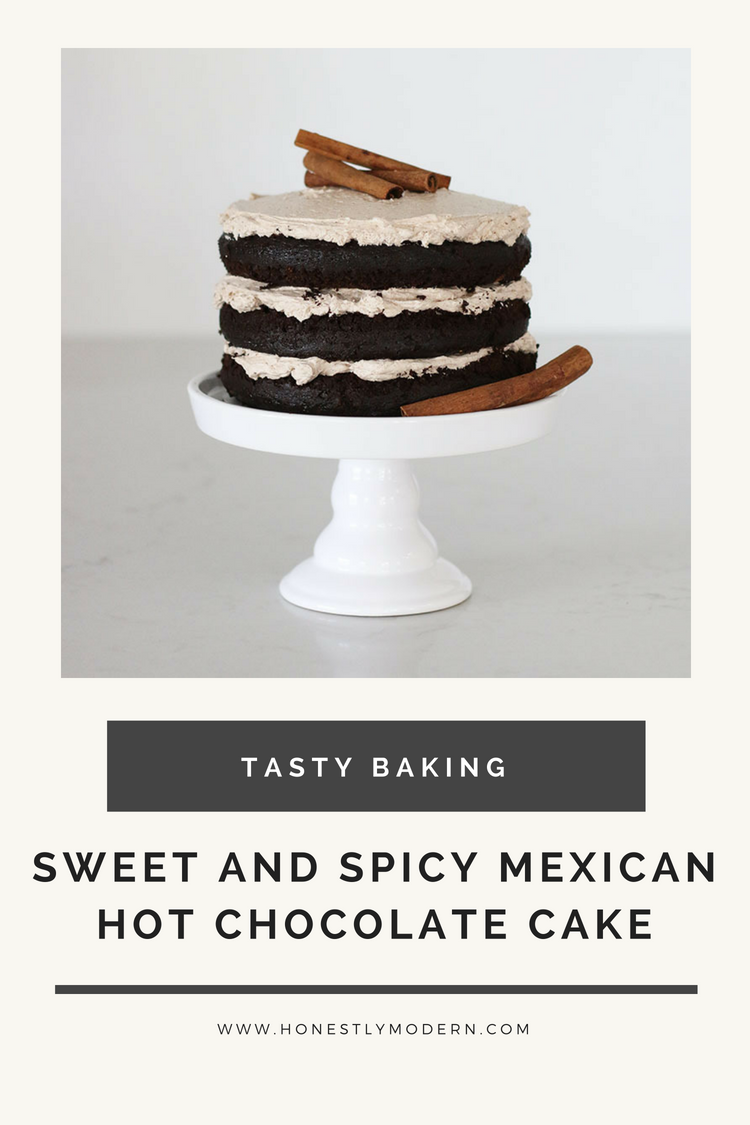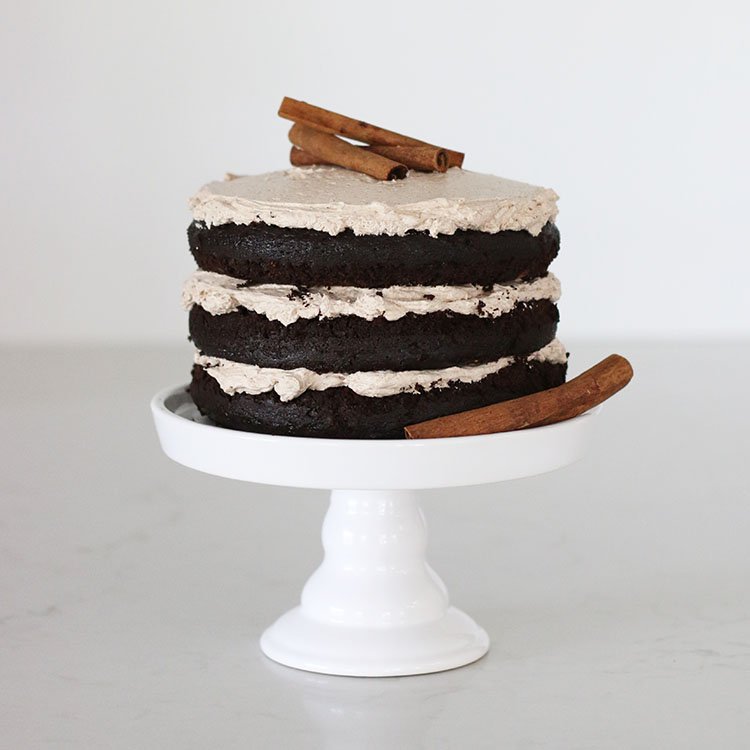 Mexican Hot Chocolate Cake
Total Time:
2 hours
35 minutes
Three-layer Mexican hot chocolate cake with buttercream frosting.
Ingredients
3/4 cup flour
1/4 tsp cayenne
1.5 tsp Ceylon cinnamon (regular cinnamon works too)
3/4 cup sugar
3/8 cup Dutch-processed cocoa powder
3/4 tsp baking soda
1/2 tsp baking powder
1/2 tsp salt
1/4 cup vegetable oil
3/8 cup buttermilk (room temperature)
3/8 cup hot water
1 large egg
2 tsp vanilla
Instructions
Preheat the oven to 350 degrees Fahrenheit.
Grease cake pans with butter and sprinkle it with cocoa powder.
Combine the dry ingredients in a stand mixer. Mix ingredients together with the paddle attachment on the stand mixer.
In a separate bowl, combine the wet ingredients. Add the hot water last and continue to stir the ingredients while you pour the water to prevent the egg from scrambling.
Add wet ingredients to dry ingredients and mix until combined.
Pour the batter into the three cake pans, disburse evenly.
Bake for 13-15 minutes, or until a toothpick comes out almost clean.
Allow cakes to cool for about 30 minutes.
Place cakes in the refrigerator and allow them to cool for an hour or two. This will make it much easier to frost. (I put the cakes in the fridge without removing them from the cake pans. After all, who needs extra dishes?)
Frost when ready using the recipe below. I frosted mine a few hours before the party and let it rest in the kitchen under a large plastic (because I don't have a cake container), and that worked just fine.
Recommended Products
As an Amazon Associate and member of other affiliate programs, Honestly Modern earns from qualifying purchases.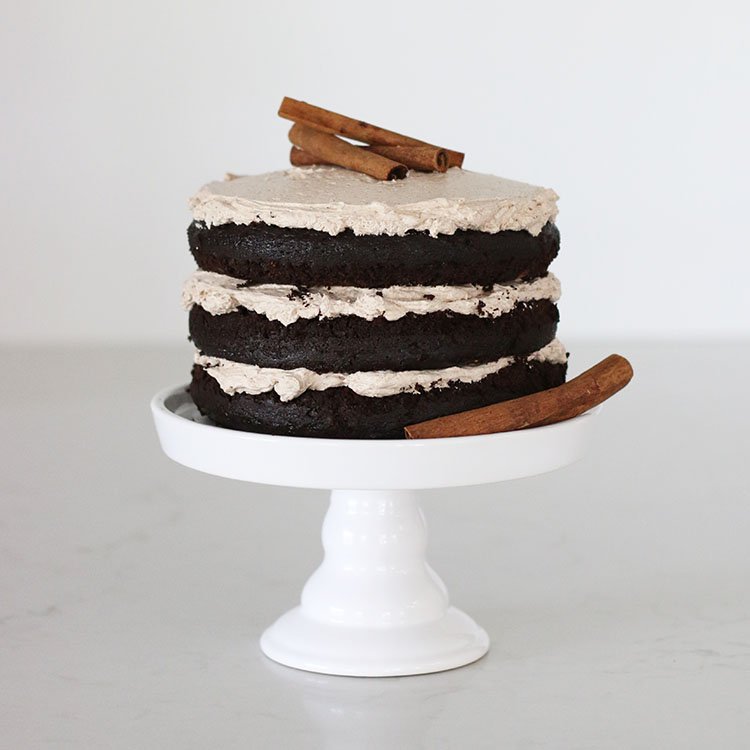 Cinnamon Spicy American Buttercream Frosting
Ingredients
2 sticks of butter, softened to room temperature
2 cups powdered sugar
4 tbsp whole milk
2 tsp vanilla 1/4 tsp cayenne pepper
2 tsp Ceylon cinnamon, regular cinnamon will work as well
Instructions
Combine butter and sugar in a stand mixer.
Add milk and vanilla.
Beat on high for two to three minutes.
Add cayenne and cinnamon, then mix on high for another 1-2 minutes.
Frost cake when it is cold to reduce crumbs that adhere to frosting.
Nutrition Information:
Serving Size:

1 grams
Amount Per Serving:
Unsaturated Fat:

0g