Detailed Review of the Wildgrain Subscription Box
Are you thinking about signing up for Wildgrain to get delicious bread, pasta, and pastries from artisan bakers delivered to your door? Read on for a full review of the Wildgrain subscription box based on our experience with their products over the last year. And if you already know you want it, you can use code HONESTLY10 for $10 off your first order.
This post contains affiliate links. All opinions are my own.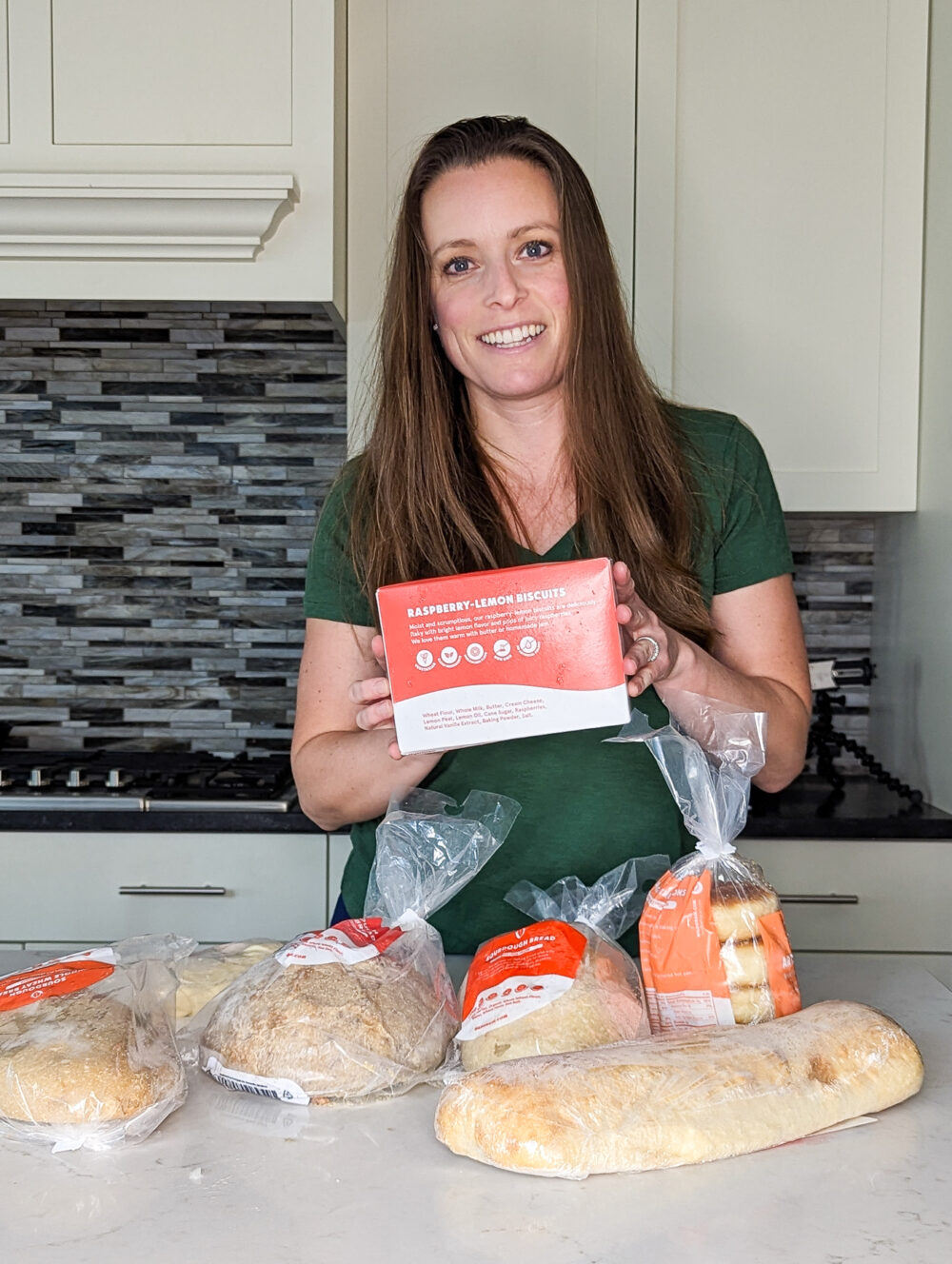 If you're a regular around here, this photo above might give you pause. What's the deal with all the plastic? And are you promoting a subscription service? Aren't those a bit out of your wheelhouse as an advocate of sustainable living?
The hesitation is correct. I don't often write about subscription services. I think many of them are pretty wasteful and promote excess consumption. And I don't typically buy products that come in a lot of plastic. But we also are far from perfect environmentalists in our house.
When I heard about Wildgrain, a monthly subscription box that delivers artisan sourdough bread, fresh pasta, and pastries right to my doorstep, it felt like a great fit for the needs of our family. The bread we buy already came in plastic, so that wasn't any different. And I loved the idea of supporting small and artisan bakers using a variety of clean baking ingredients and techniques.
So I decided to give it a try, and we've been really happy with their products and service since signing about a year ago. Let me tell you about our Wildgrain subscription box and provide a detailed Wildgrain review so you can determine if it's a good fit for your family.
What is the Wildgrain Subscription Box?
Origin and Small Business Details
Wildgrain is the first bake-from-frozen subscription box for sourdough bread, fresh pasta, baked breakfast goods, and artisanal pastries. It is a small business, aiming to provide high-quality products made from clean ingredients and made by small bakeries.
They specialize in offering frozen sourdough bread, hand-cut fresh pasta, and pastries that one can easily bake and enjoy at home. They even added bagels to their repertoire recently, and I think my boys will be stoked.
Subscription Service Features
Signing up for Wildgrain's subscription service is both flexible and convenient. Their monthly subscription boxes are available at a cost of $89 per box with free shipping, but it's possible to skip, pause, or adjust the shipment frequency whenever I want. You can also customize many of the items in the box for each order.
The ability to easily skip shipments and customize the items you receive is really important to me. I think it's critical in helping alleviate the overconsumption that any subscriptions promote. We only order what we need when we want. We get plenty of notice via email reminders to modify or skip an upcoming order to ensure we don't forget about the subscription and accidentally end up with a box of food we don't need on our doorstep.
Wildgrain's Bakery Box and Mixed Box
Wildgrain offers two main subscription options: the Bakery Box and the Mixed Box. We started with the Mixed Wildgrain Box and changed to the Bakery Wildgrain Box because we don't eat a ton of pasta. The Bakery Box contains primarily bread and pastries while the Mixed Box also includes pasta products.
However, you can add and swap most of the products in the box and you can switch between boxes from order to order, so you might find that each box works for you from time to time. Both boxes are curated to contain high-quality bakery goods made from clean ingredients, with versatility in the included products.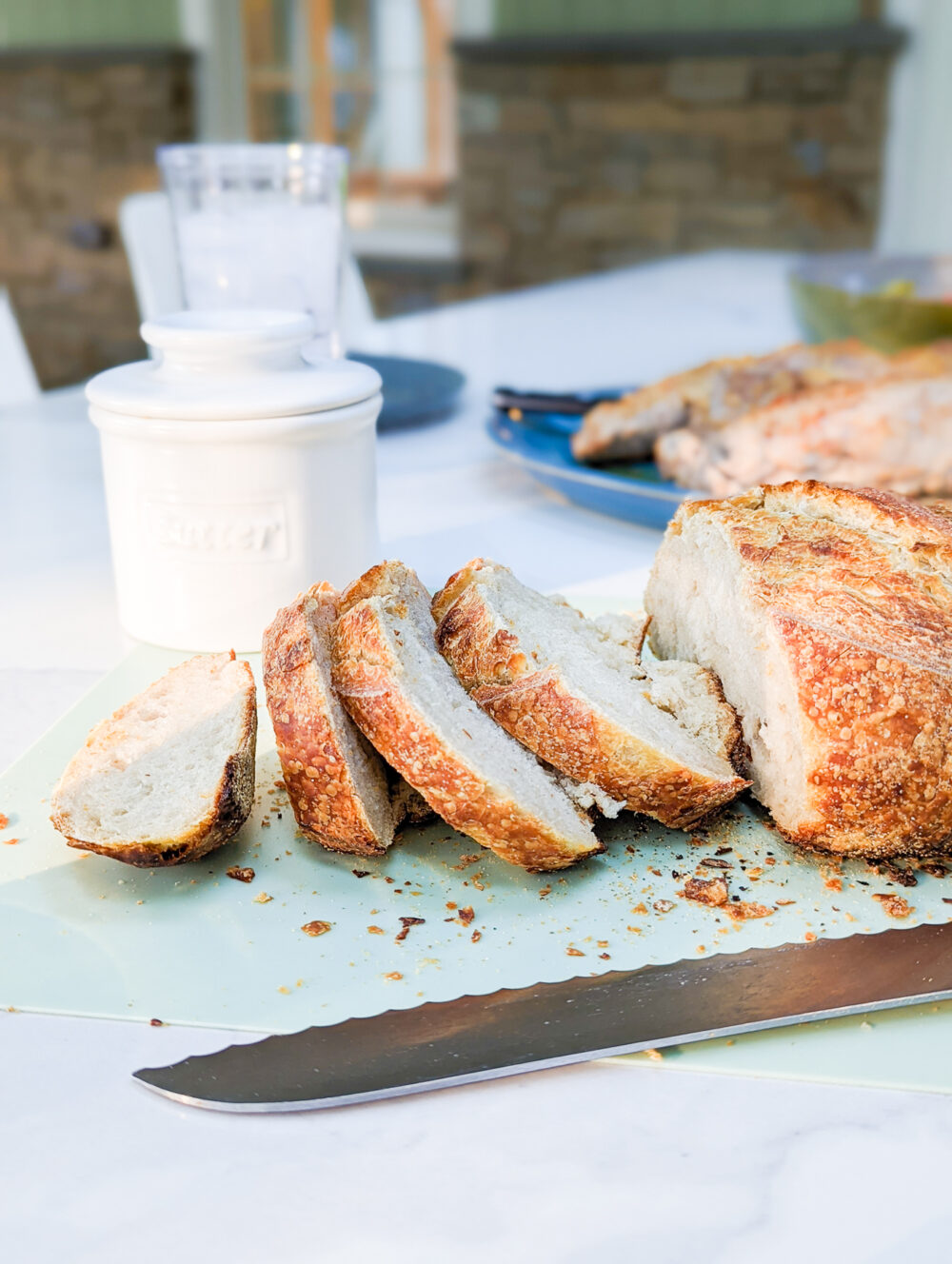 Reviews of Specific Items in the Wildgrain Box
The Wildgrain subscription boxes contain a variety of items including an assortment of sourdough bread, fresh hand-cut pasta, pastries, and more. We have tried a bunch of the products including (these are ones I can remember from memory):
Plain Sourdough Loaf
Whole Wheat Sourdough Loaf
English Muffins
Chocolate Croissants
Plain Croissants
Potato Gnocchi
Cheese Tortellini
Raspberry Lemon Biscuits
Cranberry Pecan Sourdough
Brioche Rolls
Ciabatta Loaf
Chocolate Chunk Cookies
Belgian Waffles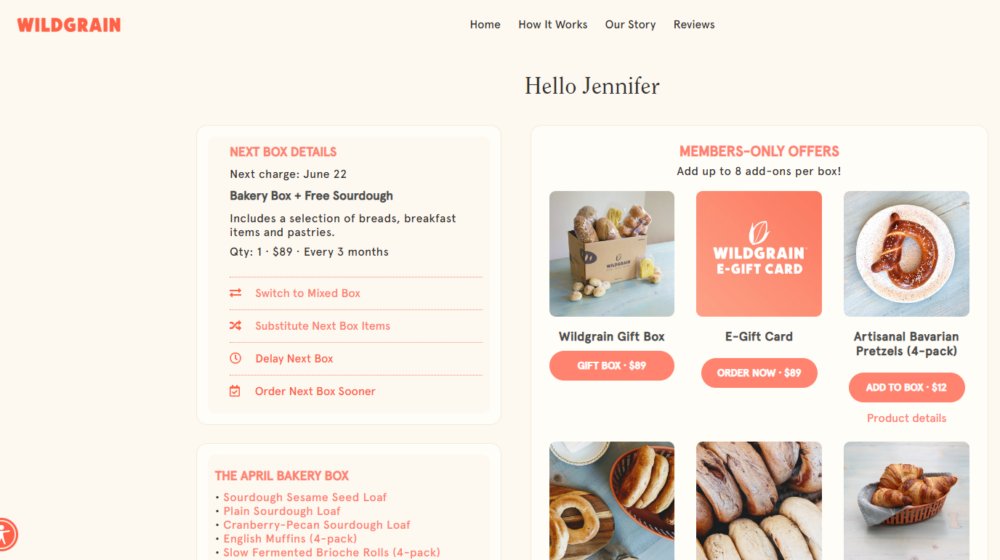 Selection of Sourdough Breads from Wildgrain
By far, our favorite products are the sourdough loaves of bread. Sometimes, I change up our order so we only order several loaves of plain sourdough (and my boys are delighted about this). We typically eat the bread as a side with dinner and add butter or the copycat bread dip from Not Your Average Joe's.
On a side note, if you're curious, the Not Your Average Joe's bread dip is about:
1/4 cup of olive oil
1 tsp of minced garlic
1 tsp of grated Parmesan and
a sprinkle of crushed red peppers.
Mix it all together on a plate and dip the bread in it. It is to die for. I use those measurements above as a guideline but adjust as you like for your own taste preferences.
Back to the fresh sourdough bread, they all cook in about 18-25 minutes and then need to rest for another 15-20 minutes or so to finish cooking. Wildgrain's website says the fresh-baked bread is ready in 20-25 minutes, but I think that's a little aggressive, especially with the larger sourdough loaves. When I cook dinner, it's almost always the first thing I start preparing, and then I make everything else while it's baking and cooling.
As for taste, they are so delicious! The bread had a deeply satisfying, tangy flavor profile that you would expect from genuine sourdough. This bread's aroma and taste are spot on, owing to the lactic acid produced during the fermentation process.
Because of the sourdough fermentation process, I find that we can eat the bread without getting that "bread bloat" feeling that sometimes happens after eating too many carbs. According to Wildgrain:
"Since the slow fermentation process of making sourdough bread does digest the majority of the gluten in the bread, anecdotally some of our members with a gluten sensitivity or intolerance find that they can enjoy Wildgrain."
No one in our family has a gluten intolerance, so I can't speak to this from a medical perspective. But my husband and I both agree we can tell that the bread leaves us feeling better than even other sourdough alternatives from the bakery at our grocery store.
We love having fresh bread with meals on occasion, and we just won't be making our own bread anytime soon. It's not something I would like to make time for, and I also am totally intimated by yeast (ha).
Occasionally, we can get fresh bread from the farmers' market in our community when we have time to make it there. Wildgrain has been the very best option we have found that works for our lifestyle, and it's truly delicious!
Varieties of Fresh Pasta from Wildgrain
The Wildgrain subscription box can also include fresh pasta. We've tried the cheese tortellini and the potato gnocchi. The pasta cooks quickly and has a wonderful texture, complementing any sauce we've paired it with.
I'm not much of a pasta connoisseur, and we don't eat it that often. The pasta is great as a fresh pasta option, but I can't say it tastes especially different from the fresh pasta we might buy at the grocery store or a farmers' market.
If you love pasta, give it a shot. Our contributor, Reese Moore, made a couple of pasta dishes when she shared her 10 Low-Waste Meal Ideas for your Wildgrain Box. You can check those out for more ideas about the pasta in the box.
Now that we order the Bakery Box and not the Mixed Box, we don't really get pasta from Wildgrain often. I'll let you decide if it's as delicious as the bread! If you love pasta, I bet you'll love the pasta from Wildgrain too.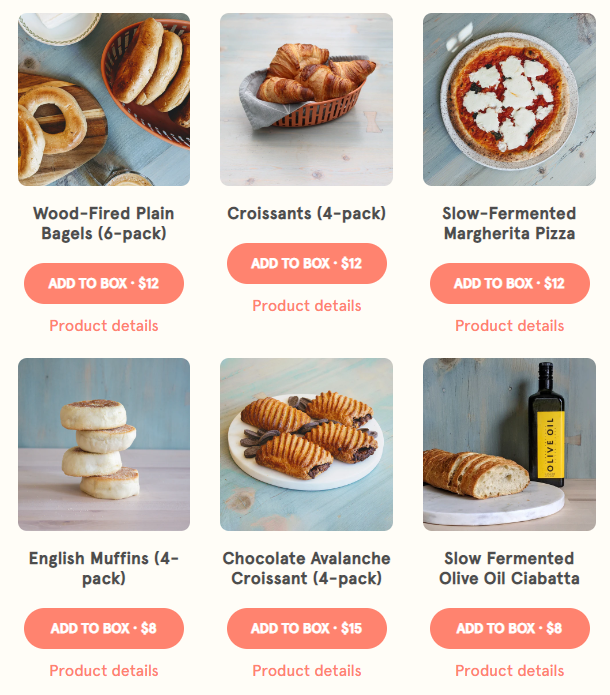 Assortment of Pastries and Cookies from Wildgrain
Beyond bread and pasta, the Wildgrain subscription box also includes an assortment of pastries and cookies. We've personally enjoyed the chocolate croissants, raspberry lemon biscuits, and Belgian waffles, among a few others. We also get free croissants with every order due to their free croissants for life deal when we signed up.
I have mixed feelings about the pastries and cookies. Some are amazing and others leave something to be desired, in my opinion. Here are a few thoughts on the things that we have tried.
Biscuits: All of the biscuits have been delicious! They are flaky and buttery and cook perfectly. I always add a package of these to our order if they aren't already included.
Plain Croissants: These are quite good. They melt in your mouth and are always popular when I bake a package of them. We have made them with breakfast, as an after-school snack, and with dinner.
Chocolate Croissants: My boys go nuts over these! They sniff these out and they are gone in minutes. They aren't quite as soft and fluffy as the plain croissants, but they will probably be a hit.
Brioche Rolls: I am not a huge fan of brioche rolls in general, so take my opinion with a grain of salt. I think they're fine. But my husband and boys rave about these! This is one of the items they consistently ask me to order again and again.
Belgian Waffles: I really like the waffles but my boys prefer homemade waffles. The Wildgrain Belgian waffles must have some type of sugar that has a bit more crystallization than what I make from scratch because they have a tiny bit of crunch to them. It's delicious, just not as soft and fluffy as some other waffles I've had. If you like waffles, these are definitely worth a shot.
English Muffins: We have ordered these a couple of times, and they aren't really my jam for two reasons. First, I just don't like the density of them. They are denser than the nooks and crannies English muffins I prefer. But they also just don't fit into our schedule well. Because these are only partially baked, they need to bake in the oven for about 20 minutes. We typically eat English muffins as part of a quick breakfast, so I just never seem to have time to bake them when an English muffin is on the menu.
Chocolate Chunk Cookies: I like softer cookies and these are on the crispier side. They are also gigantic. I much prefer the homemade chocolate chip cookies I make, so we no longer order these. If they are included in a scheduled box, I swap them out for something else. I bet some people really like them, but they just aren't our taste preference.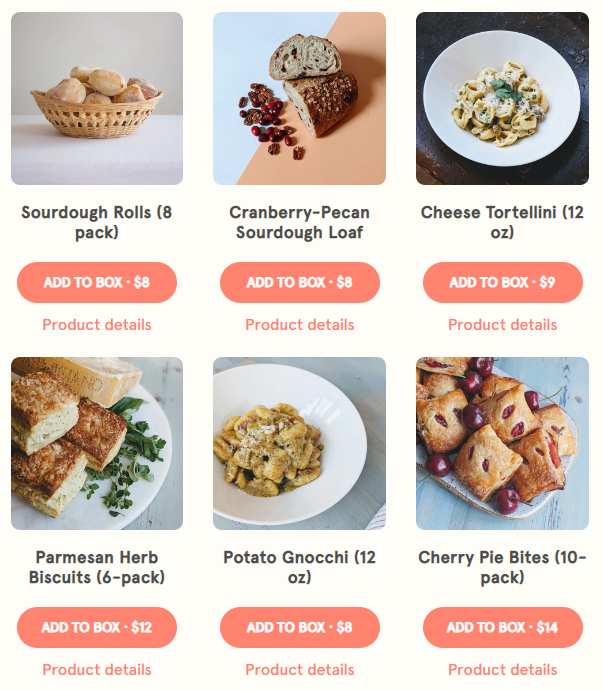 Add-Ons and Customization Options
One of the things I appreciate about Wildgrain is the ability to customize my subscription. While the box offers a curated selection of items, you can swap out certain items for other choices and there are also add-ons available for an additional fee. This flexibility allows me to further tailor the subscription to my tastes and needs, enhancing the overall experience.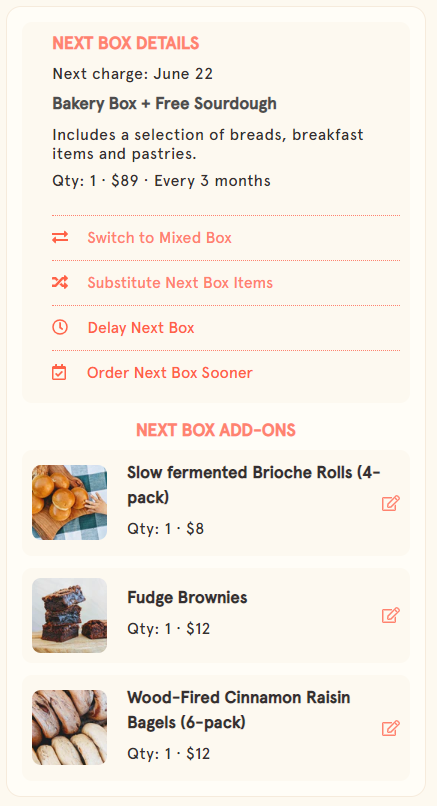 Different Items From Time To Time
It's worth noting that the selection of items changes from time to time. Some items are seasonal. Some just don't fit into the bakers' schedules. I'm not always sure why items come and go, but they do. I've shared a bunch (not all) of the items we can choose or swap as add-ons for our Bakery Box in the images above, but this could change when you sign up. I've found that a majority of items are the same from month to month and a few change each period.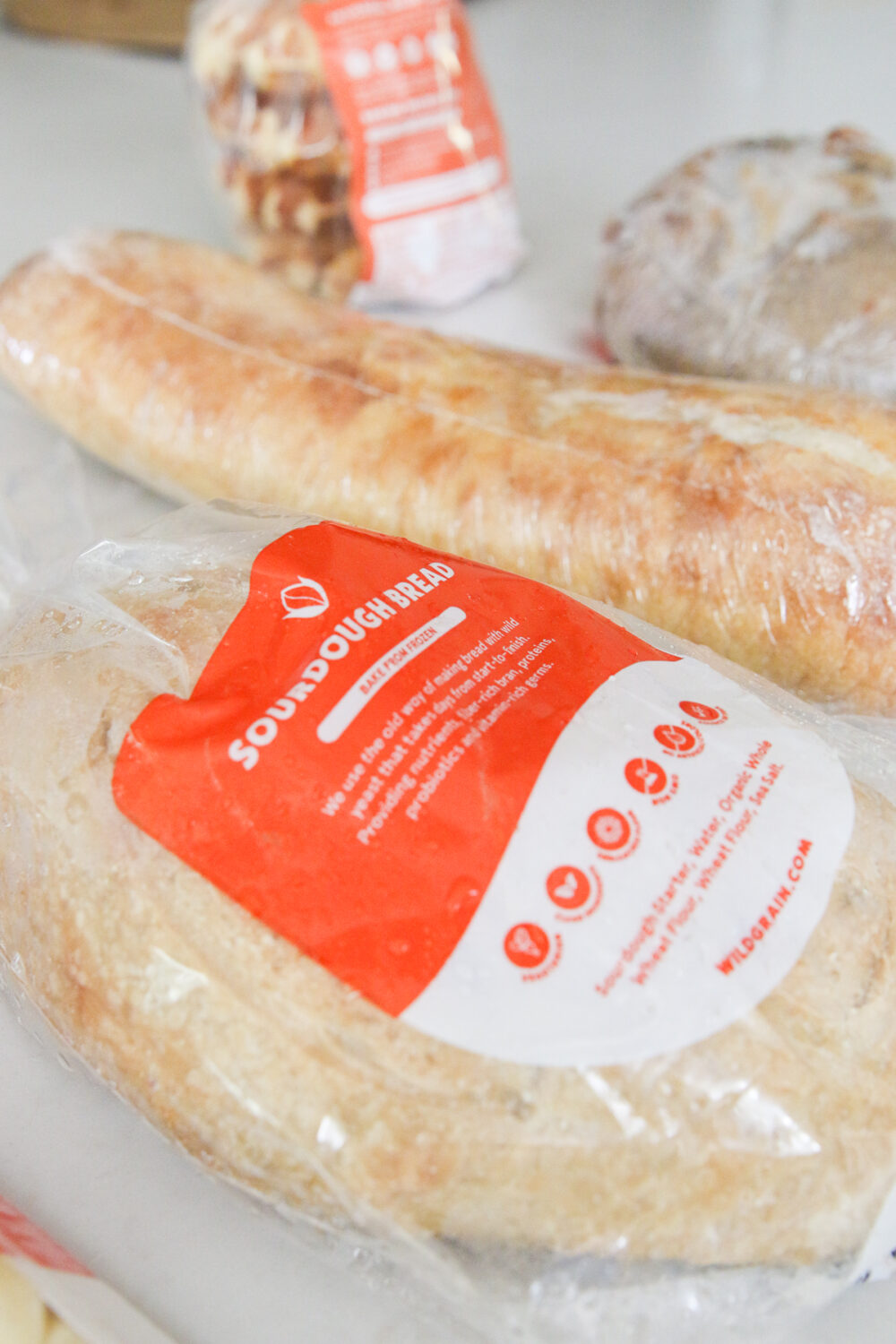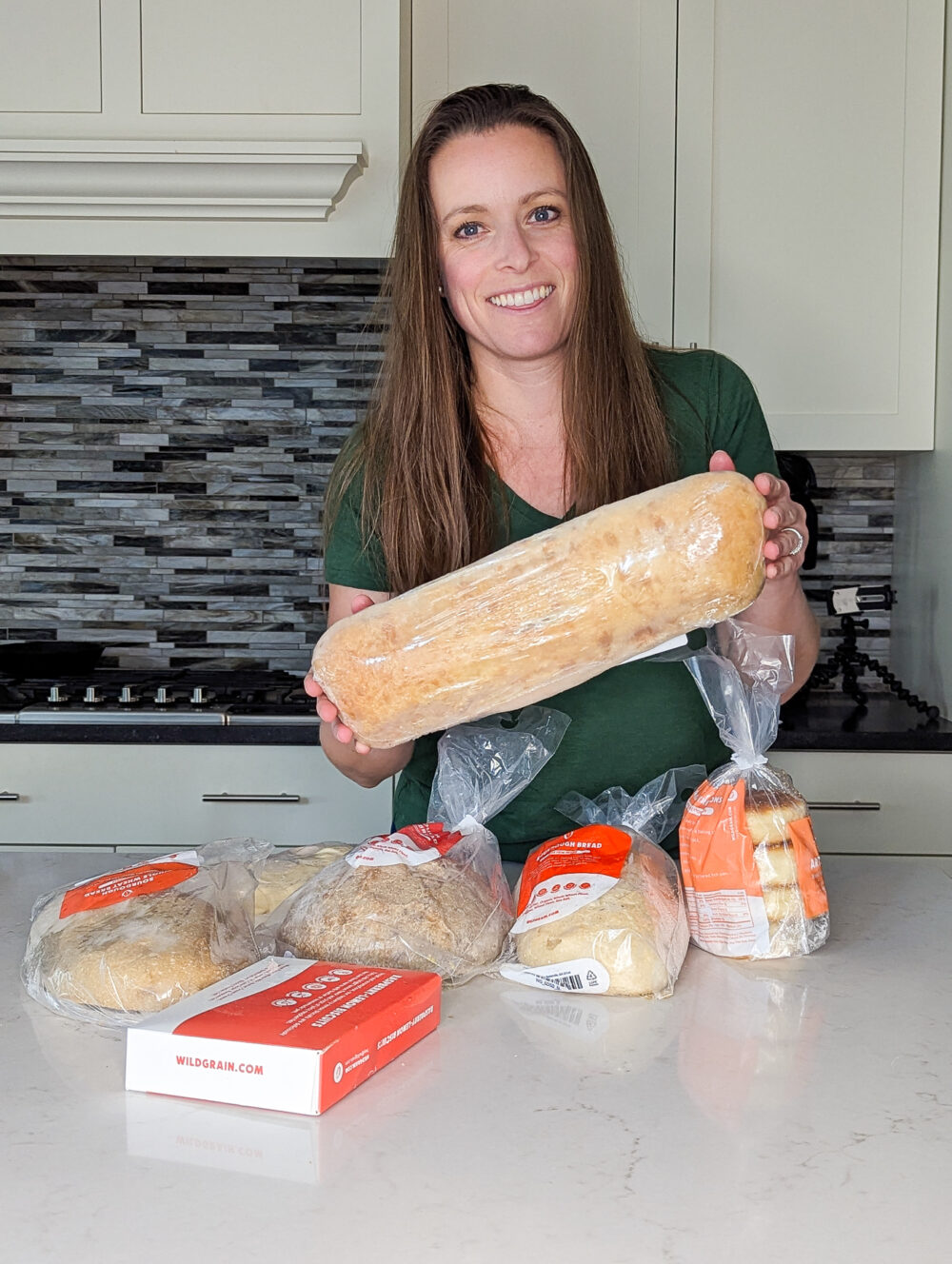 Pricing and Value of the Wildgrain Subscription Box
Cost and Subscription Options
Let's just lay it out; the Wildgrain subscription box is not cheap. For $89 per box for their subscription service, I get 7-8 items in each box. I can also add various items to the box for about $8-$12 per item (see the screenshots I shared above showing a bunch of different add-ons to get an idea of how much things cost as of the time of this post).
Wildgrain boxes ship free though, so there are no hidden service costs once you fill your order. And all orders come with free croissants based on their current sign-up incentive. This has changed over time (it used to be a loaf of free sourdough if I recall correctly), so it could change in the future. You can also get $10 off your first box with code HONESTLY10.
Wildgrian provides a premium product delivered to your door. Covering the cost of such products and the delivery service requires higher prices; it's just a reality of our food system. A Wildgrain subscription box is definitely a luxury. But if you can afford to support small, artisan bakers using high-quality ingredients, it's a great way to be more mindful and conscious about what food we buy and how we support a better food system when we can.
The flexibility of the subscription – being able to pause, skip, and modify orders and choose your delivery frequency – can help make Wildgrain a lot more affordable as well. You can buy it periodically when it works for you or even just give one box as a gift to someone who would love some fun bread and pasta for a special treat.
Discounts and Promo Codes
If you're new to Wildgrain and want to try it out, you can get $10 off your first Wildgrain box with code HONESTLY10. Between the initial discount and the free croissants, it's not a terrible way to try it out. And I think you'll be really happy with the products!
Is a Wildgrain Subscription Box Worth the Price?
In terms of value, the quality and taste of the products are top notch and worth the price. We first signed up in June of 2022 and order once every couple of months to stock up our freezer with bread for family dinners. If we didn't love it, we wouldn't keep coming back (especially with my tendency to avoid subscription services).
With clean and transparent ingredients and bread that is absolutely delicious, we've been really impressed. It kind of ruins the regular stuff at the grocery bakery. Wildgrain offers a fantastic service by providing delicious and exclusive baked goods that are hard to find in local grocery stores.
If convenience is a priority for you and you have flexibility in your budget, I think Wildgrain is a great option for fresh sourdough, pasta, and pastries delivered to you straight from small bakeries and pasta makers across the country.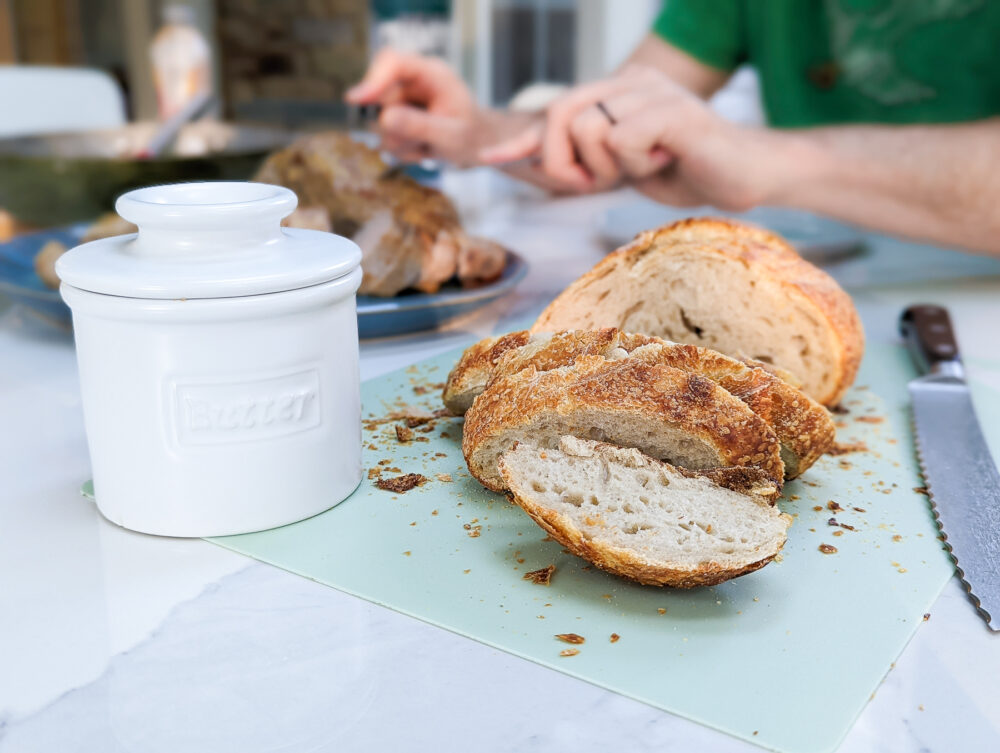 Health and Nutrition of Wildgrain Products
I'm not a health and wellness expert but Wildgrain discusses many of the health benefits of their products relative to traditional store-bought bread and pasta alternatives. For example, sourdough bread is not only flavorful but also offers a variety of health benefits, such as being easier to digest and containing an abundance of prebiotics.
Additionally, the natural fermentation process used in preparing sourdough can benefit our gut biome. The bread, pasta, and pastries contain non-GMO and organic ingredients. And Wildgrain ensures its products are free of artificial colors, flavors, and preservatives.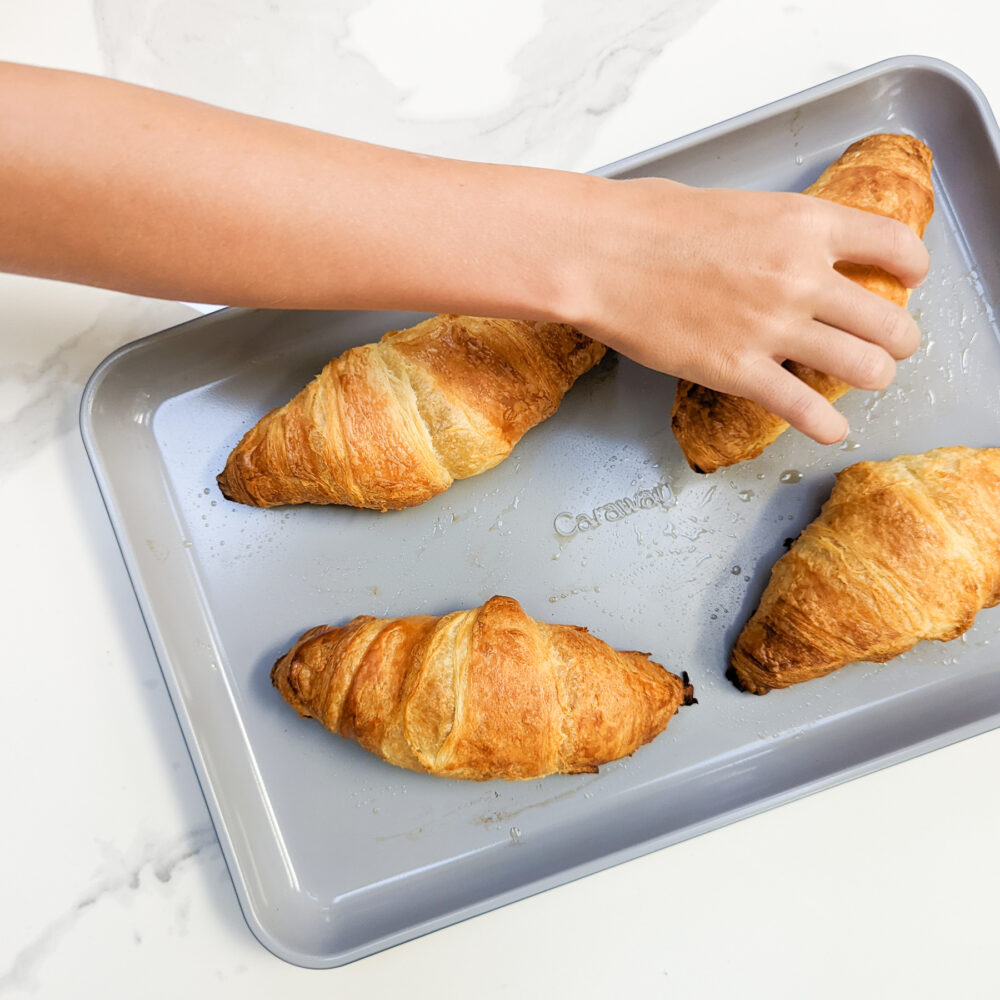 Convenience and Delivery of Wildgrain
Ready-to-Bake Items
In the land of eco-friendly living, there are always trade-offs between convenience and sustainability. In this case, I'm partial to the convenience of the ready-to-bake items in my Wildgrain subscription box.
Premade bread from the store also comes in a plastic bag, so that's not that different from the plastic wrappers on the Wildgrain loaves. We don't have any bakeries around us from which I could purchase similar quality bread without packaging. And I am never going to make my own bread from scratch; it's just not in my repertoire nor do I have the interest to learn.
For me, the Wildgrain products save me time and effort when it comes to meal planning. I have high-quality, delicious food available in my freezer, and the products require no thawing. I can pop them in a preheated oven while I prepare the rest of our meal.
Before ordering, it's worth checking to be sure you'll have enough space in your freezer for the shipment. The products take up a decent amount of space if you have a small freezer or it's already full of other things. If you want a partial order, you might consider splitting a box with a neighbor or friend so you don't have so many items to store unit you're ready for the next order.
Eco-Friendly Packaging
I appreciate that Wildgrain uses eco-friendly packaging for its products. The items in the box are sent with dry ice to ensure they stay frozen during delivery, and the packaging materials are recyclable, reducing the overall environmental impact. This attention to detail shows that not only do they care about providing high-quality food items but also about taking care of our planet.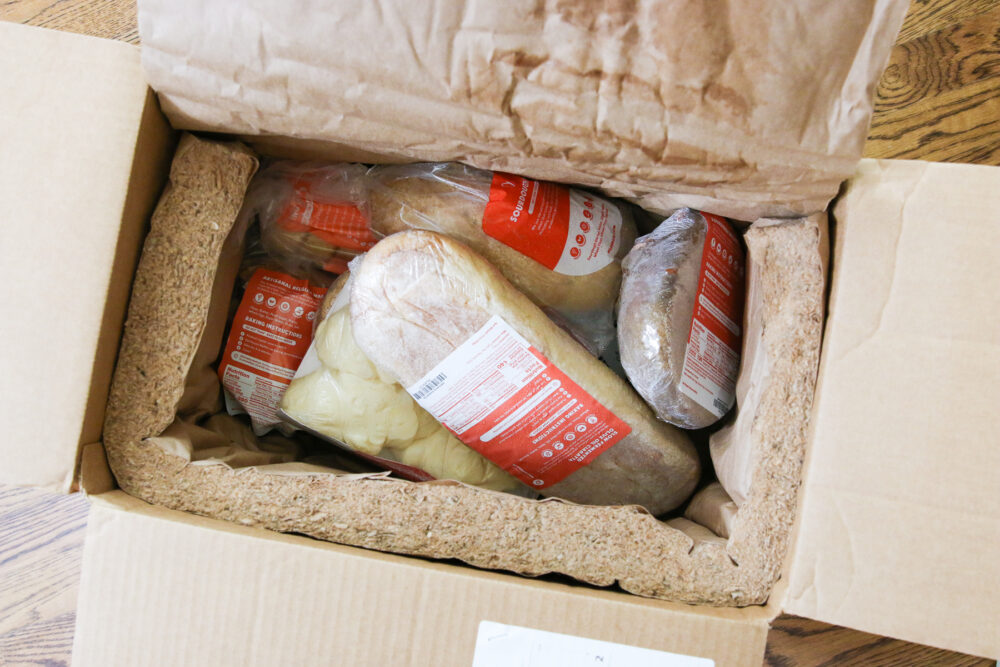 Supporting the Community
One reason I like supporting small businesses is that they often have a tighter connection with and provide more support to their local communities. Wildgrain, for example, makes contributions to the Greater Boston Food Bank and supports local small businesses such as bakers and pasta makers.
Contributions to Greater Boston Food Bank
Wildgrain is making a positive impact by donating a meal to the Greater Boston Food Bank for every subscription box sold. Through these efforts, they've been able to provide much-needed support to individuals and families in need in the Greater Boston area.
Supporting Small Bakers and Pasta Makers
A big reason why I appreciate my Wildgrain subscription is that it allows me to support local small businesses, particularly artisan bakeries and pasta makers. Wildgrain prioritizes working with these talented artisans, ensuring that their skills and products are recognized and celebrated.
Should You Sign Up For a Wildgrain Subscription?
That's ultimately up to you, but we've been really happy with Wildgrain, and I recommend it to others. I think the bread is better than most of what I buy at the grocery store. I love having it in our freezer and readily available when I'm planning meals and making dinner. And the boys really like it (which is always cause for celebration in our house of picky eaters).
Additionally, it's important to me that we support small food producers and artisans to support a more robust food supply chain. We have seen in the past just how fragile our food system is. Grocery store shelves empty quickly when times get challenging, and small food suppliers have much more flexibility to meet changing market demands.
As climate change continues to impact our farming, our soil, and our water, our food supply is going to be significantly impacted. It's just the reality we face. We are better prepared to handle these oncoming changes with a variety of small and dynamic suppliers to sway with the changing tides. It's also just good for our communities when we have robust small businesses.
If Wildgrain is in your budget, I highly recommend giving it a shot. You can order one box and decide if you like it. You can order only on occasion when you need a few loaves of bread. Or you can use it as a fun and unique gift option when you're in the market for giving. And don't forget about the discount code HONESTLY10 to get $10 off your first order.
Have you tried Wildgrain subscription boxes? What did you think?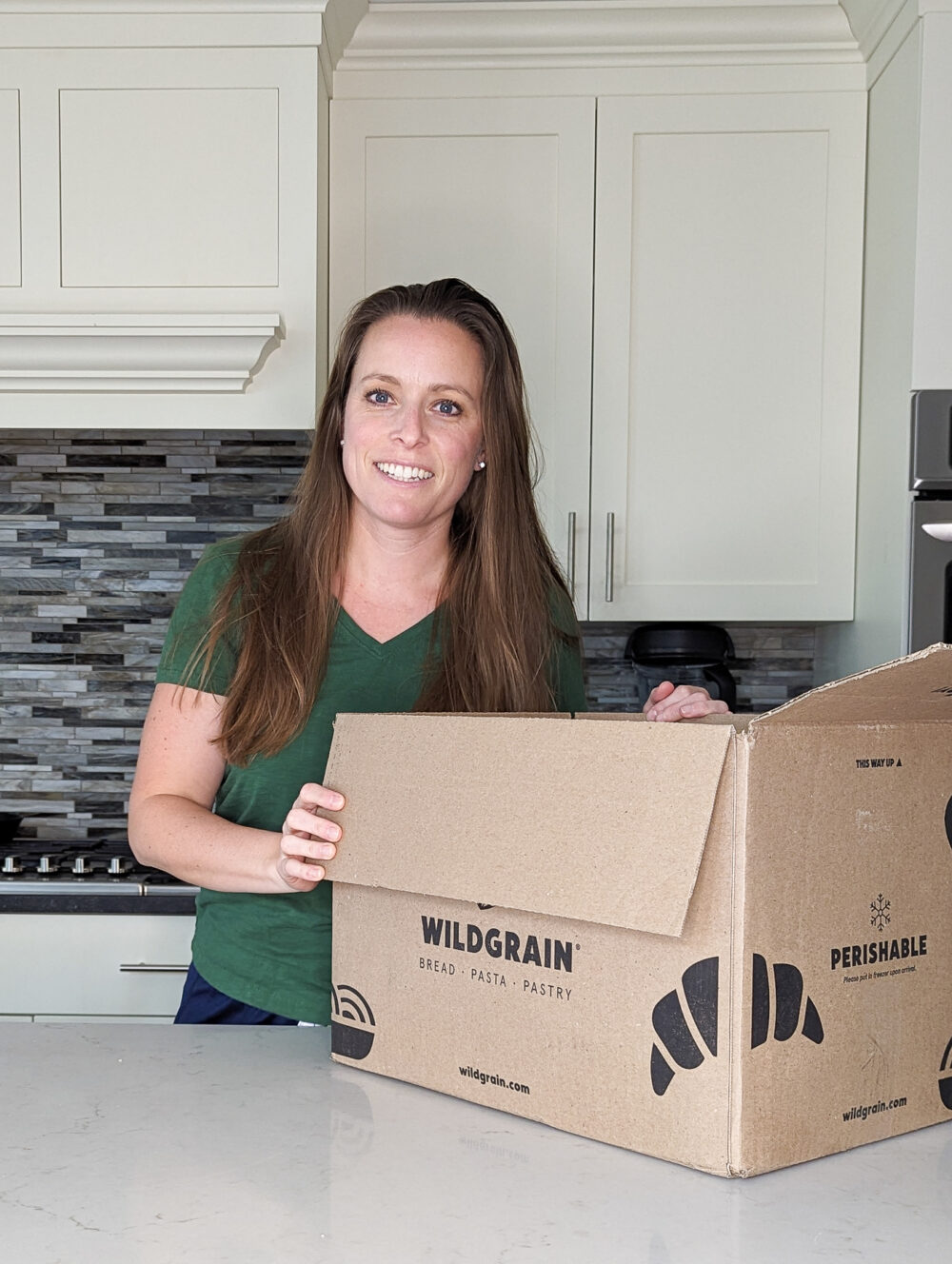 About The Author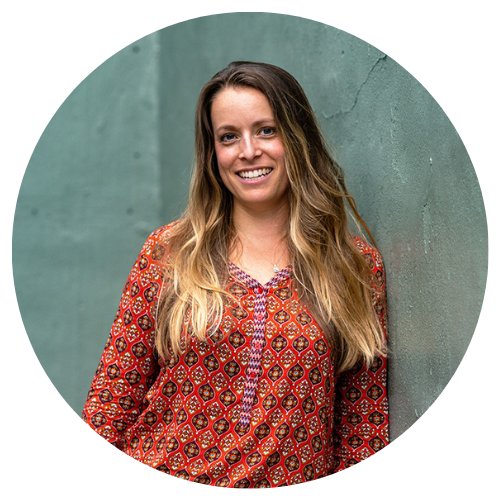 Jen Panaro
Jen Panaro, founder and editor-in-chief of Honestly Modern, is a self-proclaimed composting nerd and an advocate for sustainable living for modern families. In her spare time, she's a serial library book borrower, a messy gardener, and a mom of two boys who spends a lot of time in hockey rinks and on baseball fields.
You can find more of her work at Raising Global Kidizens, an online space to help parents and caregivers raise the next generation of responsible global citizens.