Easy Cantaloupe Water Ice
Don't toss that cantaloupe! Cantaloupe can be tough to buy when it's perfectly ripe and delicious. If you've got a cantaloupe that isn't quite as juicy as you'd like, make lemonade out of lemons… or cantaloupe water ice out of cantaloupe! Read on for the recipe for a refreshing summer treat of cantaloupe water ice.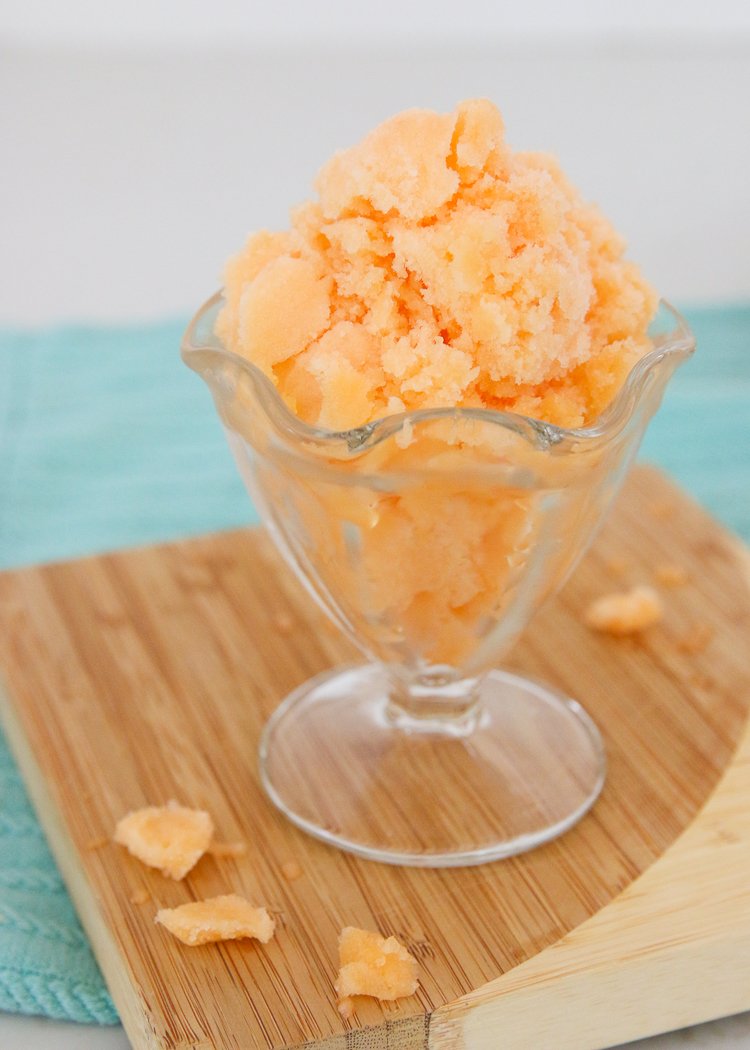 Water Ice??! What is water ice?? I know… I thought the same thing when I first moved to Philadelphia. What the heck is this "water ice" thing about which locals speak so highly?
Water ice is like a cross between a snow cone and a Slushie, only it's better than both. Some might say it's similar to sorbet, but a bit more crystalized. It's also called Italian ice and it's derived from granita. Philadelphia has a large Italian population, so the proliferation of a delicious dessert with Italian roots is no surprise.
No matter the name or the origin, it's definitely a big deal in Philadelphia. Summertime means water ice time.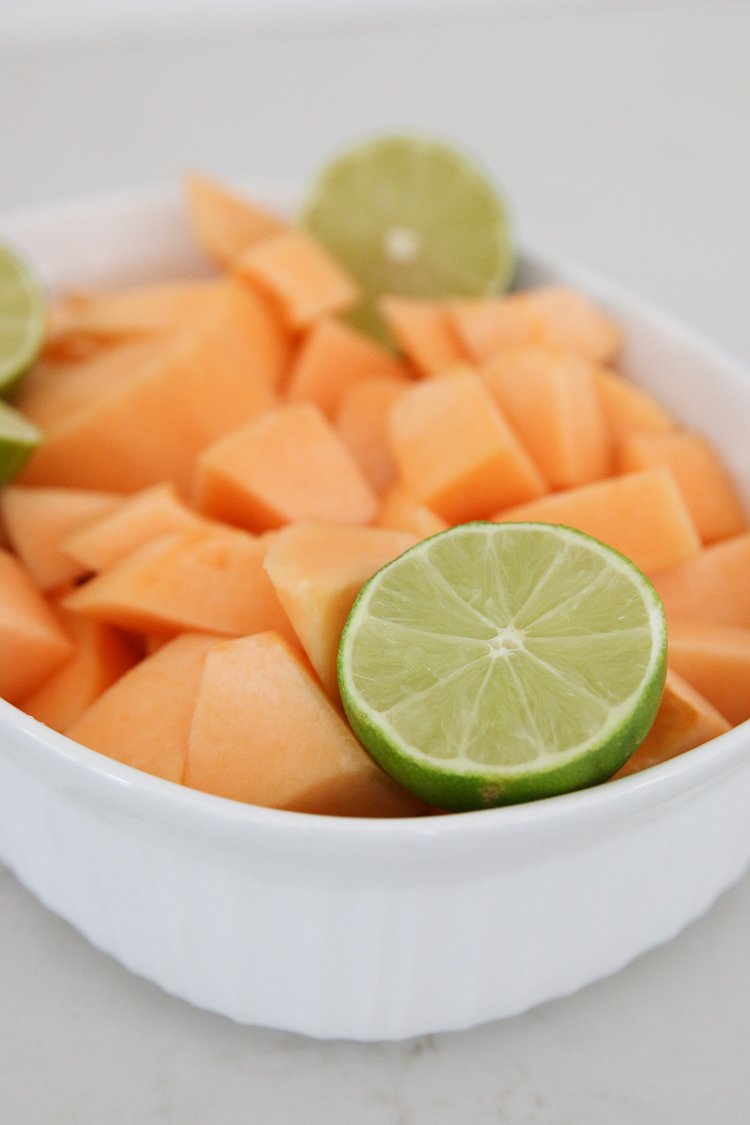 I didn't have big plans to replicate water ice. I stumbled on it to be honest.
Last week, I bought a cantaloupe from the grocery store and thought it was plenty ripe. It turns out it wasn't quite as delicious as I hoped to eat fresh. Determined not to just toss it in the compost bin, I thought I could turn it into ice cream. Cantaloupe ice cream sounded perfect for July!
I reviewed a few recipes online, created my own remix of them, and waited a day to try my delicious ice cream. But… I didn't exactly end up with something I'd call "ice cream". And when you see the ingredients (that include exactly zero dairy products), it's no wonder I didn't end up with creamy, delicious ice cream.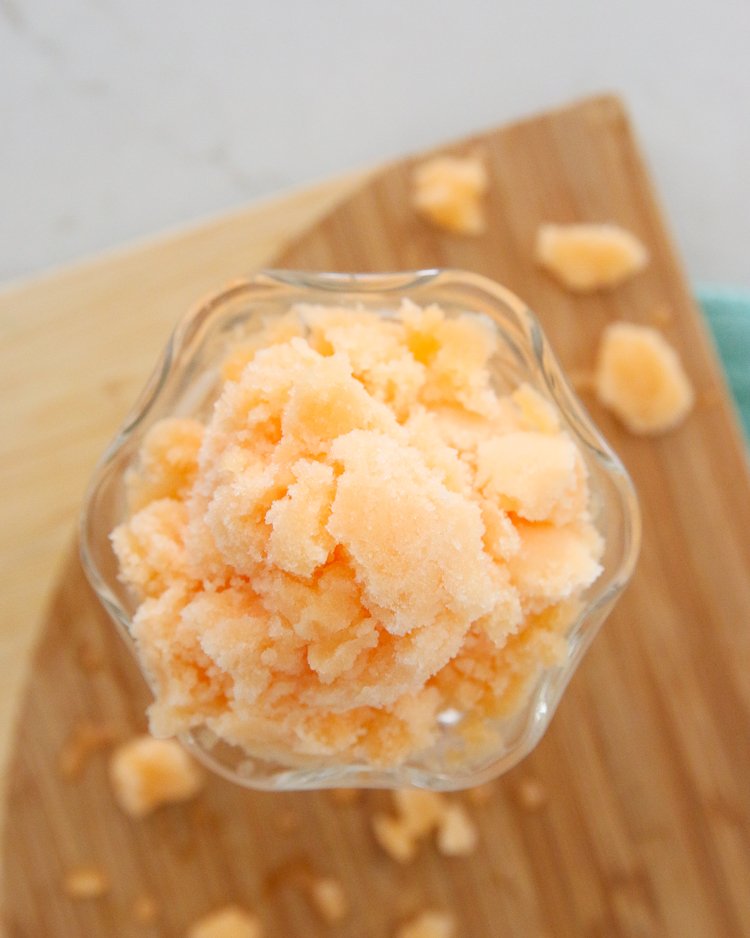 As luck would have it, however, I landed on something even better! Cantaloupe water ice. And despite not having a perfect cantaloupe, I got perfect cantaloupe water ice. I'm not sure if I was happier about the refreshing cantaloupe water ice or finding a way to use the cantaloupe to make something delicious and not let it go to waste.
I think cantaloupe is a really tough thing to buy. It's hard to get it just right (at least for me). Sometimes I get lucky and snag a super sweet and delicious cantalope that warrants enjoying in its pure fruit form. Other times, I take home an equally wonderful cantalope that just needs a few extra ingredients to bring out its beauty and delight.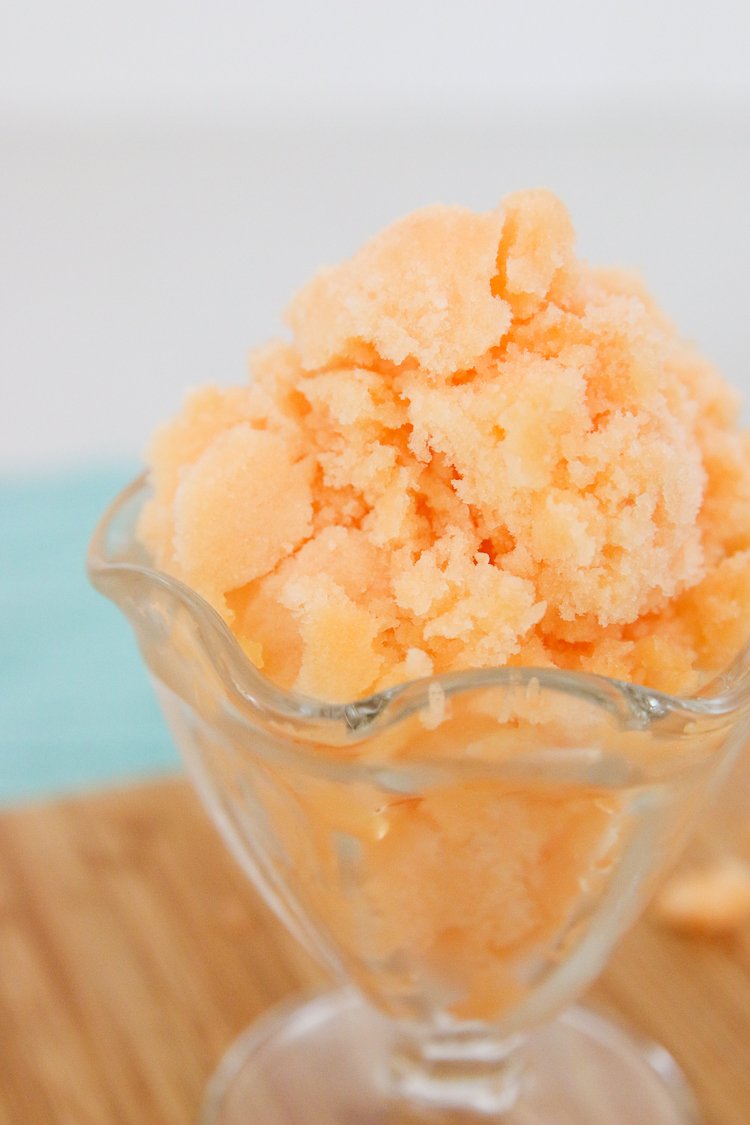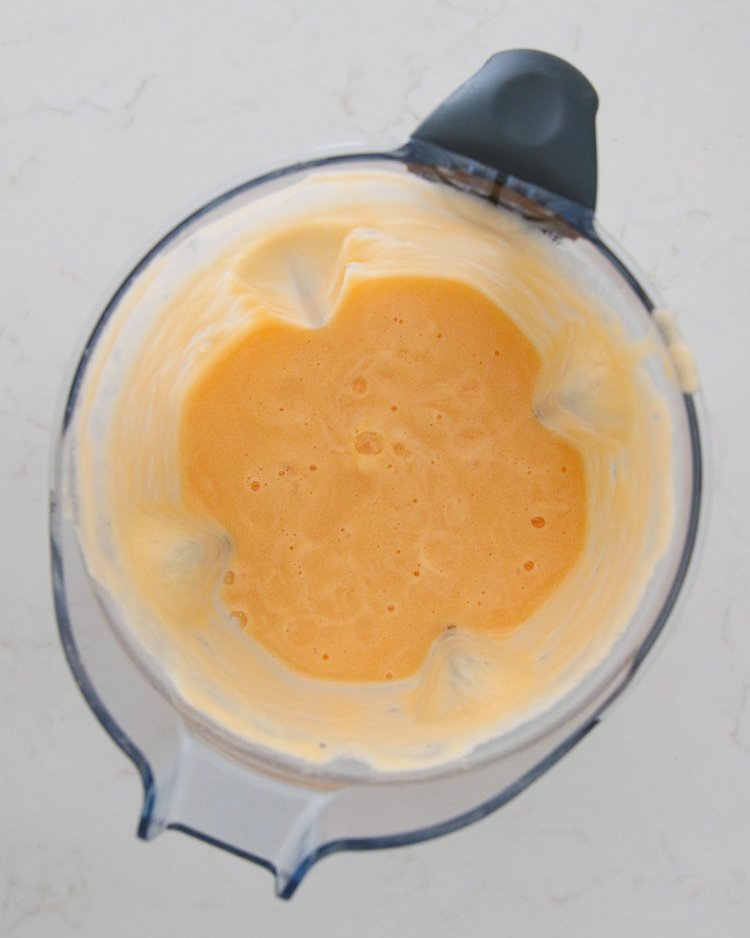 This time, I used a bit of sugar and lime to spice up the mediocre cantaloupe and whip it up into something amazing. I tossed cantaloupe, lime juice, sugar, and salt into our Vitamix. Then I let it churn in our ice cream maker for a bit. I turned lemons into lemonade or… cantaloupe into cantaloupe water ice.
Have you tried water ice? How about cantaloupe water ice? If not, I'd add this to your summer bucket list. It's pretty darn delicious (and you can thank Philly for introducing water ice to your hot summer.)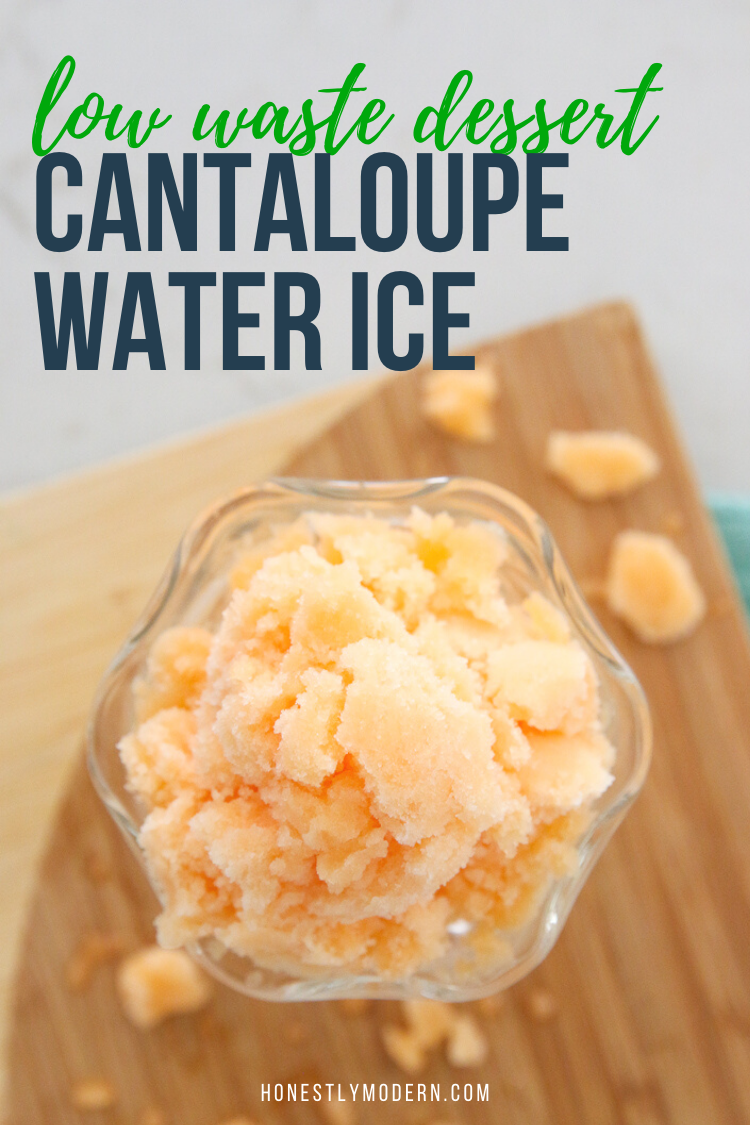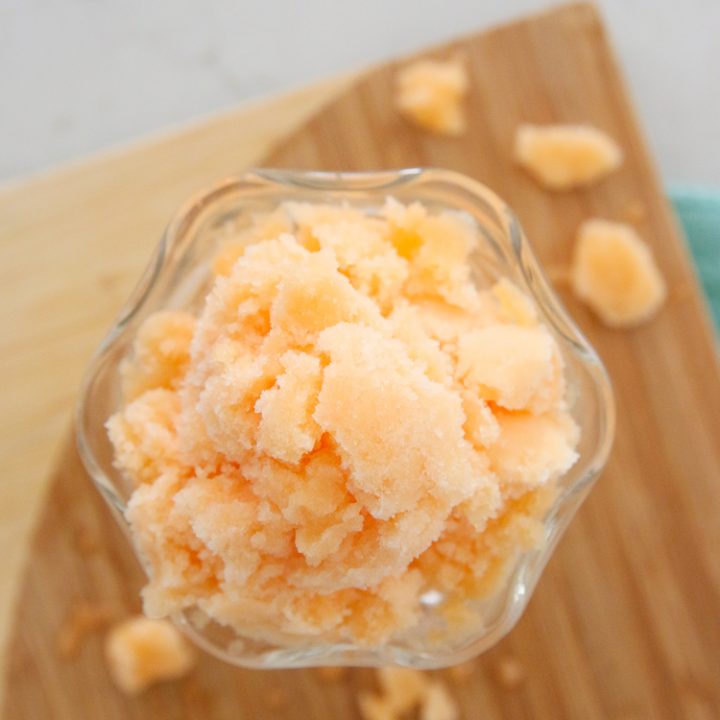 Cantaloupe Water Ice
Total Time:
4 hours
15 minutes
Simple and low waste dessert of sweet, homemade cantaloupe water ice that's perfect for a cool, refreshing summer treat.
Ingredients
1 large cantaloupe
1/2 cup white granulated sugar
1/4 fresh lime juice (about 1 1/2 - 2 limes)
1/4 tsp salt
Instructions
Cut cantaloupe into 1" size pieces, removing skin and seeds.
Combine the cubed cantaloupe, sugar, lime juice, and salt in a mixer or blender (I used our Vitamix).
Pour mixture into ice cream machine and follow machine instructions.
Place in a container and freeze for at least 3-4 hours until the water ice hardens.
Enjoy!


Recommended Products
As an Amazon Associate and member of other affiliate programs, I earn from qualifying purchases.
Nutrition Information:
Yield:

8
Serving Size:

1
Amount Per Serving:
Calories:

68
Total Fat:

0g
Saturated Fat:

0g
Trans Fat:

0g
Unsaturated Fat:

0g
Cholesterol:

0mg
Sodium:

82mg
Carbohydrates:

17g
Fiber:

1g
Sugar:

17g
Protein:

0g