5 Ways To Prioritize The Safety Of Children's Clothes
How do you ensure that your children's clothes are safe for them to wear? International certifications are one of several ways to gain confidence we are doing our best for our kids. Take a look at these five tips to prioritize the safety of children's clothing.
This post is sponsored by OEKO-TEX®.
The deeper I dive, the darker it becomes. So it goes with the ocean but also with fashion.
Back in 2014, I started shopping at local thrift stores in downtown Chicago. As you can imagine, I found all sorts of gems that got me hooked on secondhand shopping. I haven't looked back and still buy many of my family's clothes secondhand or from a short list of preferred retailers.
Since then, I've also spent many hours and days researching the complex world of the clothes we wear: how they are made and who makes them, where they come from, and where they go after we no longer need them. The more I learn, the more it becomes clear that it's all so murky.
From fiber to finished goods, our clothes travel through a complex global supply chain. Most of our clothes weave through a variety of countries before finally hanging in our closet. It's hard to know what goes into the production process and what we're actually putting on our bodies.
When it comes to our children, whose small bodies are even more susceptible to the impacts of harmful chemicals and toxins in the fabrics, international certifications like STANDARD 100 by OEKO-TEX® provide comfort that the clothes we buy for our children are safe for their growing brains and bodies.
A handful of children's clothing brands have tested their products for harmful substances and achieved compliance with STANDARD 100 by OEKO-TEX® over the years, and more companies, like Carter's, are beginning to communicate their certifications. As such a larger retailer of clothes for babies and children, it's exciting to see progress toward a commitment to make clothes that are safer for our little ones.
5 Ways To Prioritize The Safety Of Children's Clothes
There are many things to consider when assessing the safety of kids' clothing. As I noted above, the current supply chains for most fashion brands are far too complex for the average consumer to chase perfection from every angle.
There are, however, several considerations on which we can focus to help garner confidence about the safety of kids' clothes. Here are five ways to prioritize the safety of the clothes you buy for your children.
Understand the Complexities Of Global Supply Chains and Production Processes
Before making any judgments about the safety of children's clothing, it's helpful to understand that the process from fiber to the finished garment is really complex. In today's environment, the production of children's clothing involves farmers, weavers, sewers, and more, operating in various countries around the world. Most clothes worn in the United States, for example, are not made here, and components are sourced from several countries before becoming part of a finished article of clothing.
Recognizing that the clothing manufacturing process is complex and global is a first step toward understanding the larger considerations in play. This complexity also increases the relative importance of standardized certifications.
When thinking about certifications, it's important to understand where in the supply chain the certification takes place, what exactly is being certified, and to which limit levels or standards. With respect to brand responsibilities, brands don't get a pass on accountability, but even the most diligent of brands struggle to trace and track their products through every step and understand every chemical that impacts their products.
Without losing sight of the end game, let's give each other some grace as we wrap our heads and our hearts around making fashion safer for all of us and especially our children.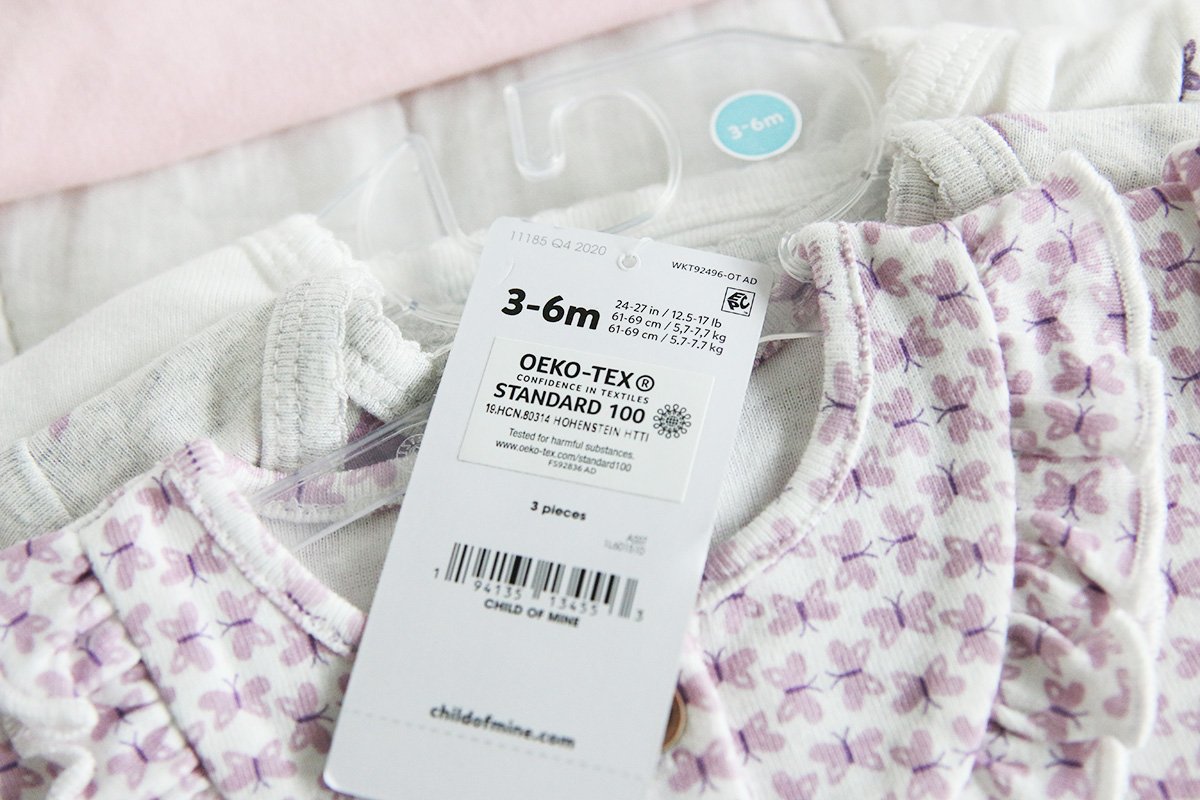 Look For Certification Like STANDARD 100 by OEKO-TEX®
There are a variety of certifications available in the fashion and textile industry, and the STANDARD 100 by OEKO-TEX® is one of the most strict standards. It's also worth noting that testing for compliance with this standard happens at the end of the production cycle, so it incorporates analysis of all of the fabrics, threads, coatings, notions, and more on a particular item of clothing. You can read more about STANDARD 100 by OEKO-TEX® in this previous post highlighting what STANDARD 100 by OEKO-TEX® is and why it matters.
Encourage and Reward Brands for Disclosing Certifications
According to their website, over 16,000 companies have achieved certification under an OEKO-TEX® standard. This surprised me quite a bit because I don't often see brands promoting their compliance with this certification that seems helpful and relevant to consumers. I can only assume that lots of brands certify their products but choose not to disclose this. Why?
Maybe they are afraid of bringing attention to the fact that there are so many harsh chemicals and toxins generally swimming around the fashion industry, especially when our children's well-being is at stake? Or maybe they fear the backlash that they aren't doing enough to ensure the safety of their clothing or advocate for safer supply chains? Of course, I can't say for sure, but consider encouraging your favorite brands to be more forthcoming about their compliance with such standards.
If more brands promote their independent certifications, lagging brands might find it more compelling to follow suit at the expense of being left behind. Consumers will also have more information to make better-informed decisions about the chemicals and toxins we are putting in and on our bodies.
As consumers and critics, we also need to prioritize progress over perfection. Too often, I've seen brands that are making an effort to "do better" receive harsh criticism for not doing enough, while brands doing nothing continue to skirt under the radar unscathed.
I'm not suggesting consumers shouldn't provide constructive feedback to brands making progress, but we can certainly acknowledge the benefits of working toward safer standards while also expecting continuous improvement, where applicable. We should be cautious about "punishing" transparent brands at the expense of discouraging any disclosure at all.
Recently, more brands have started to promote their STANDARD 100 by OEKO-TEX® certifications. For example, Carter's has worked to certify and label certain articles of clothing from its collection that it plans to release in January 2021.
Babies and young children are especially sensitive to chemicals and toxins in textiles because they are smaller and also more likely to put textiles in their mouths. Hopefully, as more mainstream children's clothing brands like Carter's promote their efforts toward providing safer clothing for kids, we can start to expect certifications such as STANDARD 100 by OEKO-TEX® as basic table stakes for bringing children's clothing to market.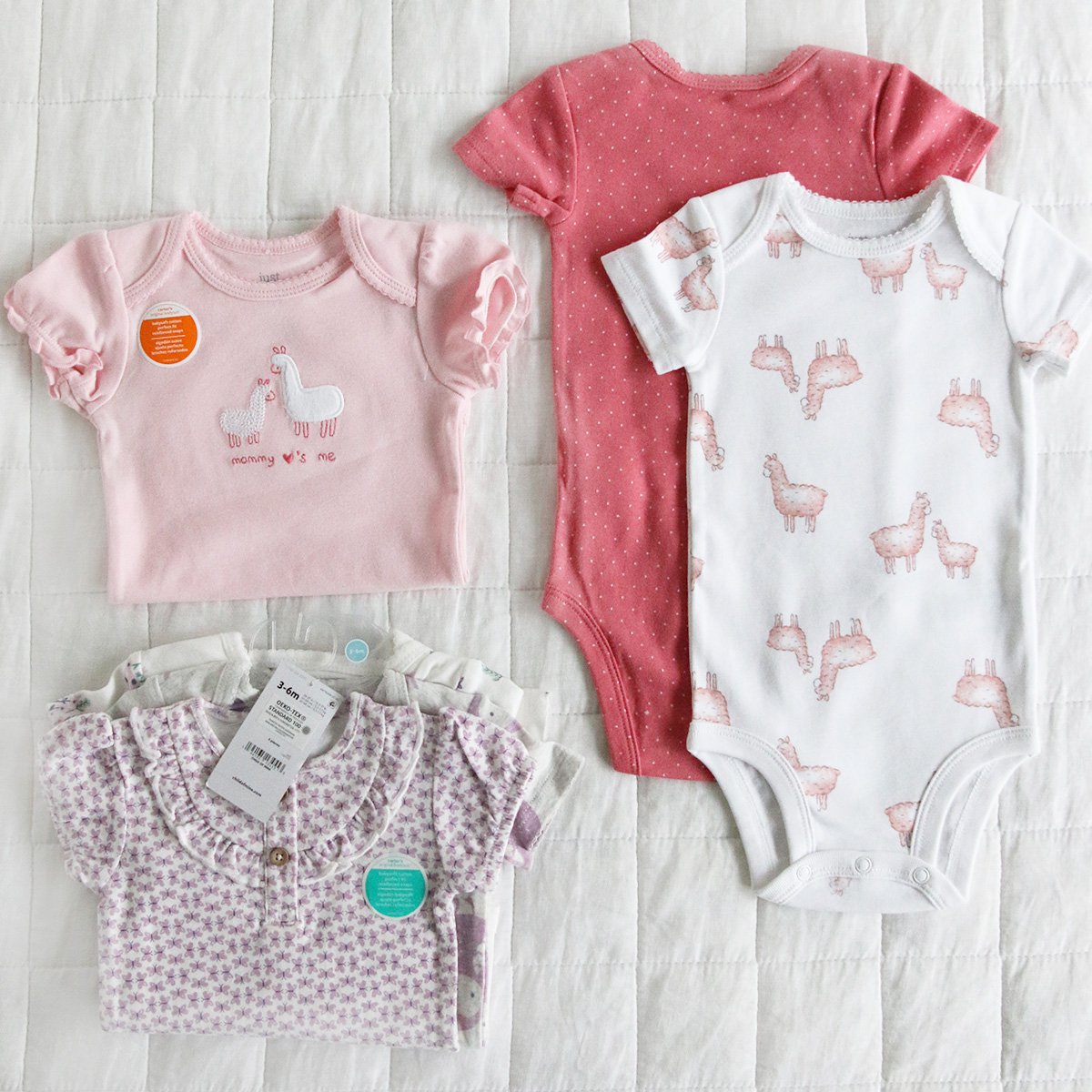 Wash Clothes Before Wearing Them
As it stands, too many children's clothes have harsh chemicals and toxins in and on them. Washing clothes before wearing them can help reduce the toxins to which our children are exposed. Washing doesn't eliminate all toxins, but some of them rinse off and begin to off-gas through regular wear and cleaning.
Buy Secondhand Clothes
I've long been a fan of buying secondhand clothes. It's easier on our budgets and reduces the use of virgin resources for children's wardrobes. Because children grow so quickly, there are lots of great-quality secondhand pieces on the market.
However, secondhand clothing also offers the benefit of time passing since production. As clothes are washed and worn, chemicals and toxins that may have been used during the manufacturing and production processes off-gas or rinse out of the clothes. While shopping secondhand doesn't guarantee that textiles are free of harsh chemicals or toxins, it increases the likelihood that some of the chemicals are no longer on the fabrics and accessories.
How do you ensure that your child's clothes are safe for their small and developing bodies? If you have other ideas, I'd love for you to share them in the comments! There is so much to learn on this complicated journey of textile and fashion production, so the more ideas the better.