We Are The Gardeners Book Review + More Kids Gardening Books
Looking for fun picture books about gardening? Check out this review of We Are The Gardeners by Joanna Gaines and Kids and take a look at our list of nearly 40 other children's gardening books to grace your bookshelf. We've also linked to the FREE We Are Gardeners Educators Guide so teachers and parents can help children learn even more about gardening.
This post contains affiliate links.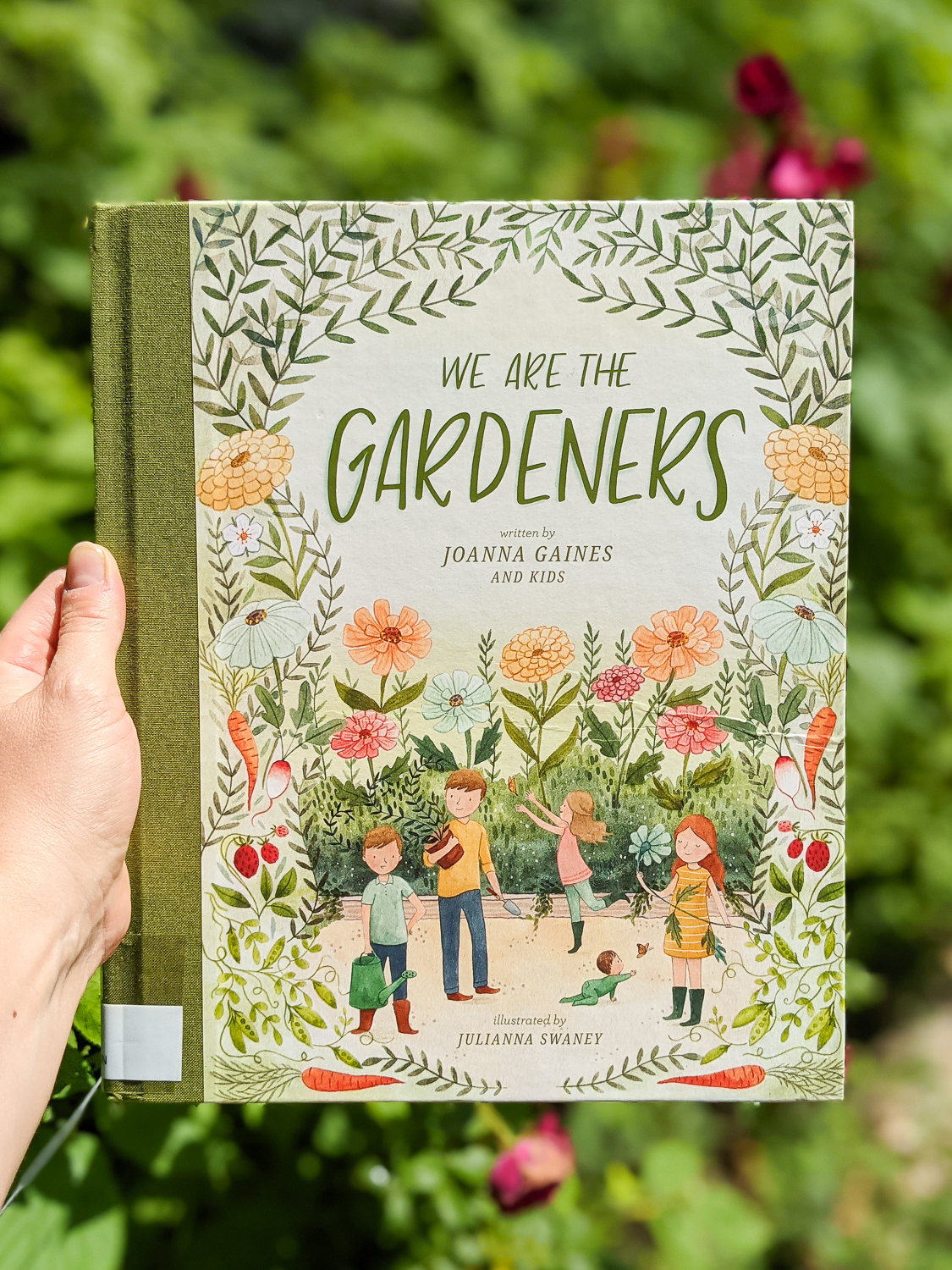 Each night, before my boys go to bed, we read a few picture books to wind down the day and spend quality time together. Over the year, we've checked out a LOT of books from our local library, including many books about children's gardening.
We Are The Gardeners was one of the picture books that stood out as a favorite about gardening with kids. Read on to find out if this book is right for you and your family.
We Are The Gardeners Summary
In this book, author Joanna Gaines and her kids share their adventures of starting their own family garden. They were gardening novices, inspired by a single fern in their home, when they decided to start growing their own food and flowers at home. As is often the case with gardening, they had lots to learn and made many mistakes along the way.
As a family, they plan, plant, and care for the garden. They learn to pay attention to the garden and learn what the garden needs based on what they see in the garden. They work hard to keep the garden growing productively.
From failed endeavors, obstacles (like deer and bunnies that eat everything!), and lessons learned, the Gaines family shares how they eventually grew a happy, successful garden. After trial and error, they learned how to grow a gorgeous garden for their family.
As it turns out, trying something new isn't always easy, but the hardest work often yields the greatest reward.
We Are The Gardeners Review
We grabbed this book from the library bookshelf before I realized who wrote it. Truth be told, I was skeptical about the quality of the book after learning that it was written by Joanna Gaines. While I didn't have any particular critique of her work, I had more general reservations. I've read many children's books by famous people that capitalize on their fame to sell children's books that aren't of great quality.
Despite my hesitation, I really liked this book and even added it to our list of favorite kids gardening books. Gaines shares many lessons she and her children learned while tending the garden that can be carried into everyday life, including that initial failure isn't always the end. We can learn a lot of lessons from failing before landing on something wonderful and learning a lot along the way.
The story also highlights many of the more nature-friendly ways to garden. They used ladybugs to help reduce the damage from pesky aphids. They showcased the value of earthworms to healthy soil. They mention capturing rainwater to irrigate the garden. I like that they incorporate several regenerative gardening principles in the story.
We Are the Gardeners Educator's Guide
Joanna and her publishers have also created a FREE We Are the Gardeners Educator's Guide to offer teachers, homeschooling parents, and anyone else working with kids several lessons that can be used in the classroom. The lessons are targeted toward 1st – 3rd graders and include vocabulary tasks, text-based questions, lessons about growing gardens, and more.
Each of the lessons are aligned with educational standards in science, math, ELA, and writing. There are even materials to help students design their own gardens!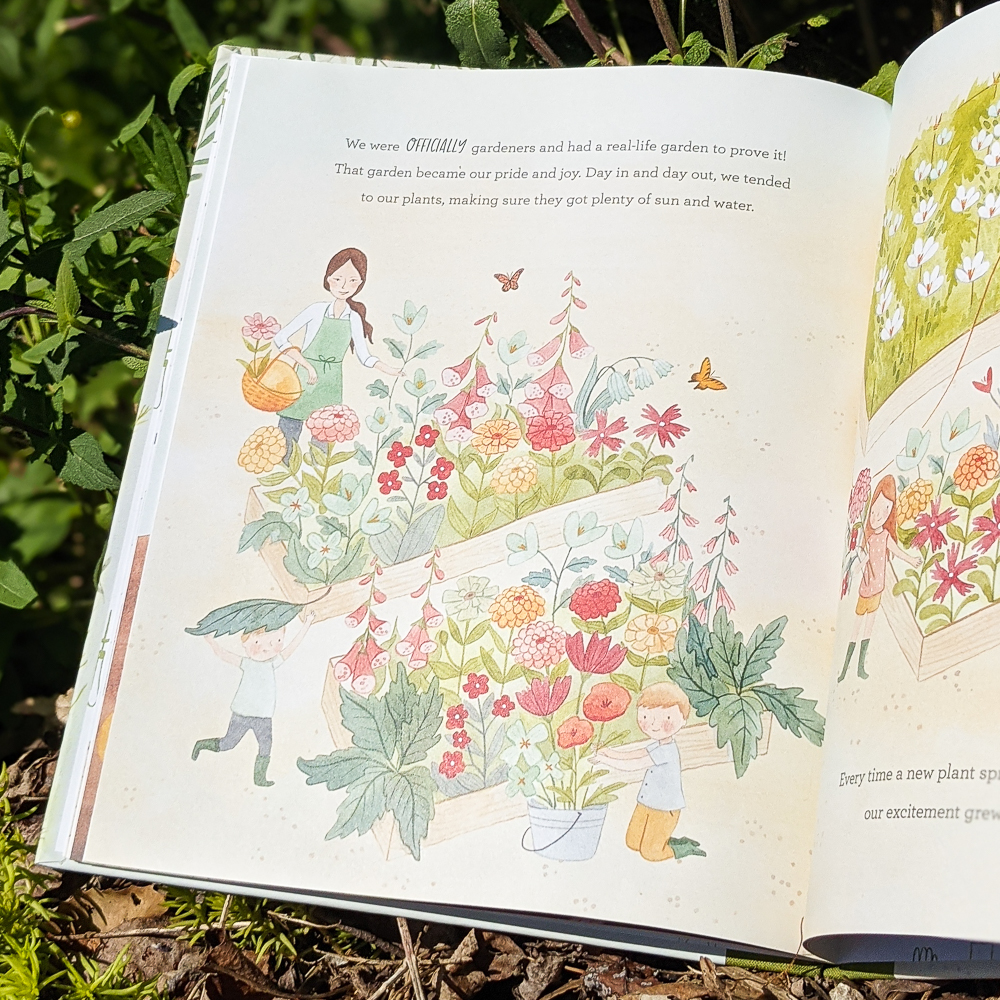 About The Author of We Are The Gardeners
Joanna Gaines and her husband, Chip Gaines, are co-founders and co-owners of Magnolia Homes, Magnolia Market and Magnolia Realty in Waco, Texas. Together, they also host HGTV's Fixer Upper, where Joanna serves as the lead designer and Chip handles construction.
Joanna has a Hearth and Hand collection of home decor you might have seen at Target, and they have a core of raving fans. Joanna has a few other books as well including:
We Are The Gardeners Book Details
We Are The Gardeners Publisher: Thomas Nelson Publishers
ISBN: 9781400314225
Pub Date: March 2019
Reading Age: 4 – 8 years
Number of Pages: 40
35+ Other Kids Gardening Books
This is one of many kids gardening books we've read over the last few years together. If you're looking for more children's gardening books, check out this list of more than 35 picture books about gardening that we've read and loved over the years.
What did you think of We Are The Gardeners by Joanna Gaines? Did you enjoy it as much as we did? I'd love hear our thoughts in the comments!