Compost Chronicles | 1…2.. 3 Methods!
Ready to compost at home but not sure how to get started? Check out how Kylie combines three methods that are available to her because of her city, her family, and her work.
The Compost Chronicles series highlights families in various circumstances who have all found a way to compost at home that works for their lifestyle. Hopefully, you can be inspired to give it a go and help our planet become a little healthier.
Did you know that composting can transform your trash into new life? And that new life, in the form of microbes, fungi, earthworms, and more, provides the foundation for much of all other healthy life on Earth?
Composting is a great way to create healthy soil to support people and our planet. Healthy soil is also a magical carbon sink that absorbs carbon from our atmosphere and helps cool the planet. While dead dirt has few living organisms, a teaspoon of healthy soil has more living organisms in it than the entire population of humans on Planet Earth!
We need everyone to learn how to compost at home and make it a part of everyday life.
Don't think you can compost? We've got a whole set of resources on Everything To Know About How To Compost At Home, including more Compost Chronicles interviews. All of this information about how to compost at home will hopefully prove that just about anyone can make space and find a system to turn their food scraps into nutrient-rich compost to enrich our soil, feed our food cycle, and limit the food waste that ends up in landfills.
Meet Kylie.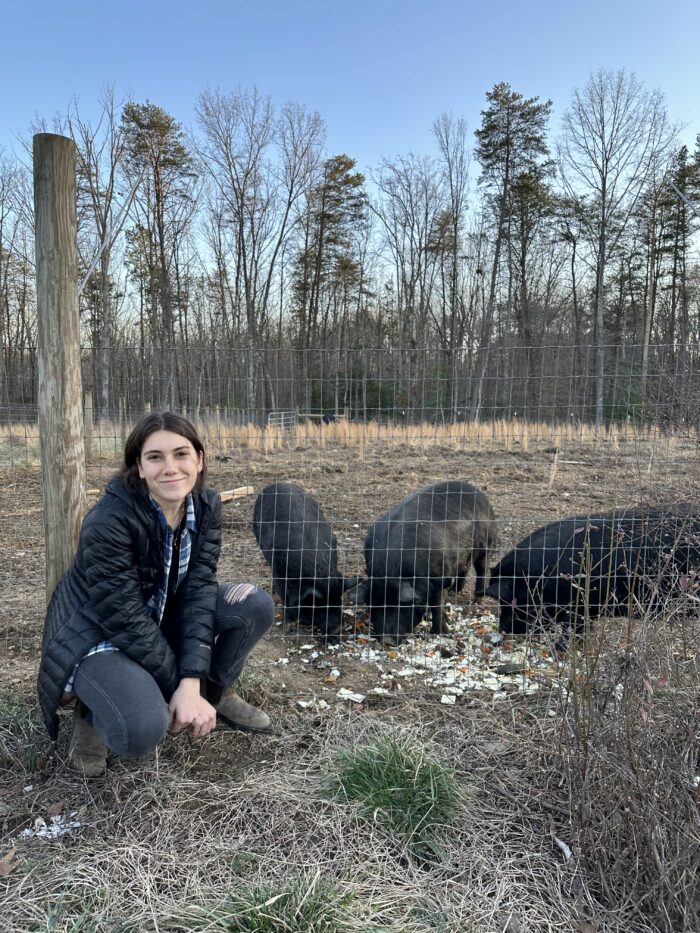 Can you tell us a bit about yourself, where you live, your family, etc…?
I grew up on the rural outskirts of Charlottesville, Virginia and moved to the Fan area of Richmond in 2020 for my first job after graduating from Virginia Tech School of Architecture + Design.
Tell us a little bit about why you decided to start composting.
My family and much of my extended family, mostly on my dad's side, have been composting for as long as I can remember – a habit they formed as farmers in Pennsylvania. Exposure to composting from a young age has probably been the biggest driver.
My childhood was predominantly spent outdoors – hiking, biking, playing sports, and exploring the bamboo forest, gardens, streams, ponds, and woods surrounding my parents' home. This definitely contributed to a deep-rooted value and appreciation for the natural world. I think composting is an easy way to be more thoughtful about waste and consumption, paying respect to the environment in a small way.
In my first year of college, living on campus, the resources to compost were not readily available whatsoever. I saw how much the university struggled just to introduce and manage basic recycling – it's challenging to implement something that not all individuals are equally invested in.
My involvement in environmental clubs and sustainable design courses motivated me to consider the impact I had on the planet and scrutinize my lifestyle and habits. All this being said, when I moved to an apartment off campus second year, I brought out my composting bin and have held onto the habit ever since!
What method or methods of composting do you use or have you used?
I predominantly use three methods: public bins, feeding farm animals, and pickup service. Most of the time, my partner and I collect our household compost and walk it over to community bins at Randolph Park. If we are planning to visit my partner's family farm, we will take our compost along to feed the pigs and chickens. At work, we have a compost pickup service – anyone in the office can contribute to the bucket that is picked up biweekly by Compost RVA.
If you had any methods that didn't work for you, can you share what happened and why it wasn't a good fit for you?
When I was in school, I wasn't aware of any community bins or collection services (in hindsight, they may have existed – perhaps I just wasn't looking in the right places) so I took my compost to the woods by my apartment and buried it on a regular basis. This method was a bit unconventional, and I always wondered if I was attracting wildlife and feeding an unhealthy dependency on humans which made it feel like a less-than-ideal solution.
For your compost at home, how do you store the scraps until they are taken to your compost pile?
We have a small filtered composting bin that we keep in our refrigerator with a compostable bag inside. It doesn't take long for us to fill the tiny bin (we probably fill 2-3 each week). To avoid having to make frequent trips to the public drop-off bin, we store filled bags in our freezer.
If we run out of compostable bags, we reuse large plastic produce containers before recycling them. This definitely takes up prime freezer real estate but it keeps everything super fresh which prevents smells and fruit flies. It's taken a while to get this part of the process sorted out, but I'm happy with the current setup!
How does your family/partner feel about composting?
My partner and family are totally on board and take initiative to compost with or without my encouragement. When I lived with roommates it was a different story – I frequently found myself digging compostable waste out of the trash and pulling stickers off of bananas tossed into the bin.
The only time my composting expectations don't align with my partner is on vacation. Composting is so ingrained in me at this point it feels painful to toss compostable scraps when we are away from home, but it's a struggle to pack out compost, especially when not traveling by car.
Have you experienced any benefits from composting, especially ones that might have surprised you?
It's small but I feel encouraged knowing I'm making a bit of an impact on the well-being of the planet every day and knowing my compost goes back to support gardens around the city.
Do you feel there is diversity in the composting community? (ethnicity, gender, age, etc.)
Hmm, that's a question I think a lot about but don't have a clear answer to. There are many barriers to composting which certainly contribute to its inaccessibility. I think making a conscious effort to amplify the voices of underrepresented folx and working towards establishing a free state-maintained service for household bin pickup would be the goal.
I know the city of Richmond has made huge progress, especially with the rollout of public bins this past year, but it feels like we have a long way to go in terms of educating the community about the resources and methods available.
Anything else you'd like to share with readers about your composting practices, especially to help beginners gain confidence that they too can compost?
Just like any new habit, it will take some effort to establish a system and process that works for you but it's so meaningful and rewarding in the long run!
About The Author
Rupa Singh
Rupa Singh is an ex-social entrepreneur and mom of three kids connecting them to their South Asian (Indian) roots + sustainability. Organizational wife to an altruistic architect. Advocate for low waste + thoughtful consumption. Continually unlearning + learning. Her bullet journal + audiobooks + morning ritual feed her spirit.