Easily Celebrate Chinese New Year at Your Dinner Table
This shop has been compensated by Collective Bias, Inc. and its advertiser. All opinions are mine alone, but I hope you try this recipe out in your kitchen to have an opinion of your own as well. #ChineseNYEats #CollectiveBias
It's the single best trick I think busy families have resorted to in order to put wholesome food on the table during the week. Crazy cooking Sundays.
Each weekend, I prepare a menu and hit up the grocery store on Saturday or Sunday morning before it gets busy, usually with one of the boys in tow. That afternoon, I spend 2 – 3 hours in the kitchen preparing multiple meals to fill up our fridge and freezer for the week.
Without fail, there's one meal I make in that rotation that often earns me cross-eyed looks from the customers around the meat counter. It's this one. Asian-inspired chili garlic and teriyaki skirt steak.
It's not the meal itself that gets people confused. But it's so good and makes the best leftovers, so I order practically the entire portion of skirt steak available at the counter every time I make it. It's not unusual for the butcher to double check my request. You want how many pounds?!
Back in the kitchen, I pull out my trusty cast iron grill pan. We don't have an outdoor grill (which I can't wait to buy once we have a house). But this cast iron grill pan creates really amazing grilled meats. If you don't own one, I'd definitely recommend it.
Be forewarned though; indoor grill pans are not for the faint of heart. They're heavy and leave quite a mess. It may or may not create some smoke too, which may or may not set off my smoke alarm on occasion. I'm not kidding, though, when I tell you that the results are worth the hassle. We're still using it regularly, are we not?
If you're not a fan of the indoor grill pan, have no fear. This recipe can certainly be prepared on an outdoor grill or in the broiler in your oven.
On a whim, M created a seemingly wacky, definitely Asian-inspired marinade one day that we absolutely love. The marinade stuck and now this skirt steak recipe is a staple in our weekly meal rotations. As we approach the Chinese New Year next week, I thought I'd share the recipe so you can bring a little Asian flavor to your dinner table in honor of the holiday. Or maybe because you just want to try something new and different.
Let's get down to business.
The Weekend Preparation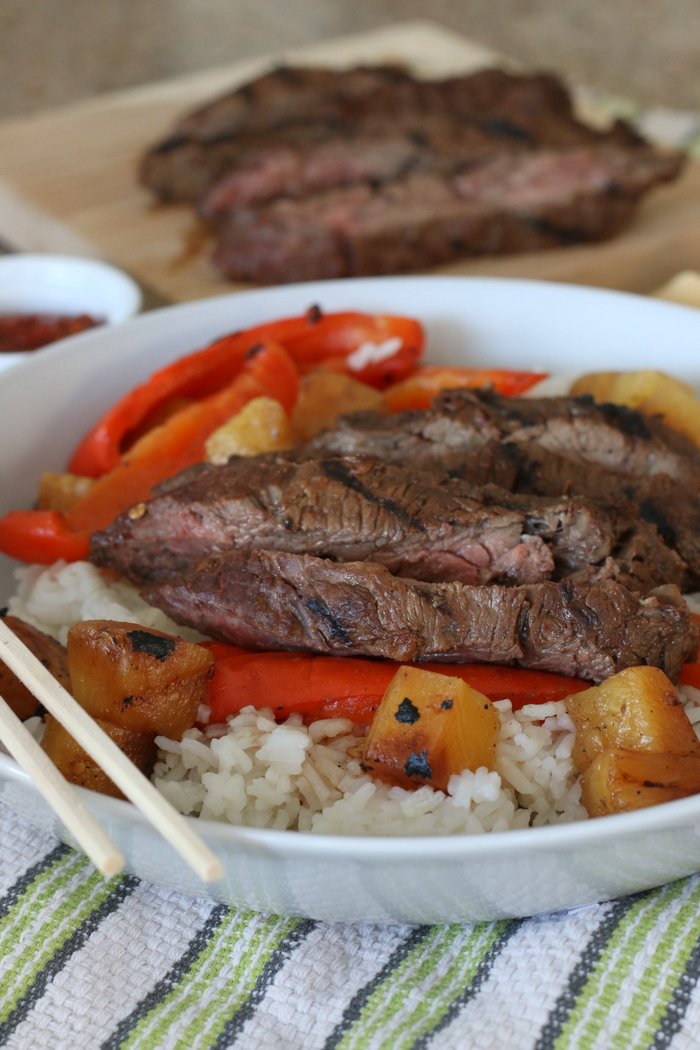 Mix the chili garlic sauce and Kikkoman Teriyaki sauce with a little Worchestershire sauce. Finish the marinade with a touch of whatever barbecue sauce you have in your fridge to thicken up the marinade a little. Add the meat to the marinade, let all the flavors marry for an hour or two in the fridge, and then fire up the grill pan.
Cook the skirt steak to your desired doneness. We generally cook it about 8 – 10 minutes on each side until it's medium-ish. But if you're a grilling connoisseur, I'll leave the discretion up to you about how well you like your meat prepared. The length of time also depends heavily on the thickness of the meat, so keep that in mind as well.
Just after you flip the skirt steak the first time, add some red peppers and Dole Pineapple Chunks for a little Vitamin C to the grill pan. The fresh and tangy flavor of the pineapple and the sweetness of the peppers pair really well with the flavor of the marinade, and it never hurts to add a little extra Vitamin C to our plates (especially during the winter).
Before M and the boys steal all the skirt steak and grilled pineapple and peppers, I let it cool and put it in the fridge for the week.
Although spending 2 – 3 hours in the kitchen on a Sunday might sound like a lot of work, it's actually a really big time-saver long term and reduces stress levels significantly during the week (at least for us).
I'm sure you can all relate to the hectic transition each evening when everyone arrives home from school and work both tired and hungry. Having dinner mostly prepared makes the transition so much easier and ensures we get more healthy meals on the table during the week.
Quick Mealtime Preparation
When crazy Wednesday night arrives, I cook up a batch of Minute® White Rice in no time, reheat the steak and sides (which really might be even better on their second shift) and dinner is served. I can usually get this meal on the table in under ten minutes.
Depending on the meal, we sometimes opt for a whole grain brown rice or some mixed grain medley option. But for this dish, we prefer to stick with the classic white rice option.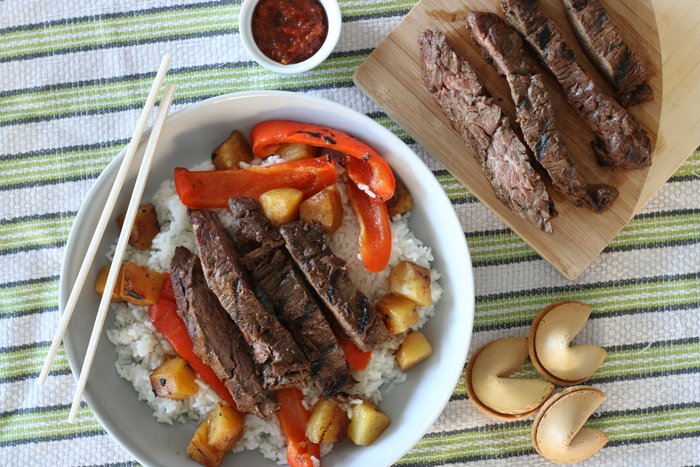 If you haven't already added it to your menu for next week, I'd definitely encourage you to give it a try, especially because there are coupons available now for the teriyaki sauce and the pineapple. I bought everything from our local Jewel-Osco, but the coupons are good at tons of grocery stores, so there's a good chance you can use them too.
Even if this recipe isn't exactly up your alley but you'd like to give a mealtime shout out to the Chinese New Year, check out several other Asian-inspired, Chinese New Year Eats recipes for more options. Surely one of them will spark culinary curiosity with your family!
If you give it a try, be sure to let me know what you think.
Asian-Inspired Marinated Skirt Steak with Pineapples and Red Peppers
Total Time:
1 hour
20 minutes
Ingredients
1 lb skirt steak
1/2 cup Less Sodium Kikkoman Teriyaki Sauce
1 tsp Worchestershire sauce
2 tbsp barbecue sauce
4 tbsp chili garlic sauce
1 can Dole Pineapple Chunks
1 red pepper
1 package Minute® White Rice
Instructions
Combine teriyaki sauce through chili garlic sauce. Mix together and then add skirt steak.
Allow to marinade for 1 - 2 hours
Grill skirt steak to desired doneness
With about 5-7 minutes remaining for steak to grill, add pineapple and red peppers to grill pan to heat up.
Prepare rice according to package instructions
Slice skirt steak (best if sliced against the grain of the meat) and serve with pineapple and red peppers over rice. Enjoy!
Nutrition Information:
Yield:

1
Serving Size:

1 grams
Amount Per Serving:
Unsaturated Fat:

0g