Beginner's Guide to Surviving a Golf Outing: Q&A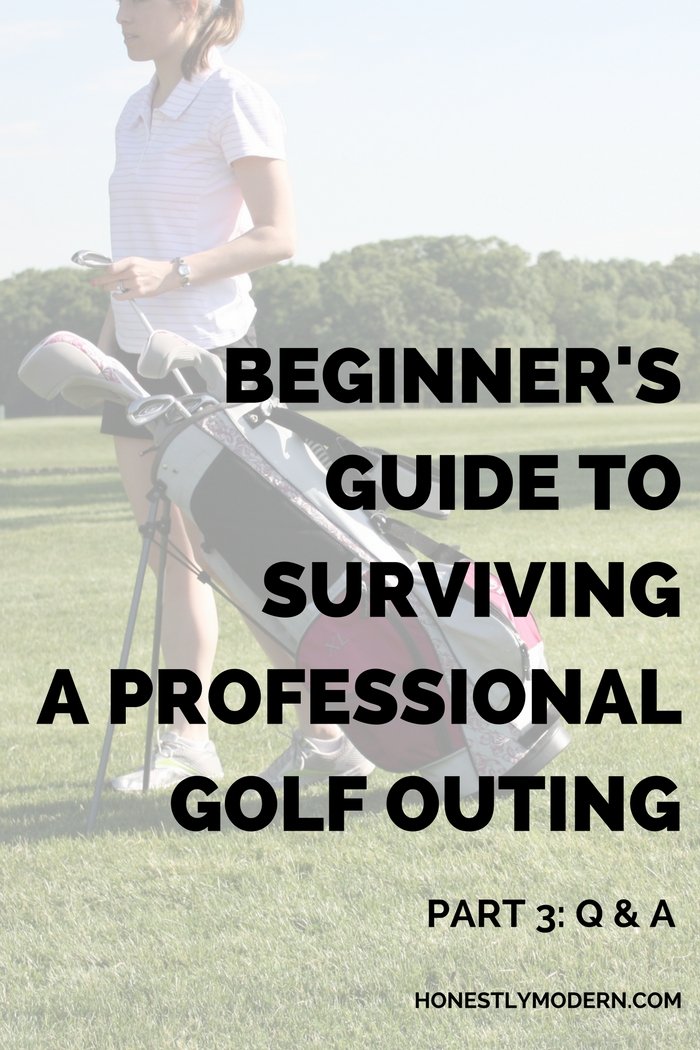 Today, I return with the last of three parts in a series about surviving a professional golf outing as a beginner to the game. I'm no expert, so I'm not here to help you master your swing or sink that last put. But I hopefully can help you skirt through a golf outing with your clients or colleagues on just the most basic of skills and experience.
Don't Miss Parts 1 and 2
Part 1: The Jargon
Part 2: What To Bring & What To Wear
What if I miss a shot?* ~ As a beginner, there's a pretty good chance you'll whiff on a few shots throughout the round. I certainly did.
Attempt your shot twice (maybe three times if pace of play allows). If you miss these shots, don't continue trying unless the rest of your group is playing at a similar pace and there are no groups behind you pushing you to keep up pace. Presumably, you'll need to pick up the ball and bring it to where the rest of your group is playing.
What if I hit a ball in the water?* ~ First off, know that you can ALWAYS commiserate with me if this happens. I think I hit more balls in the water than anyone. I could definitely be convinced there's a magnetic attraction between ponds and any ball I hit.
If you do hit a ball in the water and can reach it with your club, go dig it out of the water by all means. Chances are, however, the ball has a new home and you'll need to snag another ball from your bag. If you're keeping score, add two shots to your score and drop the new ball near the ground where the ball went in to the water.
What if I hit a ball in a sand trap?* ~ Enter the sand trap in a manner in which you can take the fewest steps in the sand, (attempt to) hit your ball out of the sand trap. Then use the rake provided to clean up any marks your feet, ball or club left in the sand so it's nice and smooth for the next lucky player who lands in the sand trap. Strive to leave the sand trap as clean or cleaner than before your ball entered it, leaving no marks that your little ball made a visit there.
If you have a sand wedge or pitching wedge, now would be the time to pull that bad boy out of your bag. If not, grab an iron with a higher number. The higher the number on the iron, the easier it is to hit the ball up in the air and get it out of the sand trap. A
s a beginner, let's be honest and presume you won't likely get the ball out of the sand trap on your first shot. It's not easy. If you try two or three times and don't succeed, grab your ball and toss it up out of the sand trap. You don't want to be dramatically slowing down the pace of the game for your foursome or those behind you.
* In all three of these circumstances, I've presumed that your outing isn't overly formal about keeping score. Generally, hosts would rather encourage a reasonable pace of play than a precise score if beginners joined the event. (In other words, they'd prefer you pick up your ball and keep things moving, and probably have more fun, than track every single shot and follow all the professional golf scoring rules.)
When is it my turn? ~ Don't expect any specific order for teeing off within your foursome. But after teeing off, the farthest person from the pin takes their shot. This applies all the way to the pin and until all players have completed the hole.
From where do I tee off? ~ Most likely, each hole will have several tee boxes. There are tee boxes for more advanced players, a set for men, and usually a set for women. You're allowed to use whichever tee boxes you'd like, though I have never seen a man use the women's tees. And I ALWAYS choose the tee box closest to the hole. I'm not good enough to be adding any extra yardage to my game. I'll take the easiest option available every.single.time.
What about the drink cart? ~ Have no fear if you get thirsty or hungry. Generally, a cart will peruse around the course offering snacks and drinks. How these items are paid for will vary based on the event, but it's typically helpful to have some cash available for potential purchase and tip for the cart driver.
Where do I drop off and pick up my clubs? – Upon arriving at the event, you'll likely need to drop your clubs off at the clubhouse where a caddy or other employee will take them for you to your cart or the waiting area where they will be ready for you once your event begins. It's common to tip the caddy, much like tipping a valet driver. But that's certainly at your discretion.
What if I play really slowly? ~ Understand that some people, if they are very good, might get frustrated with your beginner skills. The biggest frustration for more experienced players is the pace at which a beginner plays. This could frustrate people in your group or in groups behind you.
Respect the pace of those around you. If they all play quickly and take fewer shots, pick up your ball occasionally and catch up. If a group playing behind you routinely shows up at the tee box while you're still in the fairway, consider letting them pass. (By pass, that means when you get to the next hole, wait for them and let them play the hole before you. They won't actually skip playing a hole.)
You'll never finish your round of golf if you do this all the time, but once in a while is ok. Just be cognizant of their demeanor and you should get a feel for how necessary it might be to let them play ahead of you.
What if I have played only a few times or not at all? ~ Be honest about your skill level before you play. Your golfing compatriots for the day will appreciate knowing what to expect, particularly if they are avid golfers and don't often play with beginners.
Should I drink if they serve alcohol? ~ This is certainly a personal preference. If alcohol is being served, it's obviously ok to drink it should you choose to. Have a drink if you wish, but don't feel obligated. And don't have too many. Don't get drunk! Although it's so obvious now as you read this that getting drunk is a REALLY DUMB IDEA, you might be surprised how many people accidentally wander down that path.
I know I've only addressed the very basics of attending a professional golf outing with colleagues and/or clients. If you have additional questions or suggestions, I'd love to hear them in the comments!
Good Luck on the Links!