Apple & Butternut Squash Muffins
Looking for a healthier, real food breakfast option to make mornings easier? Try these apple and butternut squash muffins that are low in added sugar and perfect for fall.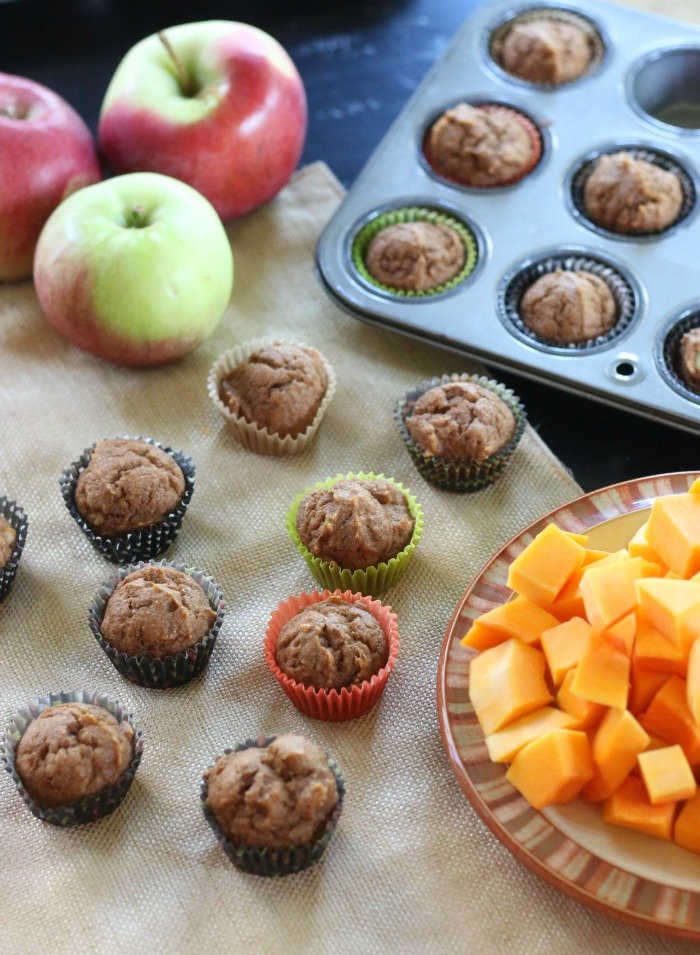 We still have that stash of apples lingering in our fridge. I think we're nearing the bottom of the last bag, but when we made this recipe, we had plenty to go. I also happened to have a butternut squash I had bought on an ambitious whim and needed to use as well. With a little Pinspiration, we landed on these muffins that I really enjoyed.
Unlike many muffins (which are really just a euphemism for 'breakfast cake'), these have far less added sugar than most muffins. They have a healthy portion of honey, which is still sugar if we're being honest with ourselves, but that's it. The apples and butternut squash provide enough natural sugars to make them tasty without being overly sweet.
Per the usual, J helped out in the kitchen. Anytime he catches wind that I'll be cooking or baking, he's first to volunteer to help. I'd be lying if I said I didn't love it.
Letting my boys help in the kitchen definitely makes the process messier and everything takes a little bit longer. But I love that they learn about how their food gets to the table, and they see a whole slew of ingredients they wouldn't otherwise understand.
J is a great eater while T leaves a little something to be desired, but I definitely think both boys have more adventurous palettes than they otherwise would thanks to getting their hands just a little dirty in the kitchen.
Both boys helped peel, core and slice almost two dozen apples with this nifty gadget. While visiting my grandmother (when we got all these apples), she pulled out the peeler and corer that she had. Just mentioning that I really liked it was encouragement enough for her to buy one for me the next day.
Are grandmothers not seriously the best?!
Apple & Butternut Squash Muffins
Ingredients
2 cups butternut squash, cubed
2 medium apples, we used Cortland, peeled and cubed
1 1/2 cups white whole wheat flour
1 1/2 teaspoons cinnamon
1 teaspoon baking soda
1/4 teaspoon baking powder
1/4 teaspoon salt
2 large eggs
1/2 cup honey
2 tablespoons unsalted butter, melted
1 teaspoon vanilla
Instructions
Preheat the oven to 350 degrees.
Saute the apples and butternut squash in a saute pan, covered, until soft.
Transfer mixture to a bowl and mix with an immersion blender. You can also use a food processor or stand blender, if preferred.
Mix the dry ingredients (flour through salt) in a bowl.
Add the wet ingredients (eggs through vanilla plus 2 cups of the apple/butternut squash puree) and stir together just until mixed.
Place muffin liners in muffin tin and spray with cooking spray. This is optional, but recommended to prevent the muffins from sticking to the liners.
Fill each muffin tin 2/3 full and bake. We baked mini muffins for 8 - 10 minutes and regular-sized muffins for 18 - 20 minutes.
Allow to cool completely. Muffins can be kept at room temperature for 2 -3 days but should be refrigerated if storing for longer periods of time.
Nutrition Information:
Yield:

12
Serving Size:

1 grams
Amount Per Serving:
Unsaturated Fat:

0g