5 Easy Date Nights That Don't Require A Babysitter
This shop has been compensated by Collective Bias, Inc. and its advertiser. All opinions are mine alone. #AnIceCreamForThat #TheresAnIceCreamForThat #CollectiveBias
Do you make time for yourself and an occasional date night with your spouse? Date nights don't have to be fancy and expensive to feel special and indulgent. Check out these five easy date night ideas that don't require a babysitter.
When was the last time you took a few moments for yourself or set aside time to spend with your significant other without any distractions? Jam-packed calendars can leave us feeling like making time for ourselves sometimes is but a pipe dream. To be the best parent to our kids, however, we need to give ourselves breaks and a few moments of indulgence or re-energizing to be happy. As long as you set reasonable expectations, I promise it's easier than you think.
Make Time For Each Other On Warm Summer Nights
I'm a big fan of summer. I like the sun, the warm days, all the fun activities, and especially the late summer evenings. I love that the sun sets so late, and we get to enjoy every last minute of gorgeous summer sunsets. I particularly think summer is the perfect time to squeeze in a few date nights, though hopefully without adding too much stress. To be content as parents and individuals, I think it's important we make time for ourselves and for each other. To his credit, M is really good about noticing when we haven't taken any time for our relationship and ensuring that we hang out a bit before bed, even if it's been a long day.
Recently, I was listening to a podcast with a guest who is a well-known parenting expert. On the podcast, this guest said "… it's really important for parents to do a lot of self-care so that they feel content, as content as possible, around their kids because kids wear our feelings – they're little sponges… do what you need to do to help yourself live a pretty content life because that's really going to shape your kids."
I couldn't agree more. Even in our own home, I see this play out daily. When M and I have a lot on our plates and are feeling the heat, our kids are more apt to act out or be upset. We definitely see our boys wear our emotions almost as much as we display them ourselves.
Over the last year or so, we've been making it a priority to schedule more time for ourselves and do a weekly date night. Fancy dates nights and expensive dinners can become really expensive, require advance planning, and aren't always conducive to busy schedules. Thus, it's nice to squeeze in more simple dates nights, sometimes even "mini date nights" after our boys are in bed.
If you need a little date night with your significant other, or even just an evening to indulge yourself, without all the pomp and circumstance (…and expense…) consider trying one of these at-home date nights.
5 Easy Date Nights That Don't Require a Babysitter
Brownie Sundaes At Sunset
In our house, brownie sundaes are like gold. They are dessert royalty. T inhales them like an animal, and this might be genetic. M has much more restraint and eats them civilly, but they are definitely one of his favorite desserts. It's not unusual that he asks me to make a simple batch of box brownies after a long day or a draining week. If we're looking to really step up the celebration for the evening, we buy ice cream to top the chocolate deliciousness. While being so simple, a brownie sundae feels special and helps offers a small personal indulgence after a hard day's work.
Recently, I stopped at Giant Food and bought Häagen-Dazs® Chocolate Salted Fudge Truffle Non-Dairy and Häagen-Dazs® Peanut Butter Chocolate Fudge Non-Dairy to make our coveted brownie sundaes. Growing up, Häagen-Dazs was always the 'fancy' ice cream we bought for special occasions. I even remember visiting the Häagen-Dazs ice cream store to get cones or dishes of ice cream when we were in the city.
M is a big fan of the peanut butter and chocolate combination (I mean… who isn't??!), so these flavors were the perfect pairing for a chocolate brownie indulgence. If you haven't tried them, the Häagen-Dazs® non-dairy alternatives are just as tasty as the crazy-good regular Häagen-Dazs® flavors. The day after I bought the ice cream, our boys eyed the pints in the freezer and asked for their own brownie sundaes. They confirmed that "the ice cream was so good".
You can choose all sorts of toppings for your brownie sundaes. I chose to add strawberries, blackberries, and blueberries that we had on hand in the fridge, a perfect touch of sweet summer and so easy. Despite feeling fancy, brownie sundaes are really easy to make. Just whip up a box of brownies, add a scoop or two of Häagen-Dazs and top with your favorite summer fruits or sprinkles (if you're feeling really wild).
Currently, Giant Food is offering a coupon for $0.75 off your purchase of select Häagen-Dazs® Non-Dairy flavors.
S'mores Over a Fire Pit
If you have a fire pit in your yard or on your patio, put the kids to sleep and then enjoy a sweet treat together under moonlight and the glow of flames. Bring the baby monitor outside with you if your children are younger. You can leave a window in their bedroom open or check on them periodically (if you ditched your baby monitor the second you no longer needed it, like we did).
Online Cooking Class
I love that cooking classes not only are fun and result in a good meal, but also offer useful skills to have in your apron pocket going forward. Instead of visiting a cooking school, consider an online cooking or baking class to do together. Lots of companies offer online courses in all sorts of cooking and baking techniques. Maybe you can learn to bake a fancy fruit galette or summer pie recipe. Then make it a la mode with a Häagen-Dazs non-dairy ice cream.
At Home Fitness Date
No matter the workout, do it together. You don't need any equipment. Try an interval workout, for example. Sometimes we piece together 4 exercises and complete them in 8 intervals, 20 seconds each, with a ten second break between each interval. You can do whatever workouts you like for the intervals. A few ideas we prefer are burpees, planks, sprints, push ups, jumping rope, jumping jacks, and mountain climbers.
Give Each Other Massages
Although it's not something we do regularly, M and I have been giving each other massages for years. Neither of us are professionals, so it's nothing fancy, but it still feels nice. We invested in a massage table, which is fun to have, but we did this for years without one. You definitely don't need one. Just lay a blanket or towel on the floor, turn down the lights, play some calming music on a streaming music app, and you're good to go.
Celebrating our accomplishments and the good things we already have in our life helps us appreciate the present and not get hung up on things we want but don't have. Without hiring a babysitter or paying for a pricey dinner, take fifteen or twenty minutes for a mini date night at home. I bet your Häagen-Dazs® brownie sundae, dressed in your favorite toppings, will be just as good as the dessert you might otherwise have bought while out on the town.
Do you have any other mini date night ideas that don't require a babysitter? If so, I'd love to hear them!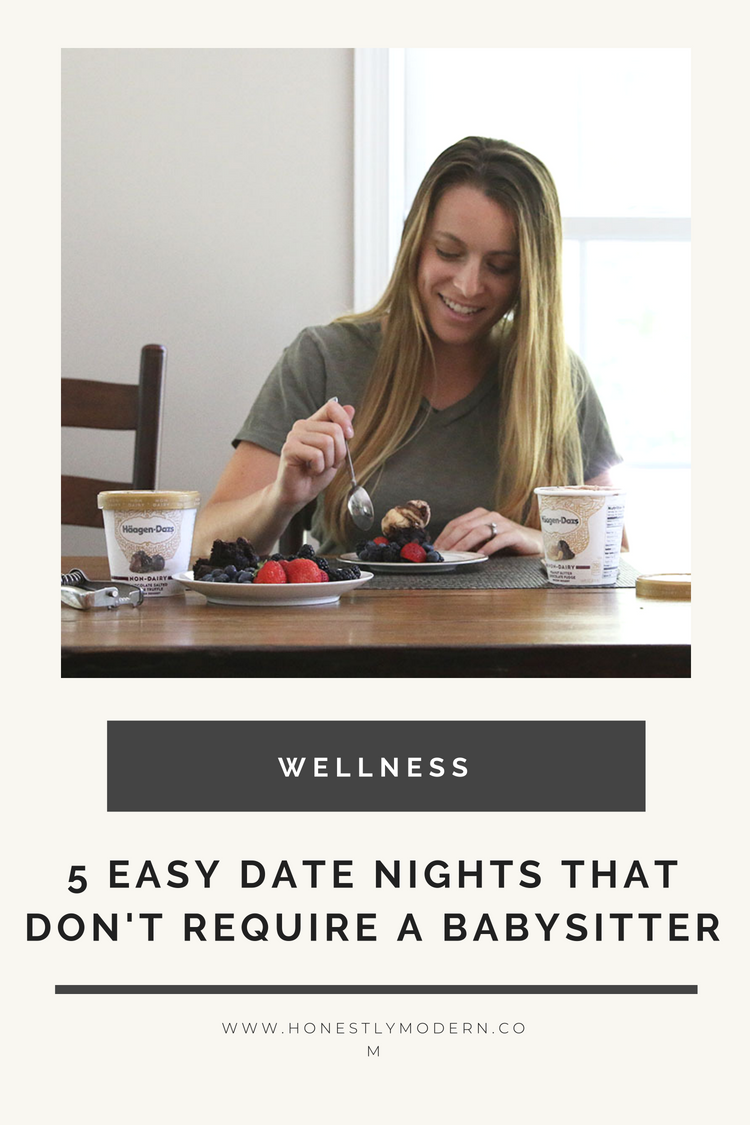 Häagen-Dazs® Non-Dairy Brownie Sundae
Total Time:
1 hour
5 minutes
Ingredients
1 box brownies
1 scoop Häagen-Dazs® Non-Dairy Ice Cream
berries
Instructions
Prepare brownies according to box.
Allow brownies to cool.
Top with one scoop of Häagen-Dazs® Chocolate Salted Fudge Truffle Non-Dairy or Häagen-Dazs® Peanut Butter Chocolate Fudge Non-Dairy
Add fresh berries and enjoy!
Nutrition Information:
Serving Size:

1 grams
Amount Per Serving:
Unsaturated Fat:

0g